Did you know that a whale's heart is almost as big as a Harley Davidson?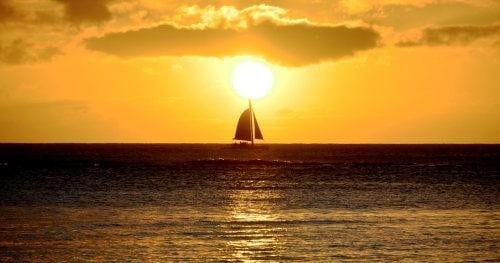 Well, that's pretty huge! If you are fascinated with whales like many people, come and get up close with these sea giants with The Adventure Boat's 2.5-hour whale watching at Oahu's stunning waters. 
Aboard their high-speed and stable boat, you can reach as far the southern part of the island's coasts to find whales. Their professional and knowledgeable Captain and crew take you to the right spots where they usually hang out, and that's a promise. If you are not able to watch these mammals on your trip, they will take you out again to make sure you get to see them! So, book your tickets now and get ready for a bumpy and thrilling but safe whale watching experience!
What to Expect?
As a general rule, when you go out in the sun, especially in Hawaii, always wear sunscreen for protection, and this activity is not an exemption. 
There is a small shade on board, but you will be out of it most of the time. That is why a wide hat that doesn't remove easily is a good idea. You are also requested to bring swimwear, towels and of course, your camera! You can never miss capturing that special moment when whales jump out of the water and make a huge water splash. Just make sure that it is waterproof. You are also discouraged from bringing non-essential things because there's a little space of storage on the boat. 
Departing from Ala Wai Yacht Harbor, you start navigating the entire Oahu sea in search of whales, so get ready for a unique escapade! The Adventure Boat takes pride in its high-speed and stable boats, specially made for Hawaiian waters. That is why they are confident that you can see whales on your exploration because they can go faster and farther than any boats, covering more grounds. Similar to what the Navy and Coast Guard use, their 20-passenger vessel is 30-foot long with a speed of over 45 knots and a range of 250 miles. That's indeed fast! Although it can carry more individuals, they only allow up to 6 guests plus the crew because they wanted you to have an intimate and customized adventure. So, you have all their attention.
The best thing about this trip is that you don't only get to see whales, but also sea turtles and spectacular views of the Pacific Ocean. Also, your knowledgeable crew and Captain narrate stories, history, and legends about the island. Not to mention their good humor. And of course, they always ensure your safety. While you are on your search, always prepare your camera because you never know when a whale breaches right before your eyes. 
The crew provides complimentary soft drinks and bottled water, but you can also bring light snacks. Thankfully, they have a large cooler with ice on board. They allow special caterings, especially if you are with your friends upon arrangements. Nothing beats snacking on a high-speed boat while searching for a whale. Sometimes you get wet with the ocean water, especially if your captain maneuvers and increases the speed, that's why you are required to wear proper beach attire.
Whale Watching
Because these humpback whales migrate to the Hawaiian waters seasonally, usually from December to May, this trip is also offered during these times. These gentle giants come to Hawaii every year to breed and give birth to calves. That is why it is not surprising if you see mama whales playing with their calves on your trip. Due to state regulations, your Captain does not get too close to these mammals closer than 100 yards. But more than that is still close. 
These humpback whales are commonly found in the southern seas of the island, so that could be your first stop. You may see them tail slapping, blowing spouts in the air, or playfully surfacing. Other areas like the southeastern spots may also accommodate whales, including the Makapuu Lighthouse, Hanauma Bay, and near the Diamond Head. So, this is not only whale watching but also coastal sightseeing!
KNOW BEFORE BOOKING:
This trip is from December to May.

This trip's routes may vary at the Captain's discretion and weather condition. If it is canceled due to poor weather, you are offered a full refund or a different date.
All ages are welcome, up to 6 guests. Individuals with back and heart problems and other medical conditions are discouraged from joining.
Please note that this activity is not also suitable for pregnant women.
Bottled water and sodas are included in your package. You may bring other beverages and a light snack.
If you were not able to find whales on your trip, they would take you out again to make sure you will see them (depending on seasons and availability).