Meaning "the ocean tide," Te Au Moana Luau tells the beautiful story of Polynesia through authentic, traditional music and dances by the longest entertainment company in Hawaii, Tihati productions, featuring their multi-talented performers!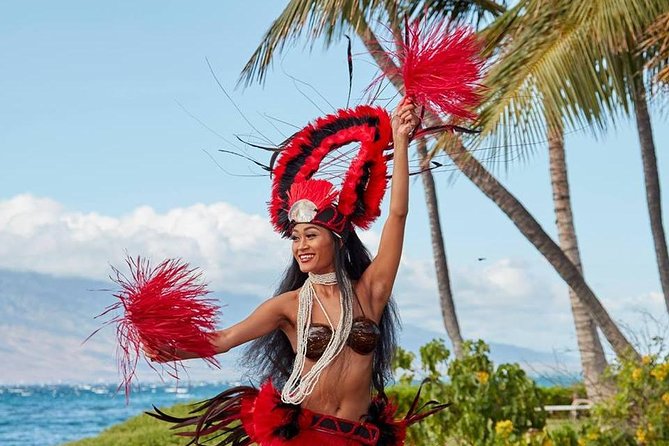 Join Te Au Moana Luau at the scenic oceanfront of Wailea Beach Marriott Resort, where you could endlessly gaze at the incomparable Maui sunset and majestic ocean views. 
The Polynesian ancestors traversed even the most extreme ocean tides for centuries, respecting and using them to sustain their livelihood. Their skills in fishing, farming, voyaging, and gathering show their enormous knowledge and respect for the earth and its elements. Te Au Moana Luau attempts to bring these stories to life through world-class performances accompanied by chants and music, complemented by a delightful 3-course family-style dinner and refreshing island cocktails.
As soon as you arrive, some friendly staff in their vibrant costumes will welcome you with a warm fresh flower lei greeting. Upon check-in, the open bar is open so that you can order your preferred drinks for the night, including Mai Tai, beer, and other alcoholic and non-alcoholic beverages. Once settled, you can visit some interactive stations where you could find arts and crafts by different islands, including Hawaii, Tonga, and Samoa, that tell their homeland's stories. You can create your own floral piece and understand the real meaning of the lei greeting. In ancient times, Polynesians twined greens into wreaths to honor their gods and adorned their bodies with strings of vines and flowers. When they arrived in Hawaii, they brought ginger or awapuhi, a fragrant flower that was used for adornment and decoration.
Have you ever heard of Kapa? It's a native Hawaiian fabric made from certain species of shrubs and trees. Luckily, you could also learn or witness how it's made in Te Au Moana Luau. In ancient Hawaii, Kapa was very useful in every aspect of their lives. It was used to design malo for men, skirts for women, and blankets for babies. On the other side, watch how coconuts are husked and opened and learn how the liquid is processed into milk. Spend some time with the hula dancers and listen to their exciting stories about Hawaii, or perhaps visit the Hawaiian exhibit with displays of weapons for hunting and war. Ancient Hawaiians were known on the battlefields, ready to fight for their livelihood and territory.
When it came to recreations many centuries ago, makahiki games were the most popular. It was usually played during the Makahiki Festival – a time dedicated to Lono, the god for fertility, peace, and agriculture. It was also a time for relaxation, harvest, peace, and celebration through feasting, telling stories, dancing the hula, and playing games. Before dinner, witness an authentic imu ceremony where they uncover the kalua pig from the imu or underground oven. As you know, this ceremony is vital in every luau. Preparing the imu is a time-consuming, difficult task. Ancient Hawaiian men needed to wake up early in the morning to dig at least 2 to 4-foot deep pit where they placed stones that needed to heat for 2 to 3 hours before cooking the pig.
When it's time for dinner, feast on the shredded roasted pork, along with other delectable dishes, including poi, desserts, poi, fruits, noodles, salads, and many more! After then, you are requested to sit back and relax for a rare opportunity to watch outstanding presentations, showcasing the dances of several Polynesian islands, highlighted by the Samoan fire-knife dance that will truly have you on the edge of your seat.
Te Au Moana Luau Schedule
Te Au Moana Luau banquet staff available to start the evening

Check-in: Bar opens, cashier hut opens, a photo opportunity with fresh flower lei (subject to seasonal availability)

Live music

Crafters: Hawaiian crafter, Samoan crafter, Tongan crafter and poi pounder

Interactive stations: Flower craft, coconut husking, ulu maika, hula dancing, and Kapa printing

Imu (underground oven) unearthing

Luau buffet

Te Au Moana show

Luau ends
Te Au Moana Luau Highlights
Authentic Hawaiian luau

Receive fresh flower lei or carved wooden fish hook necklace

Wide variety of cultural demonstrations and hands-on activities (e.g. flower crafting, kapa and bookmark making, casual hulas, and storytelling)

All-you-care-to-eat luau buffet

Spectacular Polynesian show
Te Au Moana Luau Menu
Freshly-baked taro and Hawaiian sweet roll

Mango basil butter

Upcountry mixed greens with house-made dressing

Mango basil butter, Ranch dressing, Papaya seed dressing

Hawaiian potato salad with green onions and green onion oil

Soba noodle salad, crispy fried soba noodles

Cucumber, red onion namasu, Toasted sesame seeds

Pineapple coleslaw, Julienne red onion, Diced tomatoes and cilantro

Wailea Beach Macaroni pasta salad, Chive

Lomi Lomi salmon with candied citrus zest

Poi

Fruit salad (pineapple, cantaloupe, honeydew melon, passion fruit puree, toasted coconut)

Kula Farms stir-fry vegetables with fresh herbs

Seafood vegetable pasta primavera with olives and parmesan cheese

Hawaiian purple sweet potatoes with coconut syrup and toasted coconut

Roasted garlic edamame fried rice

Shoyu, Honey & ginger roasted chicken

Honey teriyaki grilled steak, Peppers and onions

Imu kalua pig

Pineapple upside down cake

Sweet potato haupia squares

Chocolate brownies

Key lime squares

Banana nut bread

Assorted cookies
Special Instructions
Check-in Location and Time:

 
➤September 3rd – June 3rd: Check-in is at 4:30 pm.
➤June 4th – September 2nd: Check-in at 5:00 pm.
Address: Wailea Beach Marriott Resort and Spa, 3700 Wailea Alanui Drive, Kihei, HI 96753 
*Note: Free self-parking at Wailea Beach Resort Parking structure. Valet parking is $40. (subject to change without notice). If guests are redirected to park at "The Shops of Wailea" due to the structure being full, guests may seek validation at the front desk.
Restrictions:

There are no specific restrictions for this activity. Please contact us if anyone in your party has special needs.

Special Notes:

Infant pricing (children 5 years old and under) are provided their own seat and plate. Premium seating also includes a separate line at check-in, allowing for faster check-in and bypassing the standard line.

Operations:

Monday and Saturday. Also available on November 26 (Thanksgiving).
Duration: 3 hours