Hans Hedemann will personally take you surfing in the best breaks on Oahu on the North or South Shores and provide the lesson of a lifetime for the "Briefcase Surfer" or the surfer who knows what they want to achieve.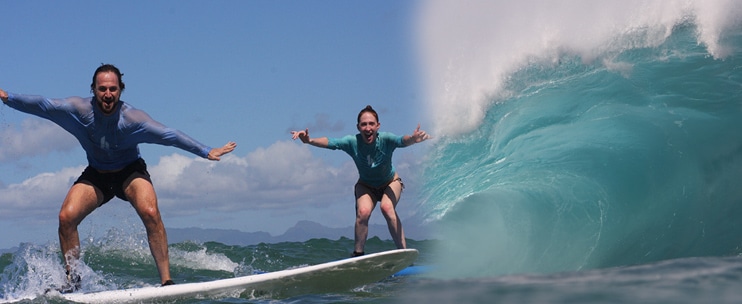 This is the ultimate surfing lesson.
Hans is known and trusted as a friend and surf guide for famous Hollywood stars. He is also well respected among local surfers and the community.
Personalized surf instruction with Pro Surfer Hans Hedemann
All equipment and gear provided, including surfboard, rash guard lycras, and reef shoes
Open daily with your choice of two locations – North Shore or Waikiki
Special Instructions
9am, 12pm, 3pm We provide hotel transportation to and from your Waikiki hotel. 6 Locations on Oahu: New Otani Kaimana Beach Hotel, Park Shore Hotel, Outrigger Reef on The Beach, Sheraton Waikiki, Kahala Mandarin Oriental, Turtle Bay Resort (North Shore)
Special Notes

Equipment included · Advanced registration required · Please arrive 15 minutes prior to the lesson for check-in · Apply sunscreen to face, arms and backs of legs ONLY
Operation Days:

Daily