After a hearty breakfast and a morning sunbathing session on the beautiful beaches of Oahu, you surely are up for some ocean adventure next.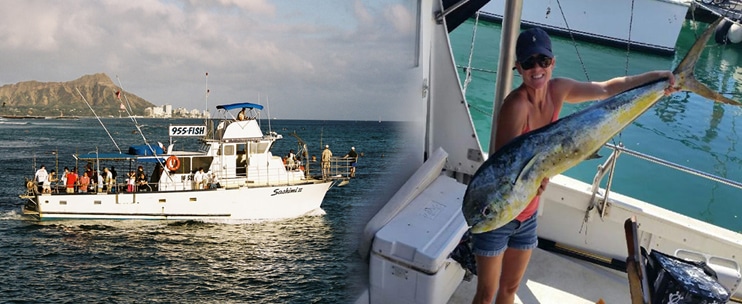 While there are plenty of different water activities to try in the Island, an afternoon fishing trip inclusive of an on-board Hawaiian barbecue lunch is definitely a great choice you would not regret making! A great bonding experience for the whole family, the Sashimi Daytime Bottom Fishing is a fun bottom fishing tour that lets you experience the clear and abundant waters of Oahu Island! 
The Oahu seas are especially nice in the afternoon, and this you will get to enjoy on board the Sashimi. A 65' custom-built Delta Sport Fisher, the Sashimi is furnished with an air-conditioned cabin, a wide and shaded fly bridge, and a comfortable seating area for a pleasant cruise to the fishing grounds.
The boat ride will not be too long, though, as Oahu's shores are just a few minutes from its finest fishing spots. In less than no time from the charter's departure from Kewalo Basin Harbor, you and your companions will finally get to have a go at bottom fishing!
Bottom fishing, basically, is angling for fish near the sea floor. It may sound challenging, especially for first-timers, but no worries as Sashimi Daytime Bottom Fishing will make the experience exciting and memorable for everyone, from beginners to seasoned anglers! Included in this tour are all the necessary fishing implements, such as the rods and reels, baits and lures, and ice. Don't worry about not being familiar with the equipment, as Sashimi Daytime Bottom Fishing's staff and crew will help you out every step of the way. They are fishing experts who will acquaint you with the fishing gear you are to use, and they will also be giving you the necessary instructions and other helpful tips so you can triumphantly lure and reel in some fish! These people are very experienced in handling guests, too, as they have been in the business for years. Should you have any concerns, do not hesitate to approach and ask; they will be more than happy to help!
With Sashimi Daytime Bottom Fishing's exceptional fishing equipment and service from its crew, you and your companions will have a chance to haul in different kinds of fish like mackerel, jack, and snapper, which you can immediately taste freshly grilled on board! Once they're caught, guests can choose to either release them back to the water, or have a portion of the fish catch grilled by the crew. While savoring your freshly caught and grilled seafood, enjoy a delicious Hawaiian barbecue meal of hotdogs, chili, rice, and refreshing beverages, too! As if the tour inclusions are not yet enough, Sashimi Daytime Bottom Fishing is also inclusive of Hawaiian barbecue on-board, so you will go home full of memorable experiences, and full with sumptuous food! 
Have an afternoon to remember with Sashimi Daytime Bottom Fishing! Hurry and book a slot now!
Sashimi Fishing's Boat
A 65' custom-built Delta Sport Fisher that is equipped with:
Air-conditioned cabin

Spacious fly bridge

Comfortable seating

TV and stereo

CD and DVD players

Microwave

Restroom and shower

Fishing gear and electronics (GPS, fishfinder, plotter, cell phone, and radios)
Sashimi's Daylight Bottom Fishing Special Instructions
Check in at Kewalo Basin Harbor, located at 1125 Ala Moana Blvd., Honolulu HI. Look for a sign that says

"955 FISH"

.

Check-in is at 11:30 AM.

Free roundtrip transportation from Waikiki is available.

This tour includes an on-board barbecue meal (hot dogs, chili, rice, pineapple juice, and water). You can also get to eat a portion of your fish catch, which the crew will also cook on board.

Guests are not allowed to take home any of their fish catch. A portion will be cooked as mentioned, while the rest will be released back to the sea.