What more can you ask? Pacific Whale Foundation did it again.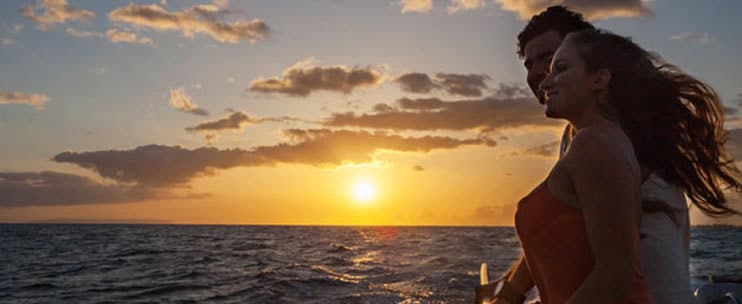 With their Sunset Cocktail Cruise, you don't only get to sail to view the stunning seascape and sunset by the sea, but also get closer to the whales. While you are watching them on your boat, a certified Marine Naturalist provides fun and informative facts about these gigantic, beautiful creatures. You get to watch mothers interact with their calves and how males compete for females. To complete your whale adventure, you get to listen to underwater whale songs.
On top of these, you can feast on Hawaiian pupus (appetizers) – the life of the party. While partying, complimentary beverages are served plus you can order more from the galley bar at an affordable cost. To add spice to the party, a talented musician renders live music for total entertainment. So reserve your slots now before they run out and come aboard!
Sunset Cocktail Cruise: What to Expect?
Get to the Pacific Whale Foundation's Ocean Store at the Ma'alaea Harbor Shops 45 minutes before check-in at 3:45 pm. We recommend getting there earlier if you want the best spot in the vessel. There is a free parking lot at 192 Maalaea Rd, Wailuku and one at the harbor, but with a fee. If you come with a guest on a wheelchair, call them beforehand to make an arrangement. Due to their vessels' designs, none are wheelchair-accessible, and there is no wheelchair storage on board. However, if the guest can walk to the vessel, they may join depending on the boat used for this cruise.
A warm welcome greets you from their friendly staff as you board. If you checked in the earliest, the front seat on the upper deck is yours. The seats at the bow of the ships are also the best areas for viewing. Otherwise, find your favorite and settle down for a 2-hour excursion full of thrill and fun. Their double-decked vessel has a cozy indoor cabin at the lower deck with comfortable seatings as well. Covered with a combination of blue and white, the atmosphere of the ocean and the waves illuminates. You can also find the galley bar here, along with his and her bathrooms.
While cruising, you can order your drinks now. Their bartender onboard mixes the best tropical cocktails like mai tais. Also, they have Maui Brewing Co. beer and wine available for you. So if you consume your three complimentary drinks, you could order more for a more exciting cocktail party. It's a cocktail party anyway, isn't it? Then a lively and soothing music starts to play as their talented musician begins strumming his guitar or ukulele. 
Onboard, don't get too hooked on your cocktails (we know they're delicious) because any moment, you can spot whale breaches and tail slaps. You might see moms and calves playing or hear the little ones speaking to their mothers. A certified Marine Naturalist joins you to provide fun facts about these mammals and you will come to understand their behavior and characteristics better. 
Meanwhile, the mouthwatering appetizers are ready for feasting. The menu is served in a family-style serving, which you pass around to the other guests. The server brings big plates of snacks including island teriyaki boneless chicken, meatballs and yummy artichoke and spinach dip accompanied with gourmet crackers. You should also try their homemade sweetbread rolls topped with local and imported cheese. What a delightful pupus, indeed! 
Have you been taking pictures yet? Ready your camera if you haven't because when the sun starts to dip down below the horizon, you will witness a spectacular scene that can only be seen on Maui's coast. Enjoy the view for a while as the gentle, warm breeze of the wind touches your face. As you leave the boat at around 6:30 pm, you will receive a free marine wildlife oversize postcard – a souvenir from one of your Maui escapades, along with a happy heart.
TOUR INCLUSIONS:
Appetizers: Housemade Chips with Sauce, Kiawe-smoked Pork accompanied with Chicken Sliders, served with Guava BBQ Sauce, Roasted Garlic Hummus, Freshly-baked brownies, Savory Bean Salad and Tomato and Basil Bruschetta
Complimentary Drinks: Wine, Maui Brewing Co. beer, and Tropical Cocktails (maximum of 3 alcoholic beverages per adult)
* Valid ID is required to consume alcohol
Unlimited soda, filtered water, juice

Certified Marine Naturalists Onboard

Live Music by Talented Musicians

Free Full-size Marine Wildlife Postcard