What could be more deluxe than cruising Honolulu's stunning waters with a  champagne toast?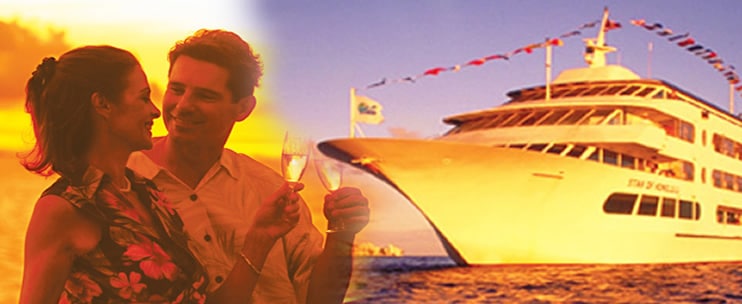 Come aboard and enjoy a delightful dinner on a modern and spacious yacht in style! The mother of cruises in Oahu brings you another fabulous evening with a three-star sunset dinner and show cruise while enjoying exceptional panoramic views of Waikiki, Diamond Head, and the Pacific. Whether you are a family, couple, or single, you can customize your experience with its add-ons to suit your taste.
To complete the fun, your three-star diner prepares entertaining performances from their gorgeous dancers in their dazzling costumes, plus some fun activities where you can participate. And if you book on a Friday (with an additional fee), your cruise is extended until 8:30 pm with colorful and vivacious fireworks!
Let the Fun Begin
If you arranged roundtrip transportation, a ride picks you up from your hotel before the 4:45 check-in onboard. But if you rent a car or drive your own, be at the Aloha Market Tower Place on time, where it departs at 5:30 pm. There are parking lots available at pier 5 and 6. Make sure to validate your tickets upon check-in at the Star of Honolulu Reservations Office for a reduced fee.
Brace yourselves for a 2-hour fabulous evening that starts with fresh island flowers and a hula dance performance to welcome you aboard. With their unique choreography (paired with either contemporary music, slow and sentimental in tempo, or fast and energetic), feel the connection and the message the dancers are portraying as you sail towards the Pacific sunset. And of course, with a toast of champagne, it has officially begun!
Your 3-star diner menu consists of a five-course meal that includes Maine lobster, filet mignon dinner, and a delicious dessert, all accompanied by delicious cocktails. You also get to feast on delectable mashed potatoes and sautéed fresh vegetables. While dining, a live band plays music in the background like Jazz or Polynesian, with the vibrant oranges and reds of Oahu's sunset on sight. 
After Dinner Entertainment
Your three-star sunset dinner cruise is never complete without a show and other fun entertainment. Getting to the 60-foot high observation sun deck is one of the first things you must do. From there, get a 360-degree view of the sunset and Waikiki city lights and take postcard-worthy photos that you will treasure forever. Or perhaps, just hang out and savor the moment with your significant others. 
Getting tipsy is not bad with such fascinating views and lively music. It's your night, after all. With their full bars, you can order any drinks of your choice and learn to dance your hips away with the music. Join some fun activities and meet new people. It's always good to meet someone anywhere, isn't it?  And if you fancy a Polynesian-style entertainment, watch their graceful dancers as they perform the "60 years of Aloha" show. 
Finish off your sunset dinner cruise with a Bon voyage hula dance performance and a satisfied heart and stomach.
TOUR HIGHLIGHTS:
Welcome hula dance performance 
Exciting two-hour sunset dinner cruise
Experience Oahu's largest dinner cruise ship
Bon voyage hula onboard
Live Hawaiian entertainment throughout the cruise
"60 Years of Aloha" show
Fun audience participation
DINNER MENU:
Imported & domestic cheese (Brie, Blue Cheese, Port Salut, Cheddar, Swiss, Pepper Jack), Carr's® Crackers, and fresh seasonal tropical fruits on display
Hawaiian greens, purple endive, grape tomatoes, Waipoli baby romaine, housemade Lilikoi tarragon vinaigrette
Whole Nova Scotia Maine lobster, fresh lemon, clarified butter & citrus ponzu
Tenderloin of beef with sweet Madeira wine sauce, housemade Idaho russet & Big Island Okinawan mashed potatoes, sautéed fresh seasonal vegetables
Hawaiian mango mousse cake (freshly-baked by Elvin's Bakery®) with white chocolate garnish
Freshly-baked furikake lavish & sweet butter breadsticks with butter
"Champagne" toast and two premium beverages
Freshly-brewed STAR's custom Kona blend coffee by the famous Hawaiian Paradise Coffee® and tea
*Please note that the menu is subject to change without prior notice. Special Menus including chicken, fish, or vegan available with 24 hours notice.
You can also add these enhancements to your dinner cruise:
Celebration Plan: Enjoy a seat by the window (up to 8 people), private table and photo (per 2 persons).  A minimum of 2 guests are required to book and the price is per person.
Reception Plan: Enjoy a seat by the window (up to 8 people), private table, photo (per person), lei cake and 1 bottle of champagne (per 2 persons). A minimum of 2 guests are required to book and the price is per person.
VESSEL INFORMATION:
Custom-built 232' (Hawaii's largest)
1,500-passenger tour vessel
Three types of stabilizers for smooth sailing
Hawaii's only A.D.A. compliant ship
Two elevators
Four spacious decks
Six beautiful dining rooms and private lounges
Bars and restrooms
60' high observation sun deck
Know Before Booking:
Check-in: 4:45 pm. Cruise is from 5:30 pm to 8:00 pm.
Location: Honolulu Harbor, Pier 8 View Map
Roundtrip transportation from major Waikiki hotels is an add-on.
Parking validation is from  $7.00-$10.00 (Friday Firework Cruise is around $13.00- $16.00). 
*Parking validation rates subject to change without prior notice.
Restrictions: No specific restrictions for this activity.
Operation Days: Daily
Duration: Approximately 2 to 2.5 hours
ALL FEES INCLUDED
Operates daily
If booking Friday night, please call for availability.
Reception Plans require 24 hours notice to book.
Please see our Holiday Cruises for Valentines, Easter, Father's Day, July 4th, & New Year's Eve.
Special Instruction
Where and When: Check-in is at 4:45 pm. Cruise is from 5:30 pm to 8:00 pm.
Location: Honolulu Harbor, Pier 8 View Map
Roundtrip transportation from major Waikiki hotels is available as an add-on.
Parking Validation is usually $7.00-$10.00 (Friday Firework Cruise $13.00- $16.00). Parking Validation rates subject to change without notice.
Friday nights the cruise is extended to 8:30 pm for fireworks viewing (Star of Honolulu reserves the right to return early if the fireworks are not up to par).
Restrictions: There are no specific restrictions for this activity.
Special Notes: If you select transportation in the shopping cart, your voucher will specify the exact hotel pick-up time.
Operation Days: Operates daily
Duration: Approx. 2 to 2.5 hours
Vendor: Star of Honolulu
Island: Oahu
Capacity:1500
Equipment: The Star of Honolulu is a 232-foot, 4-deck cruise ship with a 1,500-passenger capacity. She is equipped with stabilizers, accessible facilities, elevators, an observation/sun deck with reclining chairs and much more!