Come aboard the Star of Honolulu for a sunset cruise along the Waikiki coastline.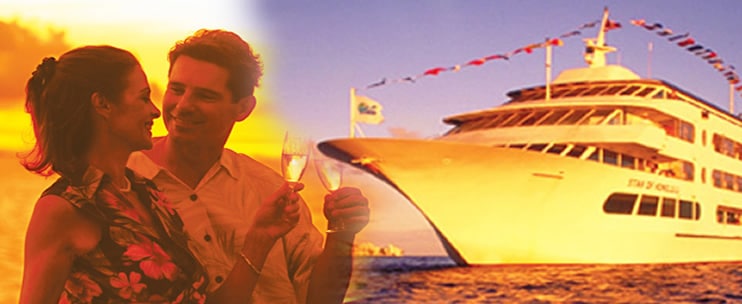 Your evening begins with a champagne toast, which is followed by a scrumptious 5-course dinner, including whole Main lobster and tenderloin steak.
You'll enjoy continuous entertainment – from hula to live Jazz to the new "My Hawaii – Beyond the Reef" show – an exciting extravaganza featuring the largest cast on island waters!
The Star of Honolulu is Hawaii's largest dinner cruise ship. It was specially built for Hawaiian waters and features stabilizers, four walk-around decks and a 60-foot high observation deck, offering spectacular 360-degree views.
Tour Highlights
Welcome hula by beautiful dancers
Fun two-hour sunset dinner cruise
Enjoy Oahu's largest dinner cruise ship
Bon voyage hula onboard
Live Hawaiian entertinement throughout the cruise
"60 Years of Aloha" show
Fun audience participation
Menu for Three Star Honolulu Dinner Cruise (5-Course Dinner)
Imported & Domestic Cheeses (Brie, Blue Cheese, Port Salut, Chedder, Swiss, Pepper Jack), Carr's® Crackers, Fresh Seasonal Tropical Fruit Display
Hawaiian Greens, Purple Endive, Waipoli Baby Romaine, Grape Tomatoes, Housemade Lilikoi Tarragon Vinaigrette
Whole Nova Scotia Maine Lobster, Fresh Lemon, Clarified Butter & Citrus Ponzu
Tenderloin of Beef with Sweet Madeira Wine Sauce, Housemade Idaho Russet & Big Island Okinawan Mashed Potatoes, Sautéed Fresh Seasonal Vegetables
Hawaiian Mango Mousse Cake Freshly Baked by Elvin's Bakery® with White Chocolate Garnish
Freshly Baked Furikake Lavosh & Sweet Butter Breadsticks with Butter
"Champagne" Toast and Two Premium Beverages
Freshly Brewed STAR's Custom Kona Blend Coffee by Hawaiian Paradise Coffee® & Tea
Please note: Menu is subject to change. Special Menus of Chicken, Fish or Vegan available with 24 hours notice.
You can add the following enhancements to your cruise
Celebration Plan – Enjoy window seating (up to 8 persons), private table and photo (per 2 persons).  Minimum of 2 persons required to book. Price is per person.
Reception Plan – Enjoy window seating (up to 8 persons), private table, photo (per person), lei cake and 1 bottle of champagne (per 2 persons). Minimum of 2 persons required to book. Price is per person.
Vessel Info
Custom-built 232' Star of Honolulu is Hawaii's largest
1,500-passenger tour vessel
3 types of stabilizers for smooth sailing
Hawaii's only A.D.A. compliant ship
2 elevators
4 spacious decks
6 beautiful dining rooms and private lounges
Bars and restrooms
60' high observation sun deck
Special Instructions
Where and When
Check-in is at 4:45 pm. Cruise is from 5:30 pm to 8:00 pm.
Location: Honolulu Harbor, Pier 8 View Map
Roundtrip transportation from major Waikiki hotels is available as an add-on.
Parking Validation is usually $7.00-$10.00 (Friday Firework Cruise $13.00- $16.00). Parking Validation rates subject to change without notice.
Friday nights the cruise is extended to 8:30 pm for fireworks viewing (Star of Honolulu reserves the right to return early if the fireworks are not up to par).
Restrictions
There are no specific restrictions for this activity.
Special Notes
If you select transportation in the shopping cart, your voucher will specify the exact hotel pick-up time.
Operation Days
Operates daily
Duration
Approx. 2 to 2.5 hours
Capacity
1500
Equipment
The Star of Honolulu is a 232-foot, 4-deck cruise ship with a 1,500-passenger capacity. She is equipped with stabilizers, accessible facilities, elevators, an observation/sun deck with reclining chairs and much more!