This is probably the epitome of grandeur when it comes to sunset dinner cruises in Hawaii.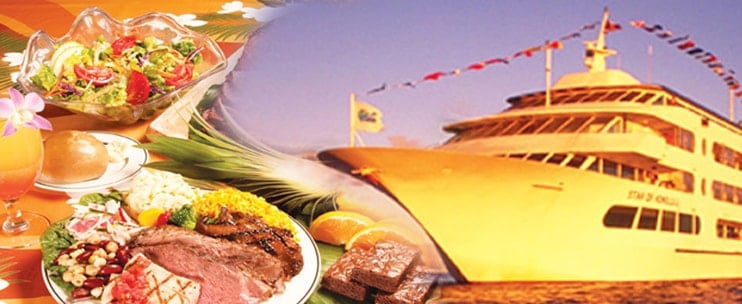 Star of Honolulu has indeed perfected designing an elegant dinner cruise with its Five-star Sunset Dinner and Jazz Cruise. It is a sophisticated inn, hotel, and diner all-in-one cruise. Sailing the calm waters of Honolulu towards the Diamond Head and Waikiki, it features luxurious amenities, foods, entertainment, and a world-class service comparable to Honolulu's 5-star hotels.
This 1,500-passenger modern yacht features a 7-course French dinner with premium exotic cocktails plus other top-quality liquor at discounted prices (available as an add-on), highlighted by a live Jazz performance from some of Oahu's top artists. Experience a night of five-star adventure tours inside the ship as you stroll along panoramic walkways, watching the stunning sunset and city light views. Visit the Captain's reception area and hang around at different spots, just like the 60-foot high observation deck, where you can take snapshots of the beautiful seascape. This award-winning vessel is also ideal for celebrating any special occasions such as romantic Hawaiian weddings, honeymoon, or anniversaries. 
Your Itinerary 
Start your evening with a limousine ride from your hotel to the Pier 8, Aloha Tower Marketplace, 15 minutes away from Waikiki. Make sure to wear anything formal, avoiding flip flops, t-shirts, shorts, and tank tops because strict dress code is enforced (gentlemen are required to wear slacks and jackets are recommended). If you arranged your super limo or transportation, you have to check-in 45 minutes before the departure at the Reservations Office, next to the Star of Honolulu. There are a few excellent super limousine services in Honolulu, which are your best transportation bets next from tour buses because, for a modest fare, they take you to any parts of Hawaii. As a general rule, a reduced parking fee is always available at pier 5 and 6. Just show your reservation tickets upon check-in.
Before boarding, gorgeous and smiling hula dancers welcome you at the pier to a 2-hour Star dinner cruise. Be impressed with their fantastic dance choreography and colorful costumes! You will then be escorted to the Captain's welcome reception preferred as SuperNova Deck, which is almost at the top of the ship. You could imagine the magnificent views you are going to witness (what a lucky Captain, and you can take pictures with him, too)! In the deck, dancers and musicians entertain you with gentle Hawaiian Music. Entertainment is not complete without music, isn't it?
Dining, Fun, and Entertainment
With the beat of soft piano music, enjoy your delicious hors d'oeuvres, as the Captain makes a champagne toast. It's a formal invitation to dine in one of the most excellent five-star dinner cruises in Hawaii. Have you tried any 5-star restaurants in Hawaii yet? Well, the Star of Honolulu takes pride in making you experience its class and style, only more exciting. The best thing about the menu here is it changes quarterly to reflect the freshest and finest ingredients depending on the season. Utilizing these, the Executive Chef and culinary team design a 7-course signature dinner that's both pleasing to the eyes and stomach.
After your five-star dinner, dance the night away with cool, live Jazz music while sipping your favorite drinks, which you could order from the bar. Feel the warm, tropical breeze of the wind at the 60-foot high viewing deck and take postcard-like photos of the stunning views. Or perhaps rest in the private lanai with the romantic backdrop of the Honolulu city lights!
Complete your evening with a "Bon Voyage hula" performance from the friendly dancers.
CRUISE HIGHLIGHTS:
Captain's welcome reception

Experience the exclusive SuperNova Room on the fourth deck

Private table

Hawaiian Bellini cocktail and 3 super-premium beverages (with after-dinner Cart Service)

7-Course signature dinner with air-flown live Maine lobster & USDA prime tenderloin of beef

High-spirited variety of entertainment including pier-side welcome hula, "Bon Voyage hula," and live Jazz performance

Waikiki and sunset views (with fireworks on Fridays)
MENU (7-COURSE DINNER):
Canapés: Smoked Salmon, Prosciutto di Parma with Bleu Cheese and Mascarpone Miso Infused Tofu Salad on Red Endive, Mustard and Chive Spread on Toast

Soup: Sweet Potato Coconut Curry Blend, Purple Rice and Basil Oil

Salad: Wild Arugula, Golden and Red Beets and Big Island Goat Cheese with Cucumbers and Lemon Vanilla Bean Vinaigrette

Entrée*: Air-Flown Live Butter Poached Maine Lobster – White Bean, Butternut Squash and Kahuku Corn Ragout with Lobster Jus

Intermezzo: Pineapple Pinot Grigio Sorbetto

Entrée*: Highest Grade Prime Tenderloin of Beef with Foie Gras – Smoked Bacon Mushroom Medley, Petite Potatoes and Broccoli Rabe with Cabernet Demi-Glace and Beurre Rouge

Dessert: Roasted Apple Vol-Au-Vent – Chai Spiced Pumpkin Puree and Hawaiian Sea Salt Caramel Gelato

Freshly-baked French Bread and Brioche with Butter

Freshly-brewed STAR's signature coffee and organic teas

Hawaiian Bellini and 3 Super Premium Beverages (with after-dinner drink cart service including exotic cocktails, world-class liquors like Remy Martin V.S.O.P. and Chivas Regal, Cordials and more)
Please note: Menu changes seasonally.
*Alternative entrées of chicken, fish or vegan available with 24 hour-notice.
Fish: Baked Salmon with Lemon Dill Butter Sauce
Chicken: Roasted Chicken Breast stuffed with Mushrooms, Spinach and Swiss Cheese
Vegan: Slow Roasted Beet Ravioli with Tofu-Based Filling, Eggplant Moussaka with Kamuela Tomato, Yellow Squash and Zucchini
You can add the following enhancements to your cruise:
Celebration Plan: Private window table (up to 8 persons) and memory photo per couple. Minimum of 2 persons required to book. Price is per person.
Reception Plan: Enjoy window seating (up to 8 persons), memory photo (per person), lei cake and bottle of "champagne" (per couple). Minimum of 2 persons required to book. Price is per person.
Champagnes, sparkling and fine wines 
Memory photo in 9×9″ custom Star of Honolulu® logo album 
Vow Renewal or Captain's Wedding 
Know Before Booking
Check-in: 4:45 pm (Cruise is from 5:30 pm to 8:00 pm)

Roundtrip transportation from major Waikiki hotels is an add-on.

Dinner Cruise parking validation with minimal rate is an add-on (with additional fee on Fridays). *Parking validation rates subject to change without notice.

Friday nights the cruise is extended to 8:30 pm for fireworks viewing (Star of Honolulu reserves the right to return early if the fireworks are not up to par).

Restrictions: Not recommended for children under the age of 12. Dress is formal. 

Limo Transportation (if selected) requires a minimum of 2 guests.
       *Special Note: Exact time of limo pickup will be emailed to you.
Operation Days: Operates daily

Duration: Approx. 2.5 hours