Join the Smith family in an intimate and unforgettable Luau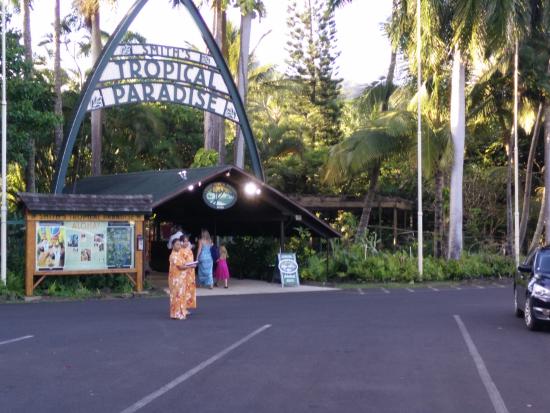 Showcasing authentic music and dances from around the world, including Hawaii, Japan, the Philippines, China, New Zealand, Tahiti, and Samoa right on the sacred Wailua River. Make sure to arrive hungry to allow space for a mouthwatering eat-all-you-can dinner!
Wailua River is the largest navigable river in Hawaii, surrounded by captivating waterfalls and lush jungle landscapes on the eastern side of Kauai. In ancient Hawaii, this area was only for royalty. One of the island's chief royalty was born here, as well as the neighboring islands' chiefs. They would often travel to this area to give birth at the birthstones. These days, the river is popular for kayaking, SUP, outrigger canoeing, and boat tours.
As soon as you get here, you will be welcomed with a warm shell lei greeting. Right there and then, you would feel a genuine Aloha spirit. Look around you and savor the calm and relaxing mood as you gaze at the palm trees and green, lush mountains in the surroundings. You know the program starts when you hear the sound of a conch shell or also called the "Pu." During the era of kings, a Kahu (one who is assigned to blow the conch) would blow the conch shell to announce the arrival of the king during special celebrations.
After then, you will witness an amazing torch lighting ceremony. Then dramatically, the legendary goddess of fire, Pele, will suddenly emerge from the darkness, atop a mountain with lava flowing, to tell her story. Pele is believed to be the creator of Hawaii. You can also have a gentle stroll or take a narrated tram tour around the tranquil 30-acre gardens. Forget your worries for a while and indulge in the opportunity to relax in this beautiful side of Kauai.
Before feasting on your delectable dinner, witness how the ancient Hawaiians uncover the kalua pig – the main dish in a luau. Did you know that during the early times, Hawaiian men wake up early in the morning to make an imu, an underground oven, to cook pigs? Preparing it is time-consuming and not an easy task. They had to dig 2 to 4-foot pit with side slopes and then placed stones, which were heated for at least 2 to 3 hours before cooking. When it's time to eat, enjoy traditional flavors and island favorites such as the tender kalua pig, teriyaki beef, mahi-mahi salmon, chicken adobo, vegetables, salads, rice, and many more. You can also order your favorite beverages like Mai Tai, beer, coffee, sodas, and other cocktails.
When your plates are clean, brace yourself for a world-class show as a celebration of the Hawaiian culture and tradition, as well as other cultures that live on the island and call Hawaii their home. Be entertained with the multi-talented dancers in their vibrant costumes as they sway their hips to the Hawaiian hula. Be mesmerized by the colorful precision of the Tahitian drum dances. As a finale, hold onto your seats for the thrilling performance of the Samoan fire knife dance. Watch as the stage is set on fire, while the dancer makes a hair-raising exhibition with a burning knife.
Luau Highlights
Smith's Tropical Paradise Garden Luau is one of Kauai's best known and favorite Hawaiian luaus

Shell lei greeting

Take a narrated tram tour or enjoy a leisurely stroll around the lush 30-acre gardens

Learn how ancient Hawaiians cook and steam their dishes, including the kalua pig, in an underground oven called imu

Taste a variety of flavors from different countries' cuisines

Watch a world-class show after dinner

Unlimited drinks from an open bar
Luau Menu
Drinks: Mai Tais, beer, wine, standard bar drinks and soft drinks ( are available throughout the dinner hour).
Special Instructions
Check-in Location and Time
March-October: Check-in for the full luau is at 5:00 pm.
November-February: Check-in for the full luau is at 4:45 pm.
*Check-in for the show only is at 7:15 pm.
Location: Wailua Marina State Park, 3-5971 Kuhio Hwy Kapaa, HI 96746
Restrictions:

There are no specific restrictions for this activity.

Special Notes:

Infant pricing (children 2 and under) allows for children to have their own food and seat if you would like.

Operations:

January, November and December: Mondays, Wednesdays, and Fridays.
February through May and September, October: Mondays, Wednesdays, Thursdays, and Fridays.
June through August: Mondays through Fridays.
Closed: 12/25
Duration: 3.5 hours