Uncover the wild side of you with an exciting complete package self-guided kayaking discovery in one of Oahu's most beautiful beaches - the Kailua Beach!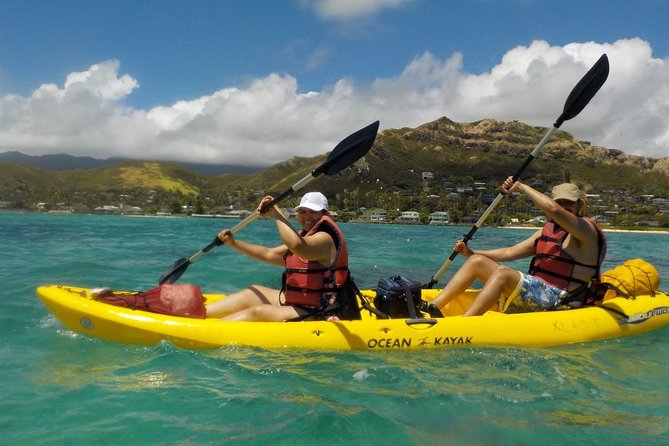 Are you a big fan of kayaking? Whether you are a beginner or a professional, this 4-hour water escapade is truly a must-try! If you travelled so far just to experience the land of Aloha, the spectacular views you will witness in this trip are truly worth it. If you have been looking forward to letting your kids experience something new, then this is a perfect opportunity, too. Plus, they get a chance to encounter some marine life, such as green sea turtles, a variety of colorful fish, and more.
This trip includes roundtrip transportation from major Waikiki hotels. Upon booking, the exact time and location will be included in your voucher. You can also drive by yourself if you want to look around on your way to the check-in area. So, what should you bring? Like other Kailua Beach Adventures' tours, you will get wet in this activity so you should bring a bathing suit. A camera is also a must if you want to document your trip, taking pictures of every stunning view you will pass through. Using a reef-safe sunscreen is strongly encouraged, for the protection of the ocean and its living species. Other essentials you may bring include towels, dry clothes to change after your trip, sunglasses, and foot wear with straps.
You will kick off your adventure at the Kailua Beach after a short briefing on safety measures, as well as on basic instructions about kayaking. Then you will be outfitted with your gear, including life jackets, lockers, snorkel gear, and dry bag. Since you will be exploring on your own without tour guides, you are provided with 4 hours to paddle offshore islands and beaches of your choice, at your own pace. For a more fun adventure, you can visit Mokulua Island, a protected seabird sanctuary twin islands offshore at Lanikai Beach.
The northern side is called the Mokulua Nui or Moku Nui, with a maximum peak of 225 feet (69 m), whereas the smaller one in the southern part is called Mokulua Iki or Moku Iki, where you can find a rocky coral beach on its western side. Your visit here is so rewarding because you can do several activities, including a short hike for 20-25 minutes to reach the gorgeous Queen's Bath. The tropical scenery surrounding these twin islands is stunning that you can't help but to capture it. You can also snorkel, swim, look for green sea turtles here, or simply savor the moment, relax, and feel the calm environment. You might even encounter a baby seal sunbathing, rock crabs, or rainbow runners.
You will also eat your lunch in one of the islands here. Then after four hours out in the sea, you will paddle back at the check-in area where you can use their shower facilities and change into something dry.
TOUR HIGHLIGHTS
Self-guided kayak exploration in Kailua Bay

Paddle to several offshore islands of your choice

Visit seabird sanctuaries

Swim and snorkel in turquoise blue waters 

Spot green sea turtles and other marine life
TOUR INCLUSIONS
Transportation from and to Waikiki

All kayak and safety gear, including life jackets, dry bags, and island landing permits

Use of secure lockers for your valuables

Mouthwatering lunch

Free beach parking
ADDITIONAL INSTRUCTIONS
Pick-up time:

Begins at 7:30 am 
Check-in time: 9:15 am (130 Kailua Road, Kailua Beach Adventures Beachside Center)
Return to Waikiki: Around 3:30 pm
Restrictions:

Every participant must know how to swim. Nobody who can't swim is allowed to join the tour. No refund is allowed in this case as per the cancellation policy.
Minimum age of participant: 8 years old (8 to 18-year old guests must be accompanied by a parent or a guardian). 16 years old and under must ride a double kayak, accompanied by a parent or a guardian.
Participants need to transport their kayaks to/from the beach through a cart (5-10 minute-walk).

Operations:

Monday to Saturday

Duration:

5 hours of guided Oahu kayaking + exploration
Equipment: One or two-person Ocean Kayak™ or Spectrum Kayak™ with Comfort Pro Kayak Seat™