One of the most top-rated eco adventures providers, TwoGood Kayaks Hawaii brings you an interesting self-guided kayak adventure in one of Oahu's most beautiful beaches - the Kailua Beach!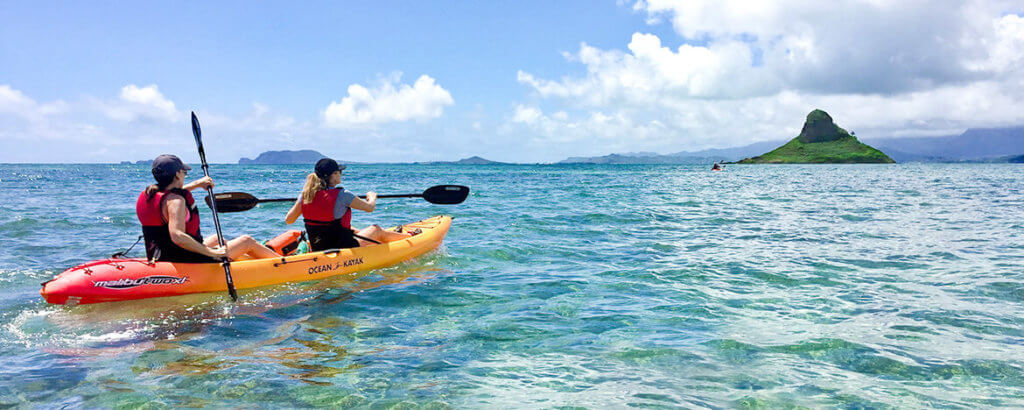 Are you an experienced kayaker looking for a perfect spot to challenge your skills? Are you a newbie in paddling, who fell in love with the sport? Or perhaps a family seeking a unique way to bond outdoors before taking the plane and head back home? If you say yes, then this 6-hour kayaking tour is a must-try! Enjoying many activities in the Hawaiian waters, including snorkeling and swimming, you also get to visit hidden natural pools and deserted islands.
So, what happens after booking your tickets? Since there is free roundtrip transportation from Waikiki, you will be picked-up from your hotel by a comfortable van in the morning. The exact time and location will be indicated in your voucher. Some guests rent cars and drive on their own so they could look around on their way to the check-in area. If you are one of them, just enter Twogood Kayaks shop, 134-B Hamakua Drive, Kailua, HI 96734 on your GPS, and it will take you there.
If you are wondering what to bring on this trip, a camera is a must-have with all the postcard-worthy panoramic views that you will witness. You will definitely get wet, so, bring a bathing suit, towel, footwear with a strap, and some clothes to change after your tour. It is strongly recommended to use or bring reef-safe sunscreen to protect the ocean and its living species. After checking-in, you will sign a waiver and participate in a safety briefing, as well as weather assessment, paddling map, and orientation of the paddling area.
After then, you will be escorted by an experienced staff who helps you get started, and at the same time, provides a basic paddling lesson. You can now begin to explore the bay at your own pace. While paddling, you may chance upon endangered sea turtles and a variety of beautiful fish. Lanikai Beach is one of the most famous kayaking destinations in this adventure. Did you know that it is often labeled as the "most beautiful beach" in Oahu by locals and tourists? In reality, it is one of the most magnificent beaches in the world. With its tranquil aqua blue waters, you can't resist jumping right in! You will be truly mesmerized with its incomparable beauty – explaining its name "Lani Kai," which means "Heavenly Ocean" in English.
Looking down at its crystal clear waters, put on your snorkel gear and start watching beautiful reefs. From here, you can stop by Mokulua Island – an offshore twin island called Mokulua Nui or Moku Nui in the north and Mokulua Iki or Moku Iki in the south, that are both protected seabird sanctuaries. You can go for a gentle hike to see a hidden cove and breathtaking natural pools, or better yet, try kayak surfing if you feel your adrenaline kicking! To recharge, you will feast on your delicious lunch in one of the islands, while looking at the majestic pristine waters right in front your eyes.
Before paddling back to Kailua Beach, take advantage of the opportunity to relax, swim, dive, snorkel, or simply feel the mood in this beautiful paradise.
TOUR HIGHLIGHTS
Unguided kayak tour to explore Kailua Bay at your own pace

Paddle over to an offshore island of your choice, such as Popoia Island or the Mokulua Islands

Relax on the beach

Snorkel, swim, and dive in crystal clear waters

Get to see a variety of marine life, including tropical fish and green sea turtles

Picnic-style lunch at an island while watching the beautiful sea
TOUR INCLUSIONS
Kayak, paddle, snorkeling gear (snorkel, mask and fins)

Life jacket, dry bags, seatbacks

Picnic lunch (French-style sub sandwich, chips, and a drink) provided in a soft cooler and dry bag

Roundtrip transportation from Waikiki
ADDITIONAL INSTRUCTIONS
Pick-up time:

7:45 am to 8:15 am from Monday to Friday and 7:15 am to 7:45 am on Saturday
Check-in time: 8:15 am (130 Kailua Road, Kailua Beach Adventures Beachside Center)
Return to Waikiki: Around 4:00 pm
Operations:

Monday to Saturday
Duration: 6 hours