If you and your travel companions are headed to Kona Coast on the Big Island, might as well take advantage of the fact that the place is renowned for its abundant and diverse marine life, perfect for deep sea fishing.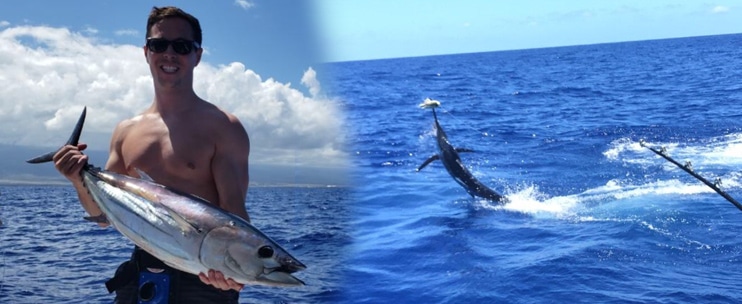 Understandably, fishing as an activity may not be appealing to some, but it is, in fact, a fun activity and a great bonding experience with your travel buddies, most especially if you are vacationing in that part of Hawaii hailed as the state's fishing mecca! Go and take advantage of Kona's marine life by booking SeeLife Adventures' Kona Fishing Charter! Trust us, this is an experience you will never forget and regret!
SeeLife Adventures is one of the many boat tour companies in Big Island that offers fun and family-friendly ocean adventures to travellers from different parts of the world.  What's great about booking any of SeeLife Adventures' package tours is that it is established and run by locals who have spent most of their lives in the water, so they really know the fundamentals and the how-to's in the ocean tourism business.
 Such knowledge and passion may also be seen in the captain and crew, and those who have gone on a SeeLife Adventures tour can attest to this, and have actually left positive reviews about the boat's staff on board. Thus, when you book a tour with SeeLife Adventures, you are guaranteed to be in good hands!
For this tour in particular, SeeLife Adventures' Kona Fishing Charter features Kona Coast's marine life, teeming with all sorts of big fish and other incidental catches. Some of these big fish include the Pacific Blue Marlin, Skip Jack, Yellowfin Tuna, and the Mahi Mahi, which you may get the chance to reel in, if you're lucky! This, precisely, is what makes deep sea fishing so exciting–the experience of successfully hauling in a trophy catch, after all the attempts, the effort, the wait, and the fight that these fish will put up when hooked! After you and your companions have triumphantly won this battle against these fish and have reeled all your catches in, it must be noted that SeeLife Adventures' catch policy is that generally, you and your group get to keep your fish catch, with the exception of big marlins. All big marlins caught are subject to the catch-and-release policy, so these marlins have to be put back to their natural habitats when they're caught. You can, however, take quick photos with this trophy catch before releasing back to the ocean!
SeeLife Adventures' Kona Fishing Charter can accommodate up to six guests, who will all be getting a chance to catch some fish using SeeLife Adventures' fishing implements, available on board for everyone's usage. Ice and coolers will also be provided on the boat, so that you can properly store your fish catch to take home after the tour. Aside from these inclusions, all charters are also inclusive of water, juice, and light snacks which you can enjoy and munch on while waiting to reel in some fish. A delicious lunch meal also awaits those who will be joining the 3/4 and full-day charter tours. 
SeeLife Adventures' Catch Policy
The person or group booking the charter gets to keep all the fish catch.

Big marlins, however, are exempted. These will have to be released back to the ocean when caught.
SeeLife Adventures' Inclusions
All fishing gear and equipment

Ice and coolers for fish storage

Refreshments (water, juice, light snacks)

Lunch (for 3/4 and full-day charters)
SeeLife Adventures' Special Instructions
Check in at Slip G 4, Honokohau Small Boat Harbor.

Check-in time is 30 minutes before departure.

You may bring your own drinks (alcohol is also allowed), but check with the staff if your drink containers are allowed on board.

Each charter can accommodate up to six guests only.