The Island of Hawai'i is known not only as the largest of the island chain, hence its byname "The Big Island", but also for the great number of beautiful natural sights it holds.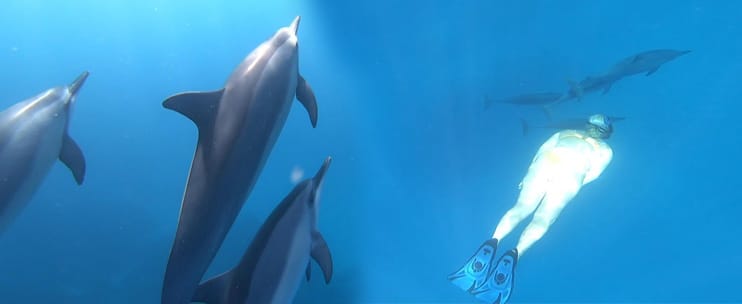 It is home to a lot of gorgeous beaches, fine snorkel sites, and some majestic land formations, from its 13 major mountain peaks to the lush coastline valleys and cliffs. Consequently, there are a lot of tour operators offering different package tours to guests who wish to explore all of this, and if you are one of those who prefer doing so through a more intimate, small-group tour, then come and join SeeLife Adventures! With SeeLife, you and just five other guests will literally get to see life–marine life, that is!
SeeLife Adventures' Dolphin Swim is a thrilling adventure with the Hawaiian spinner dolphins, one of the most abundant marine species in the Hawaiian Islands! It sets off with a cruise on board the Bertram 31, a high-powered cruiser boat that offers a steady and relaxing ride to one of the best snorkel sites along Kona Coast.
 It carries only up to six guests, so if you are not exactly a fan of big-group tours, this is the perfect tour for you. At this point, you may be imagining Bertram 31 as a small tour boat, but it actually has equipment and facilities as that of regular tour vessels, such as spacious and comfortable seating, a bathroom, and even a shower! You are sure to have an enjoyable time aboard, just as you would in the next, possibly the most-awaited, part of the tour: the dolphin encounter!
Once the Hawaiian spinner dolphins are spotted, the Bertram 31 will pull up the cruise for the up-close encounter with these precious marine mammals. As SeeLife Adventures' Dolphin Swim is a morning cruise, you will spot these dolphins in no time since they are known to be most active and visible in this part of the day. They usually swim in pods and love to show their playfulness by rising above water and spinning high into the air, which explains why this dolphin variety is named so! This is a sight you will definitely enjoy and make you even more excited to get in the water, so be ready to gear up with the help of the Bertram 31 crew.
Inclusive of the tour price are the towels, flotation devices, complete snorkel gear, neoprene vests, and even see-through rafts for kids, to ensure everyone's utmost safety and enjoyment during the dolphin swim. The crew will also be providing you with sunscreen that is guaranteed safe on the skin and safe for the underwater animals and reef formations, as some sunscreens are in fact formulated with components toxic for these well-protected species and reefs. Once fully geared up, prepare for an adventure of a lifetime with the Hawaiian spinner dolphins! See them swim freely in their natural habitats, taking great pleasure in open water as much as they do when they playfully go above the surface. Get ready to see other sea creatures, too, as SeeLife Adventures is, again, literally an adventure that lets you see Hawai'i's vibrant marine life!
Come and see Kona's beautiful underwater life with SeeLife Adventures' Dolphin Swim! This is a small-group tour you surely wouldn't want to pass up on!
SeeLife Adventures' Dolphin Swim Tour Inclusions
Complete snorkel gear (flotation devices, neoprene vests, masks)

Rafts with see-through bottom for children

Reef-safe sunscreen

Towels

On-board refreshments (drinks and light snacks)
SeeLife Adventures' Dolphin Swim Special Instructions
Check-in is 8:30AM at the latest. The boat departs at exactly 9:00AM.

Check in at Honokohau Small Boat Harbor, Kailua-Kona, HI 96740.

Tour duration is approximately 2-3 hours, so the boat will return at the Harbor at around 11:00AM-12:00PM.

Guests should be at least 4 years old.

Guests should be comfortable swimming in open water.