As the popular disco song goes, "I love the night life," and you sure are going to say the same thing when you experience this particular night life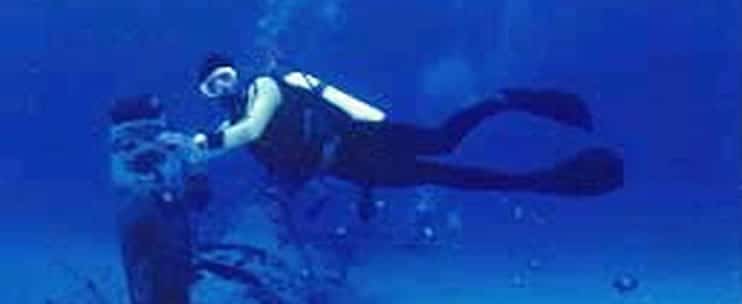 Night life underwater, that is! Seasport Divers' Twilight Night Dive is an underwater adventure that is not like any other scuba diving trip you have gone on before. Featuring the calmness of the beautiful Kauai seas and the nocturnal marine animals lurking down under, this scuba diving package is one that you wouldn't want to miss!
Exclusive for certified divers, Seasport Divers' Twilight Night Dive is a two-tank dive that kicks off at twilight, just as the sun is about to set and is painting the lovely Hawaiian skies warm and vibrant sunset hues. On this first dive, the seas are just as lovely, with the beautiful sunset reflecting onto the water and the waves slowing down and calming into the night. Below, catch sight of different sea creatures and their behaviors distinct only at this time of the day, just as the sun is about to set. Watch as these animals prepare themselves for nighttime feeding–truly one of nature's wonders not everyone is lucky enough to witness.
For your second dive, it's time to get up close with Kauai's nocturnal sea creatures! Guided by your light, gaze in awe at colorful nudibranchs, Spanish Dancers, lobsters, and many other marine animals that you won't get to see during a morning or afternoon dive. Truly, Seasport Divers' Twilight Night Dive is a unique and unparalleled scuba diving escapade you just can't pass up on especially when you're in Kauai, a location teeming with different fish, crustaceans, and many other marine species!
Seasport Divers' Twilight Night Dive operates only on Wednesdays, so make sure to plan your itinerary accordingly. This night adventure is 4 hours of pure thrill and absolute delight, and is certainly an excellent way to make the most out of your scuba certification!
Tour Highlights:
An exclusive two-tank dive in Kauai's stunning south shore 

A twilight and night-time underwater exploration at Sheraton Caverns, a prime dive site that features abundant marine life

An up close encounter with colorful nudibranchs, Spanish Dancers, lobsters, shrimps, and many other nocturnal sea animals
Tour Inclusions:
This tour is inclusive of the following:
Two tanks, wetsuit, masks and fins, computer, light, and tank marker

A guided tour facilitated by a PADI, SSI, or NAUI instructor

A comprehensive pre-dive briefing, which also includes information about Kauai's marine life

A boat ride on the

Anela Kai,

a custom PRO48 US Coast Guard-certified dive boat equipped with hot showers, cabin, and observation deck
* BCD and regulator are also available on-board but for a minimal fee.
Special Instructions:
Check-in is at Seasport Divers, located at 2827 Poipu Road, Koloa, Hi 96756.

Tour is from 5:00 to 9:00 PM. Make sure to check in at least 30 minutes before your scheduled tour.

This tour is exclusive for certified divers. Each participant's certification card must be presented upon check-in.

A medical questionnaire must be filled out before the tour. If the responses show that the participant is not entirely fit to join, a doctor's clearance will be required to be able to participate. 

This tour operates on Wednesdays only.

The maximum capacity is 18 divers per booked tour.