What better way to spend a warm, sunny afternoon in Kauai than by going on an underwater adventure!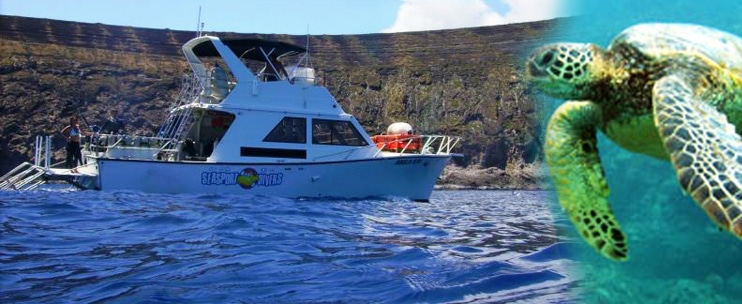 As Kauai is home to pristine waters, abundant marine life, and amazing underwater topography, a Kauai scuba diving adventure is what you need to make the most out of your vacation in this part of Hawaii. If you have little to no experience in diving, fret not! Seasport Divers offers a scuba diving package tailor-fit for beginners, non-certified participants, or even certified ones who may feel like they need a little more experience before actually going advanced and deep. Come and join Seasport Divers' Afternoon Two Tank Dive for an afternoon of relaxed diving, spectacular sightseeing, and just plain, pure fun!
Seasport Divers' Afternoon Two Tank Dive takes its participants to Kauai dive sites top-rated for their underwater views, animal encounter, and dive level. As this particular tour caters to non-expert divers, Seasport Divers' Afternoon Two Tank Dive is slower and more relaxed, and features shallow dive locations. This is not to say that this tour is second-rate, though! Albeit easy and shallow, this scuba diving activity offers an underwater experience that is just as thrilling and wonderful. 
For instance, if the weather and water conditions allow, guests may be brought to Sheraton Caverns! Just a quick Internet search would reveal that this is one of the top diving sites in Kauai, known for its archways made out of lava tubes, which many Hawaiian green sea turtles, reef fish, and other precious sea creatures consider their home. An afternoon here, or in any of Kauai's dive sites for that matter, is an afternoon well spent, definitely!
What's great about Seasport Divers' Afternoon Two Tank Dive is that divers in each tour group will be classified, depending on their level and ability. This means that beginners will swim together and will have a separate guide, which enables them to dive with comfort, ease, and security, while the more experienced divers will get to swim and apply their scuba diving skills more freely, without having to worry about their companions. If some guests would rather snorkel, they are more than free to come along and group together, too! At Seasport Divers' Afternoon Two Tank Dive, your comfort, preference, and utmost enjoyment come first!
Tour Highlights:
This tour is open to both certified and non-certified divers.

The depth of the dive is in the 40-60 foot range, ideal even for divers with little diving experience.

Featuring prime dive locations in Kauai, this tour lets you explore fascinating underwater sights and marine life encounters!
Tour Inclusions:
This tour is inclusive of the following:
Two tanks, wetsuit, masks and fins, computer

A guided tour facilitated by a PADI, SSI, or NAUI instructor

A comprehensive pre-dive briefing, which also includes information about Kauai's marine life

A boat ride on the

Anela Kai,

a custom PRO48 US Coast Guard-certified dive boat equipped with hot showers, cabin, and observation deck
* Nitrox, BCD, and regulator are also available on-board but for a minimal fee
Special Instructions:
Check-in is at Seasport Divers, located at 2827 Poipu Road, Koloa, Hi 96756.

Check in at 12:30 PM at the latest.

A medical questionnaire must be filled out before the tour. If the responses show that the participant is not entirely fit to join, a doctor's clearance will be required to be able to participate. 

This tour lasts for around 4 hours. The boat is expected to return at Seasport Divers Dive Shop at around 5:00 PM.

This tour operates daily.

The maximum capacity is 18 divers per booked tour.