As can be gleaned from this tour operator's name, this tour activity promises thrill and fun in Kauai's seas under the beautiful Hawaiian sun! Sea Fun Kauai's Beach Snorkel Tour is your best bet for that ultimate ocean escapade, which is open for beginners and experienced alike.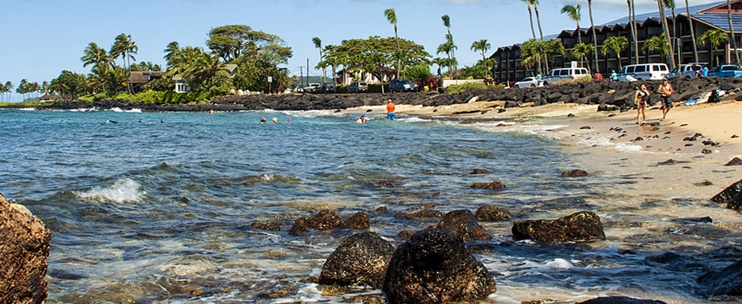 For as long as you love nature and the waters, and are up for some exploration and adventure, you are welcome to join and go on SeaFun Kauai's Beach Snorkel Tour!
Kauai's south shore is home to beautiful and uncrowded beaches, pristine turquoise waters, magnificent coral reefs and land formations, and, of course, a wide variety of marine life. This, precisely, is what SeaFun Kauai's Beach Snorkel Tour is going to let you see and experience. Lawai Beach or Anini Beach is one of the two beach locations that you will get to visit on this tour, with the exact destination to be determined by the captain depending on the water and weather conditions on your tour day. Either beach is a top-rated location on Kauai's south shore, as both of these popular spots boast an extraordinary kind of beauty, immaculateness, and splendor. Whichever it is that your captain brings you, you will absolutely enjoy the spectacular views down under! Prepare to see different species of tropical reef fish and many other marine organisms, as well as vibrant coral reefs where these species swim about and frequent. If you are an advanced snorkeler, SeaFun Kauai's expert guides may bring you to another lovely location, where the sight of Hawaiian green sea turtles awaits! Truly, this experience is one that you should not pass up on, especially since it's not everyday that you get to go on a trip to beautiful Kauai.
If the idea of swimming in open waters makes you anxious, fret not! SeaFun Kauai's Beach Snorkel Tour has a specialized activity for beginners, or those who do not feel comfortable going far and deep. Its experienced snorkel guides have soft and large surfboards with handles on their edges, specifically designed and brought for non-snorkelers. Of course, apart from the equipment, SeaFun Kauai's guides will closely supervise all guests to ensure everyone's comfort, safety, and utmost enjoyment. What's great is that they will take pictures of you, too, as you go on your chosen ocean activity, copies of which you can purchase once you are back from the trip. In SeaFun Kauai's Beach Snorkel Tour, leave all your fears and apprehensions behind—you are sure to have a safe, pleasurable, and picture-filled time here!
SeaFun Kauai's Beach Snorkel Tour can be enjoyed either in the morning or in the afternoon, depending on your schedule and preference. Whether you are travelling alone, with a travel buddy, or with a big family, you will most certainly not regret booking this tour package!
Tour Highlights
This is a tour that is suitable for both beginners and advanced snorkelers.

It features a fun and scenic snorkeling excursion on Kauai's south shore, specifically in Lawai Beach or Anini Beach.

High quality flotation devices and professional snorkeling equipment (US Divers Impulse snorkels, wetsuits, equipment bags) will be provided, but guests are free to bring their own. Optical snorkel masks are available as well, if necessary. 

Beginners and non-snorkelers may opt to use surfboards with handles for an easy and comfortable time in the water, which will also be provided.

Pre-dive briefing, safety instructions, and close supervision by the guides are guaranteed.
Tour Inclusions
SeaFun Kauai's Beach Snorkel Tour is inclusive of the following:
Light snacks and beverages

Flotation devices

Snorkeling gear

Surfboards for beginners
Special Instructions
Choose from the following tour times:

Morning tour: 8:00 AM to 12:00 PM

Afternoon tour: 1:00 PM to 5:00 PM

Check-in time is at 7:45 AM for the morning tour and 12:45 PM for the afternoon tour.

Check in at 3477A Weliweli Rd., Koloa, HI 96756.

This tour generally welcomes everyone, whether beginners or advanced snorkelers. However, the following are some restrictions in joining this tour:

Children below 5 years old will not be allowed to participate.

Pregnant women are also disallowed from joining.

Those who have had a serious surgery within the last three months preceding the tour date, and those with back, neck, or knee injuries may not participate.

This tour operates every Tuesday, Wednesday, and Saturday. There are certain weeks, however, that it is also available on Mondays and Sundays.

Tour duration is approximately 4 hours.

Each tour can accommodate up to 22 guests per trip.