Oahu is home to a number of stunning sights and marvelous views.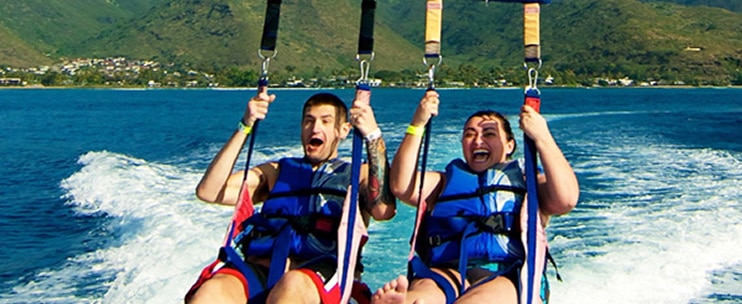 From its pristine, blue waters, lush mountains and valleys, to its remarkable architecture that forms such an impressive skyline, Oahu, no doubt, is a feast for the eyes and senses. While these sights are great enjoyed while relaxing by the beach, they, in fact, can get even more breathtaking when viewed from up above! Come and see this for yourself by booking SeaBreeze Watersports' Oahu Parasailing!
For those who are reading about the water activity for the first time, parasailing is an exciting water activity of gliding through the air and above the waters, while wearing an open parachute towed by a powerful motorboat. It may sound nerve-racking especially for first timers, yes, but what's great about SeaBreeze Watersports is that it employs the safest method of parasailing–all for your peace of mind and utmost enjoyment! 
Here, the participant's launch and recovery takes place right from the boat itself, which ensures his safety and protection from ascent to descent. In addition, prior to such ascent, each participant will be given an instructive safety briefing by the company's well-trained staff. Especially for beginners, this is the part where you get to ask all your questions and raise any concern. Nothing to be shy about here, as SeaBreeze Watersports' staff and crew are warm people who will share with you all that you need to know before going on your parasailing adventure.
SeaBreeze Watersports' Oahu Parasailing lasts for around an hour on the water, while the parasailing proper lasts for six minutes–the best six minutes of your life, for sure! While gliding above the stunning Oahu waters, prepare to feast your eyes on the stunning Hawaii Kai coastline and the Koolau Mountain Range, just to name a few of the sights you will get aerial views of! If you have an action camera, do not forget to bring it with you; you wouldn't want to end this adventure without some photos to remember it by.
What are you waiting for? Complete your Oahu vacation by booking SeaBreeze Watersports' Oahu Parasailing! Stunning aerial views and an extraordinary sightseeing adventure with your travel buddies–there's nothing else you can ask for, really!
Package Options
1.Standard Package
This package utilizes a towline with a length of 600 feet, a popular option among first-time parasailors.
The flight lasts for 6 minutes
2.Higher Flyer Package
Perfect for the more adventurous parasailors, this package utilizes a long towline of 800 feet.
Just like the Standard Package, the flight for this package also lasts for 6 minutes.
3.Rider Option
If you are not exactly fond of water adventure activities, this option is perfect for you. Here, you get to enjoy an hour of a relaxing beach cruise, with some sightseeing, too.
Instructions
Check in at SeaBreeze Watersports, located at 377 Keahole St. E103, Honolulu, Hi 96825. This tour operates from Monday to Friday.
Choose front he following tour times:
8:00AM
9:00 AM
10:00AM
12:00PM
1:00PM
2:00PM
3:00PM
A round-trip transportation from select hotels is available for the morning tours.
The following are not allowed to participate in this activity:
Those weighing less than 60 lbs.
Those weighing above 275 lbs.
For tandem/pair rides, those whose combined weight exceed 500 lbs.
Pregnant women
Upon check-in, a fuel surcharge of $3.00/person will be collected. This rate may change, depending on the current fuel prices.
A Digital Media photo service is available for all tours.
This tour utilizes KrantzKraft boats–factory designed, US patented, and especially fabricated for commercial parasailing. Per tour, each boat can carry up to six passengers.