This is a brand new activity that's now available on Oahu.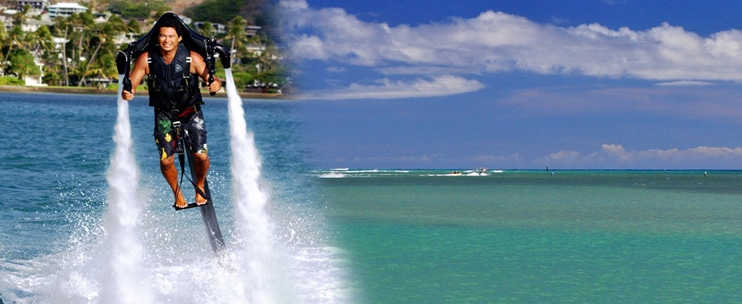 Jetlev is a patented water-propelled jetpack that allows you to safely fly up to 30 feet in the air. A certified flight instructor will guide you from start to finish. The Jetlev flight is about 15 minutes long. You'll be equipped with a life jacket and a helmet that uses a walkie talkie to allow the instructor to direct you. First-time Jetlev participants have their throttle controlled by the instructor via a remote control, so they can focus on just having fun in the air. Most first-time Jetlev participants fly 5-6 feet in the air.
This is how it works: The jetpack harnesses the power of controlled water pressure. The jetpack's pod unit pumps ocean water, pushes it up the 33 feet hose into the jetpack, where it is directed down from the control nozzles, propelling the pilot smoothly up into the air.
Tour Schedule

10-minute safety briefing
10-minute shuttle to ocean launch point in Mauanalua Bay
10-minute preparation for Jetlev flight
15-minute Jetlev flight time
10-minute return shuttle to SeaBreeze Watersports office
Special Instructions
Where and When:

Waikiki pick-up times:
Tour 1: 7:25-8:00 am
Tour 2: 9:00-9:15 am
Tour 3: 10:25-11:00 am
Guests driving out will check in at Hawaii Kai Shopping Center
Restrictions:

Pregnant women may not participate, but may come along as an observer.
Participants must be in overall good health.
Adults:
Minimum weight is 85 lbs.
Maximum weight is 300 lbs.
Minimum age is 16.
Operation Days:

Monday-Friday
Duration:

3 hours total including hotel pick-up and drop-off
Capacity:

4