It cannot be denied that Big Island is an awe-inspiring tropical paradise.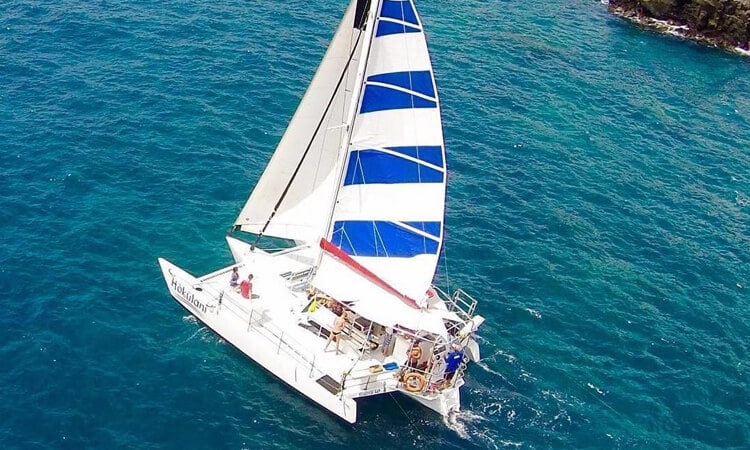 With its sapphire seas, magnificent coastlines, majestic above and below water formations, and its abundant marine life, the island's charm is absolutely exceptional and unsurpassable. Thus, you cannot let your Big Island getaway go by without going on a snorkel sail, wherein you will get to fully appreciate and experience all the beauty that this part of Hawaii has to offer. Come and join Sea Paradise's Deluxe Morning Snorkel Sail for a fun-filled day of sightseeing, snorkeling, and enjoying Big Island to its fullest!
Sea Paradise's Deluxe Morning Snorkel Sail utilizes the Hokulani, which literally means "heavenly star" in the Hawaiian language. This 45-foot trimaran, indeed, promises a heavenly experience throughout the duration of the tour! This luxury boat has all the equipment and amenities that you need for that smooth, safe, and deluxe ride en route to your snorkel destination. The Hokulani will set sail from Keauhou Bay, and then cruise south along the picturesque Kona Coast, until you get to Kealakekua Bay. Make sure your cameras are ready, as this cruise guarantees the best sights of Kona's landscape and seascape!
Upon your arrival at Kealakekua Bay, it's time to gear up and get in the water! This particular spot is a Big Island jewel, and is known to be one of the best snorkel sites in all of Hawaii. Kealakekua Bay, in fact, is a marine sanctuary, which means you will get to catch sight of untainted coral reefs, well-preserved rock formations, and many other underwater features that have been properly conserved throughout the years. Of course, the star of the show is Big Island's marine life, which you will get to experience and see up close, too! As you snorkel, prepare to see vibrant reef fish, green sea turtles, and even manta rays and dolphins, plus many other sea creatures, most of which are endemic to Hawaii. If you are a nature-lover, this is going to be a very special treat!
After an hour of water time, Hokulani will set sail and bring you to more Big Island gems like the Red Hill, if the water and weather conditions permit. You will not only be given an opportunity for more snorkeling, but you will also be treated to a delicious feast on-board! As this tour is a deluxe snorkel sail, Sea Paradise will definitely treat you to a lot of amazing tour inclusions, making your Deluxe Morning Snorkel Sail experience the highlight of your trip to Big Island. Truly, booking Sea Paradise's Deluxe Morning Snorkel Sail is a fantastic way to perk up your Hawaii getaway!
TOUR HIGHLIGHTS
Sea Paradise's Deluxe Morning Snorkel Sail is inclusive of the following:
High quality flotation devices and snorkel gear (mask, snorkel, and fins) *

Flotation noodles and viewfinder boards

Fish identification cards

Pre-dive briefing and safety instruction

A tropical-style continental breakfast of muffins, an assortment of pastries, fresh island fruits, Kona coffee, tea, and other morning beverages

A deli-style lunch on-board
* Guests are free to bring their own snorkel gear. However, if you are to bring your own, note that full-face snorkel masks are not allowed on this tour for safety reasons.
Deli-Style Lunch Menu
An assortment of rolls, bread, and tortilla wraps, with your choice of protein (ham, turkey, and tuna)

Assorted cheeses (Monterey jack, swiss, colby, and cheddar)

Lettuce, tomatoes, onions, pickles, mayonnaise, mustard, and other vegetables

Sides of potato chips and house salad

Cookies

Beverages of fruit juices, soda, water, and iced tea (Adults with valid picture IDs may purchase alcoholic beverages on board.)
NOTE: In light of the circumstances brought about by the COVID-19 pandemic, these tour inclusions are subject to change without prior notice.
Special Instructions
Check-in time is at 8:15 AM. Make sure to check in early as the tour will depart promptly at 8:30 AM.

Check in at the Keauhou Bay Pier, located at 78-7130 Kaleiopapa St., Kailua Kona, HI 96740.

As mentioned above, guests are free to bring their own snorkel gear. If you are to bring your own, note that full-face snorkel masks are not allowed on this tour.

This tour operates daily.

Tour duration is approximately 4.5 hours. Tour is set to return to Keauhou Bay at around 1:00 in the afternoon. 

This tour can accommodate up to 36 passengers per trip, but the tour capacity is subject to change in light of the safety precautions on social distancing in place during your tour.