If it's paradise you are looking for, then it's West Maui that you should add to your itinerary. While it cannot be denied that Maui boasts several tourist spots that exude natural charm and tropical beauty, West Maui, nonetheless, is distinctly spectacular in its own way that you just have to go and give it a visit.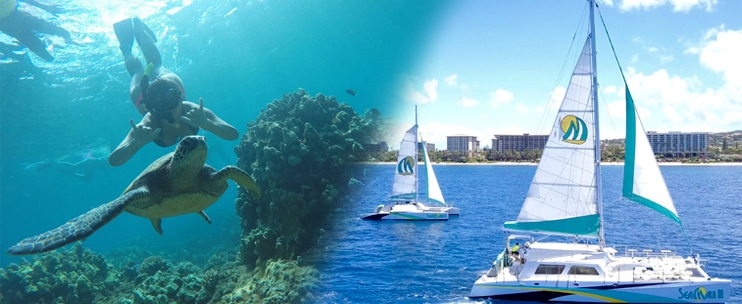 Without a doubt, there is no better way to explore this place and take pleasure in its lovely views above and below water than by going on a snorkel sail! Come and join Sea Maui's West Maui Snorkel Sail for a half day of sun, adventure, and a whole lot of fun!
Departing directly from Ka'anapali Beach in front of Whalers Village, Sea Maui's West Maui Snorkel Sail leaves in the morning at 8:30 AM to perfectly kickstart your day. As soon as you and the rest of the tour group have settled comfortably in the vessel, you will be served a deliciously prepared breakfast and freshly brewed coffee to energize you for the adventure that lies ahead! What's great about this inclusive morning treat is that you get to enjoy it while relishing the views of the scenic West Maui coastline. Watch out as playful spinner dolphins and even humpback whales, if ever you visit during the whale season, gracefully show themselves at the water's surface to say hello! You will love the sight of all of this, for sure!
Upon your arrival at your designated snorkel sites in West Maui, more spectacular sights await! The captain will determine which prime snorkel locations you will get to visit during your scheduled tour, depending on the water and weather conditions on that day. Regardless which spots you get to swim and snorkel in, you are guaranteed the best underwater views, given West Maui's untainted and well preserved waters and formations, and, accordingly, its abundant sea life. 
To cap off such a beautiful underwater escapade, you will once again be served scrumptiously cooked lunch by Chef Joey of Joey's Kitchen, which you will delightfully feast on as you head back to Ka'anapali. Truly, from the beginning up to the end of the trip, Sea Maui's West Maui Snorkel Sail offers nothing short of sensational!
Tour Highlights:
Depart directly from Ka'anapali Beach 

Enjoy a sightseeing cruise to West Maui on-board the high-powered Sea Maui III

Snorkel at two prime locations in the crystal clear waters off West Maui, the exact locations dependent on the water and weather conditions on the day of your tour

Get an up close encounter with West Maui's precious marine life, from vibrant tropical reef fish, playful dolphins, majestic sea turtles, humpback whales during the whale season, and many more!

Enjoy mouthwater meals and refreshing drinks on-board
Tour Inclusions:
Sea Maui's West Maui Snorkel Sail is inclusive of the following:
High quality flotation devices and snorkel, mask, and fins

Breakfast and lunch on-board deliciously prepared by Chef Joey of Joey's Kitchen *

An on-board open bar after snorkel
* Vegetarians and those with food allergies are expected to make their special food requests upon reservation.
Special Instructions:
Check-in time is 8:00 AM. Make sure to check in early as the tour will depart promptly at 8:30 AM.

Check in at Sea Maui's Activity Booth, located between Leilani's and Hula Grill along the beachwalk. Sea Maui III will depart directly from the beach, at Whalers Village in Ka'anapali.

If you are driving to Ka'anapali, parking validation is usually available at Whalers Village for up to 4 hours of parking.

The following are the requirements and restrictions to join this tour:

All participants must sign a waiver prior to the scheduled tour.

Passengers must be physically able to board the vessel from the beach. Note that this is a barefoot boarding tour, so you may get wet as you go on and off the boat.

Snorkelers must be able to comfortably swim in open water.

The following are the safety protocols that will be followed in light of the COVID-19 pandemic:

A 50% capacity will be followed for each tour to ensure that all passengers have room to practice social distancing.

Guests will be pre-screened with a contactless temperature check.

Sea Maui's crew will be wearing masks throughout the duration of the tour. Guests, however, will be allowed to remove their masks when seated on the boat, and when eating, drinking, and swimming/snorkeling.

The boat and all equipment will be sanitized and deep-cleaned before and after every tour. 

Enhanced safety protocols are also followed for all food and drink services. When these safety protocols are in place, food is pre-packaged and individually served to guests.

This tour operates every Monday, Wednesday, Thursday, Saturday, and Sunday.

Tour duration is approximately 4.5 hours. This tour is scheduled to return to Ka'anapali Beach at around 1:00 in the afternoon.