The Hawaiian sunset is, without a doubt, one of the most breathtakingly beautiful views there is.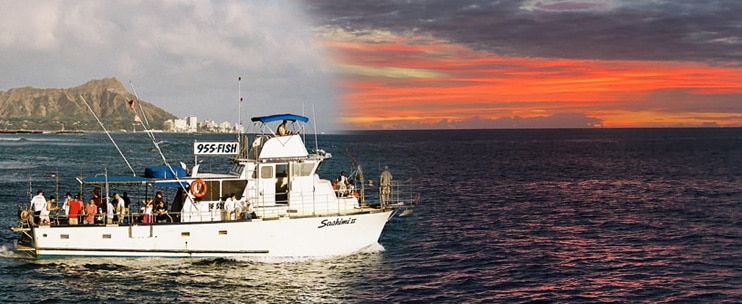 The colors of the Hawaiian sky just naturally intensify at this time of the day, with stunning hues of gold, orange, red, and pink setting it alight. In Oahu Island in particular, there are identified sunset spots where tourists, and even locals, love hanging around to capture the last moments of the day, as the night sky is about to set in. But did you know that you can also enjoy the spectacular sight of the Oahu sunset while having a fun fishing adventure at sea? Go and hit two birds with one stone, as they say, with Sashimi's Sunset Bottom Fishing!
Sashimi's Sunset Bottom Fishing is a package tour that starts late afternoon, just in time for you and your companions to enjoy the cool breeze and the gorgeous sunset, while also having an exciting time as you try your hands on fishing. 
For this tour, guests board a 65' custom-built Delta Sport Fisher, fully equipped with an air-conditioned cabin, spacious fly bridge, a restroom and shower, and comfortable seats, all for your utmost enjoyment during the cruise en route to Oahu's best fishing spot.
On-board are state-of-the-art fishing gear, too, such as the necessary rods and reels, baits, and electronics, including GPS, fishfinder, plotter, cellular phone, and radios. With all these on the vessel, all you have to bring, really, is yourself, perhaps a camera to capture the moment, and definitely an adventurous spirit!
Most fishing tours depart in the morning, but that is not to say that there are not as much  fish in later parts of the day. In Sashimi's Sunset Bottom Fishing, prepare to reel in a variety of reef fish, such as mackerel, snapper, jack, and other kinds of big fish that the Oahu waters are teeming with! When you get to haul in your fish catch, you can choose to "catch and release", or try some of your catch hot off the grill. Sashimi's Sunset Bottom Fishing allows a certain quantity of fish catch for guests to taste, which you can do immediately on board. That's right, Sashimi's Sunset Bottom Fishing's crew will cook a portion of the fish catch on the boat for guests to enjoy during the tour! Seafood can't get any fresher than this!
Apart from a portion of your fish catch, guests will also have a taste of delicious Hawaiian barbecue on board. Sashimi's Sunset Bottom Fishing is one of the few fishing tours in Oahu that includes a barbecue meal, and this will surely make the experience even more awesome than it already is. Feast on some freshly grilled hot dog, chili, rice, and refreshing drinks, along with your fresh seafood, while having the time of your life savoring the Hawaiian breeze and sunset.
Sashimi's Sunset Bottom Fishing is a fun, easy-going fishing tour that will perfectly cap off your day in Oahu. It is a great alternative to a morning deep sea fishing charter, a dinner cruise, or a sunset watch on the beach. Try it by booking a slot now!
Sashimi Fishing's Boat
A 65' custom-built Delta Sport Fisher that is equipped with:
Air-conditioned cabin

Spacious fly bridge

Comfortable seating

TV and stereo

CD and DVD players

Microwave

Restroom and shower

Fishing gear and electronics (GPS, fishfinder, plotter, cell phone, and radios)
Sashimi's Sunset Bottom Fishing Special Instructions
Check in at Kewalo Basin Harbor, located at 1125 Ala Moana Blvd., Honolulu HI. Look for a sign that says

"955 FISH"

.

Check-in is at 4:30 PM.

The tour lasts for 4 hours.

Free roundtrip transportation from Waikiki is available.

This tour includes an on-board barbecue meal (hot dogs, chili, rice, pineapple juice, and water). You can also get to eat a portion of your fish catch, which the crew will also cook on board.

Guests are not allowed to take home any of their fish catch. A portion will be cooked as mentioned, while the rest will be released back to the sea.