There are many beautiful things Hawaii prides itself in.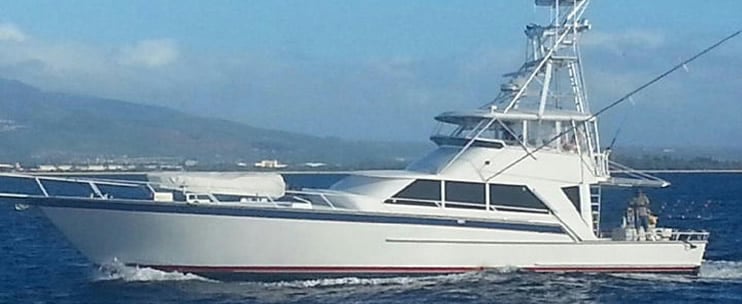 This tropical paradise is home to warm and hospitable people, rich history and culture, and of course, the pristine and abundant waters alongside its stunning beaches and landscapes. As for the Hawaiian waters in particular, there are many ways one can experience this, like going on a fishing charter! Going on a fishing charter lets you see for yourself the abundant seas of Hawaii, particularly that of Oahu Island, and if you prefer to do this on a private charter with just you and your exclusive group of loved ones, go and book Sashimi's Private Charter!
Sashimi's Private Charter lets guests book a private luxury charter boat all to themselves! What's great about this package tour is that since it is an exclusive charter, it really is up to you and your companions what time of the day you want to do your fishing adventure.
Whether you want to kickstart your day immediately with a deep sea fishing escapade, or you would rather laze around in the morning and just go fishing later in the day, you're the boss! Just make sure you and your companions check in at least 30 minutes before your chosen departure time, so that no minute is wasted. 
This private luxury charter boat is actually a 74-foot vessel, so expect to have plenty of space to move about on board! With a maximum capacity of only 12 passengers despite such big space, you and your private group will surely have a comfortable ride en route to Oahu's finest big game fishing grounds. Don't worry about the fishing implements that you will need once you get there, as inclusive of the Sashimi's Private Charter package tour are all the fishing gear to catch that big game fish! On-board are the rods, reels, baits, and ice ready for your usage, so all you really need to bring is an adventurous spirit! Of course, don't forget to bring your cameras, too, as you wouldn't want to miss those unique photo opportunities with your trophy fish, and as well as with the company of your loved ones in the middle of the beautiful seas of Oahu Island.
In this package tour, there are many kinds of big game fish you can possibly reel in, such as the Mahi-Mahi, which can weigh up to 40 pounds, the Yellowfin Tuna, which can get five times heavier than the Mahi-Mahi, or the Pacific Blue Marlin, which can get as big as 250 pounds! These creatures can get pretty fast and strong when you successfully get to hook them, which is exactly what makes the fight with these fish so thrilling! Sashimi's Private Charter has skillful staff crew aboard, and they will give you all the information that you need for you to come out triumphant against these elusive sea creatures. After reeling them in, you can take home some of the smaller fish catch, while the larger ones are most likely to be released back to the sea, in compliance with island rules and tour restrictions. Again, you're not disallowed to take pictures with them, though, so ready your cameras before release!
You can choose to go on either a half-day or full-day tour on Sashimi's Private Charter, and since it will last up to four hours at the least, go and bring some snacks and beverages to consume during the tour. Sashimi's Private Charter has some refreshments on-board, too, just in case you want to have a little more!
Sashimi's Private Charter is certainly a private fishing tour you wouldn't want to miss when you're vacationing in Oahu! Go and book for yourself and your group now before slots get full!
Sashimi's Private Charter Special Instructions
Check in at Kewalo Basin Harbor, located at 1125 Ala Moana Blvd., Honolulu, HI. Look for the sign that says

"955 FISH"

.

Make sure to check in at least 30 minutes before your chosen departure time.

Choose from a half-day (4 hours) or full-day (8 hours) private fishing tour.

This charter is priced for a group of maximum of 12 people.