Hail to a one-of-a-kind ocean adventure aboard a modern, power catamaran, sailing along the exclusive island of Lanai with picnic and snorkel!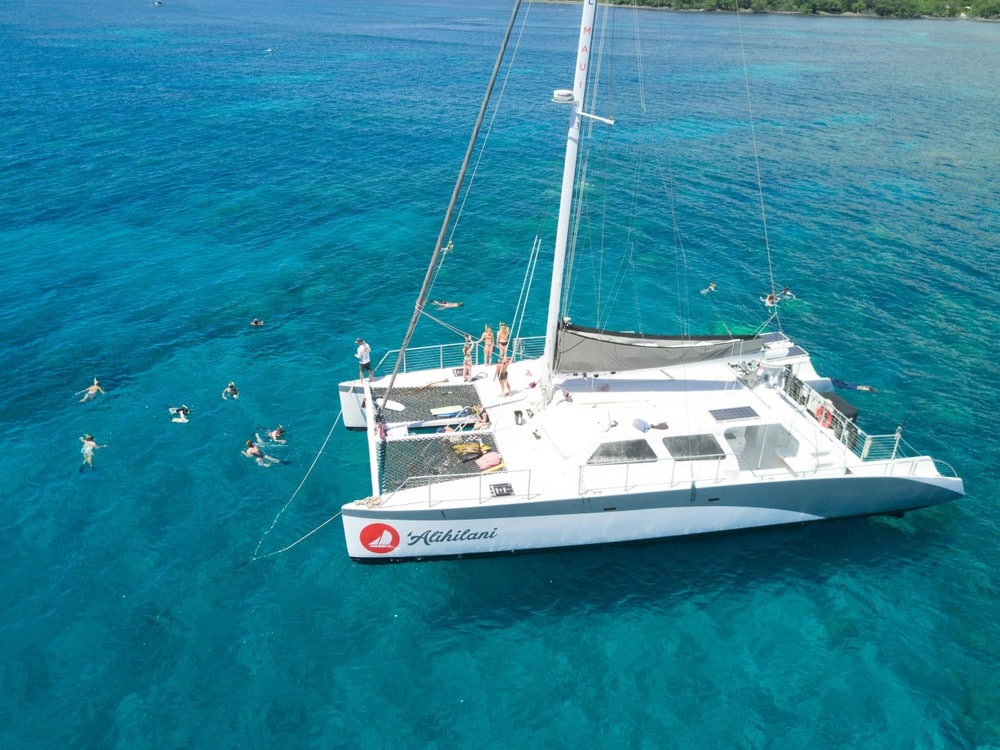 Whether you are a family with small children, colleagues, friends, or a solo wanderer visiting Maui, you shouldn't miss this 7-hour Pacific Ocean escapade! Are you honeymooners? You might want to check out the Sweetheart Rock at the beach through a breathtaking hike and find out why Lanai is named as the no. 12 Most Romantic Island in the world.
Aboard Sail Maui's newest addition to their vessels, Alihilani is a 64-foot high-speed boat with a capacity of 49 passengers. It has ample space and comfortable cabin, private restrooms for men and women, and an open bar. While cruising, you get to enjoy the panoramic views of Maui and its neighboring islands. At the same time, feast on a light continental breakfast, featuring the tastiest tropical fruits you will ever taste. So, book your tickets now because they sell too fast!
What to Expect
The check-in time for this activity is at 8:15 AM, 15 minutes before your departure time (8:30 AM), at Lahaina Harbor loading dock, so make sure to arrive on time. If you happen to book during the winter season, we recommend bringing a light jacket or sweater because it gets chilly out in the ocean, especially in the afternoon. Also, bring your swimsuit for snorkeling and apply sunscreen for your skin's protection. In Hawaii, individuals who are going into the ocean are required to use reef-friendly sunscreens, so if you don't have one, you can ask the crew, and they are more than happy to share. Well, that's the Aloha spirit.
Your adventure begins when you leave Lahaina Harbor. When you walk around the boat, you can see the indoor and outdoor cabins. The entire catamaran is so spacious, which provides you with more room to stretch and relax while enjoying the view. Its high speed allows your captain to find the perfect spots faster to snorkel so you could have extended time on the beach. To watch the beautiful seascape and marine creatures, staying outside the cabin is, of course, the better option. There are also nets in front of the boat where you could lounge.
While sailing on your way to Lahaina beach, you will be served with a light continental breakfast, highlighting fresh tropical fruits. Beverages are also available, including champagne, mai tais, and locally brewed beer. One of the things that you shouldn't forget at this point is to capture the majestic sights along the way. Here, you can watch the panoramic views of Maui, Molokai, Kahoolawe, and Lanai. 
Snorkeling and Lunch
Your first stop for snorkeling is the marine preserve of the Manele Bay, which is famous for spotting turtles and spinner dolphins. Its clear waters allow snorkelers to watch and observe the colorful coral garden and sea creatures below. This is a protected marine reserve that is why you are asked to follow strict precautions. You can take pictures, though. Depending on the weather condition, you will circle the entire coast to find the perfect spot to snorkel. Watch out because you can also see some beautiful dolphins!
Ten minutes away from Lanai beach is Hulopoe Beach, one of the most beautiful beaches in Hawaii. You can find many picnic tables where you are going to eat your lunch, right under the palm trees. You can also set up your foods on the golden sand if you prefer that. Some of the foods include fruits, banana bread, nuts, and salad. Between Manele and Hulopoe Bay, there is an iconic landmark called puupehe (sweetheart rock), which can be reached through a short hike from Four Seasons Resort Lanai. This ancient rock rises 80 feet out of the water. You can ask the crew on how to get there, and you and your partner can take pictures.
According to a legend, a warrior from Lanai named Makakehau fell in love with a beautiful maiden from Lahaina named Pehe. He was smitten by her beauty that every time they would look at each other, they would mist in tears. He took her to Lanai and hid her in a sea cave, at the base of the Manele's cliffs.
After your meal, the crew provides some snorkel gear, and you can explore the area. This part of the island has an incredible reef, which you could see when you snorkel. There are also bright-colored fish swimming around. On your way back to Maui, and it is the whale season, usually from December to May, your captain slows down a bit to allow you to have a closer look at the pods of whales migrating for the warm Hawaiian waters. To celebrate your trip, you are treated with a delicious dessert. So, sit back, relax, and bask under the afternoon sunshine as the crew sets their sails. 
KNOW BEFORE BOOKING:
Light continental breakfast, picnic lunch, beverages (champagne, mai tai, local beer), and dessert are included in your package.

You are provided with snorkel gear and floatation, as well as reef-safe sunscreen.

Check-in time is at 8:15 AM, and the departure time is at 8:30 AM. 
*Please call them when in doubt.
All ages are allowed to participate in this activity.