Aloha! Join Royal Kona Luau for a remarkable evening of traditional island arts and crafts demonstrations, a divine all-you-care-to-eat Hawaiian buffet, and dynamic live Polynesian entertainment.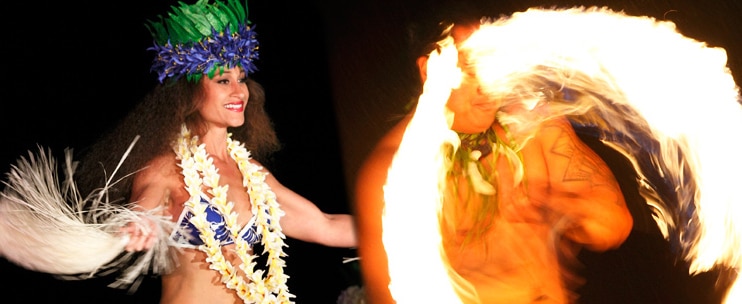 Just as the sun starts to dip down the horizon creating hues of red, orange, yellow, and purple, the voyagers of the Pacific begins.
Your evening starts with a warm shell lei greeting – a virtue that early Hawaiians passed to the younger generation. Lei could be made out of shells, fresh flowers, seeds, leaves, nuts, and even bones of animals that symbolize love, friendship, celebration, and honor of greeting. As they say, your Hawaiian holiday is never complete without a lei greeting. As a part of the ohana, you will also receive complimentary drinks like Mai Tai, beer, wine, and other beverages. We are almost sure that you will enjoy their Mai Tai – one of the best island cocktails that were ever mixed.
To get to know Hawaiian tradition and culture more, you can participate in interactive arts or crafts demonstrations. You can see displays of how excellent Hawaiian artists were. During ancient times, Hawaiians were known to be one of the best artists in Polynesia. Ancient Hawaiian art included petroglyphs, wood carving, feather world, barkcloth, and tattoos.
Royal Kona Luau allows you to have your own temporary tattoos, too! Did you know that many centuries ago, both men and women were covered with bold tattoos? For them, it was one of the ways to display bravery because of the procedure. First, their skin needed to be cut open, tattoo ink made of ash and soot was poured in the cut and then left to get dry so that that ink pigment would turn black.
You will also have an opportunity to witness the uncovering of the kalua pig from an imu- an underground oven that old Hawaiians used to steam their dishes during big celebrations. When you taste the roasted pork, you will notice that it is as tender and juicy when you cook it in an electric or gas oven. But, did you know that it takes one day to taste this staple dish during luaus? Locals wake up early in the morning to dig a pit that is at least two to four feet deep with side slopes to accommodate the whole pig's size and other materials and ingredients. Just in time before dinner during sunset, the kalua pork is ready for feasting.
Enjoy your eat-all-you-can Hawaiian-style buffet featuring a wide variety of cuisines like steamed Mahi-Mahi, teriyaki roast beef, salads, poi, desserts, and many more! After meals, sit back and relax for world-class performances, showcasing Polynesian music and dances. Let your senses be awakened with the lively drum beats in the background as a spectacular dance show unfolds on stage. To complete your evening, hold onto your seats for a breath-stopping and thrilling Samoan fire-knife dance as the stage is set on fire! Be amazed by the dancer's skills as he displays stunning acrobatic stunts at an unimaginable speed utilizing a burning wife.
Luau Highlights
Luau held in an oceanfront overlooking Kailua Bay

Warm shell lei greeting

Traditional Hawaiian arts & crafts demonstrations & hula group lesson

Witness the imu ceremony to reveal the kalua pua'a (roast pig)

all-you-care-to-eat Hawaiian luau buffet dinner

Dynamic Polynesian revue with dance, song, and live music

Complimentary Mai Tais, cocktails, beer, wine, and drinks

Hair-raising Samoan fire-knife dance finale
Luau Menu
*Denotes Gluten Free Options
** There will be a Vegetarian dish on the buffet line to accommodate any vegetarian/vegan requests attending the luau. To meet other dietary needs not on the buffet, there will be a $35.00 per person surcharge for a special "Chef's choice" dinner entree plate (paid to Royal Kona directly). These requests require a minimum of 24 hours notice, and while every effort is made to accommodate all requests, some may not be able to be accommodated.
SALADS
Dressing Choices: 1000 Island*, Papaya Seed*, Italian* or Ranch Dressing

Green Salad*

Cucumber Namasu*

Tomato & Onion Ogo Salad

Three Bean Salad*

Potato/Macaroni Salad*

Lomi Lomi Salmon*

Poi*
HOT ENTREES
Kalua Pork*

Steamed Mahi Mahi with Soy Sauce & Sesame Oil

Baked Chicken with Honey Mango BBQ Sauce*

Chicken Luau*

Teriyaki Roast Beef
SIDES
Okinawan Sweet Potato*

White Rice*

Fresh Pineapple*

Coconut Dinner Rolls

Coconut Haupia (Pudding)*
DESSERTS
Coconut Cake

Pineapple Upside Down Cake
FROM THE BAR (INCLUDED)
Mai Tai

Standard Well Drinks

Domestic Beer

Wine

Coffee and Tea

Selection of Sodas

Fruit Punch
EGG/DAIRY ALLERGY
Coconut Cake and Pineapple Upside Down Cake contain egg and dairy.

Thousand Island Dressing may have mayonnaise, which contains egg.

Mac/Potato Salad has mayonnaise, which contains egg.

Coconut Rolls contain egg and dairy.
Special Instructions
Check-in Location and Time:

Check-in is at 4:45 pm at Royal Kona Resort – Luau Gardens, Kailua-Kona, West Hawaii.

Restrictions:

There are no specific restrictions for this activity.

Special Notes:

Infant pricing (children five and under) are provided their own seat and plate. Parking Validation is $5.00 and covers 3 hours. Additional time is the responsibility of the guest.

Operations:

Operates on Monday, Tuesday, Wednesday, and Friday

Duration:

Approximately 3 hours
Capacity: 500 guests