With a combination of majestic views and challenging obstacles, playing golf in Royal Hawaiian Golf Club has never been so great!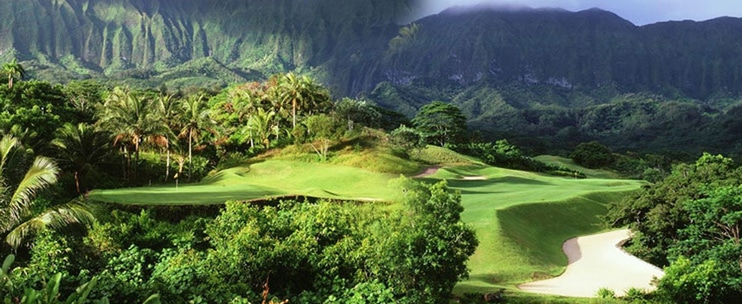 This recently redesigned by the great golfer Greg Norman is 20 minutes away from Waikiki, hidden in the deep forest of Maunawili Valley. It was initially sculpted by the famous brothers Perry and Pete Dye in 1994. When you get there, you can't help but sigh because of the surreal beauty of the surroundings. Nestled at the base of Ko'olau Mountain range, this formerly known Luana Hills golf course is highlighted by the spectacular views of Mt. Olomana in the background. Do you remember the classic movie, Jurassic Park? You could literally say you are playing on it, minus the dinosaurs. 
At the ground level of the clubhouse, a fine dining restaurant serves Hawaii Regional Cuisine with a stunning backdrop! They have entrees, snacks, appetizers, and soups, among others. You can even make your salad from a wide selection of fresh vegetables and assortments of dressings. And if you wish for some beverages, their bar is open to serve you refreshing cocktails.
What to Expect?
Many guests prefer renting a taxi because it's easier and they don't want the hassle to drive in an unfamiliar road condition. However, some say it adds up to their adventure if they rent a car and drive on their own. Either way, we think both methods work, and you'll get to Royal Hawaiian in no time.
Golfers and non-golfers alike who have come here are not lying when they say that you are like entering Jurassic Park. In fact, even the 1.5-mile drive to the clubhouse is just as magnificent! The whole 6,595 yard-course is covered with royal palms, koa trees, bananas, and flowing streams full of Hawaiian fish. On the second hole, you'll see a beautiful pond. Plus, the warm welcome and help you receive from the staff, everything is excellent in this place. 
The layout's design has contrasting nines. The front side features rugged mountainous terrain (across the slopes of Mount Olomana), and an open rolling terrain (through a tropical rainforest) on the backside. The front nines have mesmerizing views, while the second has dramatic changing elevations, which challenge your golf skills. Fairways, bunkers, as well as the tee boxes, are well-kept, and perfect greens that are a bit slower because of the mud. 
Since the course is tucked in a rainforest, the rain makes the greens muddy sometimes. So, during the rainy season, it's most likely that your game takes longer than the yardage. We recommend bringing your GPS and rain gears even if the day doesn't show any possibilities of raining. Perhaps a pair of rain gloves, which work great during wet seasons.
Here's a little tip hint for you: holes 2, 4 and 14 are truly challenging especially if you never played. So, you might as well want to bring extra balls. A lot of guests have already lost balls here. Number 10 is extra-long, and signature holes include 7th, 8th and 12th. The front nine is a little bit deceiving as it is secluded, while its counterpart on the backside is more open and a welcome change.
The golf course also has a short game range where you can practice before your big game with its platinum paspalum grasses all over. Meanwhile, if you fancy shopping for golf apparel, their pro-shop is always open, where the staff attends to all your needs. This can also be a great shopping time for you ladies because they have great finds at an affordable price.
If you want to rest and sit down for a while, their restaurant with a stunning backdrop serves a wide selection of foods. Their talented Chef makes sure you enjoy his creations of Asian and American cuisines, while enjoying the surroundings. Some of these are served as entrees, desserts, appetizers, and salads. Island-style cocktails and other alcoholic and non-alcoholic beverages are also available from the bar.
ROYAL HAWAIIAN GOLF COURSE DETAILS:
Spike Policy: Soft Spike Only

GPS Tracking: Not available

Golf Professional: Available (Marc Mellor)

Course Type: 18 holes, 72 par

Ratings: 73.1, 71.5, 67.7, 65.2, 62.1

Greens: Bent

Fairways: Bent

Bunkers: Yes

Water Holes: Yes

Practice Green: Yes

Driving Range: Yes

Yardage: 6513, 6124, 5569, 4393

Slope: 138, 132, 128, 117, 101

Yardage Markers: Sprinkler Heads

Club Rental: TaylorMade (around $65)

Lessons: Available per appointment

Pull Carts: No

Golf Carts: Available

Caddies: No

Five-somes Policy: Some Exceptions

Rider Fee: $25 (approx.)

Walking: Not allowed

Lockers: Not available

Showers: Not available

Club House: Available

Pro Shop: Available

Restaurant: Snack Shack

Bar: Available

Conference Facilities: Yes

Banquet Facilities: Yes

Lodging: No
ROYAL HAWAIIAN GOLF CLUB SCORECARD:
| | | | | | | | | | | |
| --- | --- | --- | --- | --- | --- | --- | --- | --- | --- | --- |
| Hole | 1 | 2 | 3 | 4 | 5 | 6 | 7 | 8 | 9 | OUT |
| Gold | 367 | 187 | 375 | 382 | 479 | 391 | 180 | 518 | 409 | 3,288 |
| Black | 345 | 148 | 347 | 346 | 469 | 375 | 165 | 495 | 382 | 3,072 |
| Blue | 325 | 118 | 327 | 312 | 454 | 359 | 143 | 480 | 359 | 2,877 |
| Green | 298 | 111 | 297 | 293 | 427 | 312 | 130 | 441 | 355 | 2,384 |
| Men's Hcp | 3 | 13 | 11 | 5 | 7 | 15 | 9 | 1 | 13 |   |
| +/- |   |   |   |   |   |   |   |   |   |   |
| Men's Par | 4 | 3 | 4 | 4 | 5 | 4 | 3 | 5 | 4 | 36 |
| +/- |   |   |   |   |   |   |   |   |   |   |
| Ladies' Hcp | 1 | 5 | 3 | 13 | 9 | 15 | 11 | 17 | 7 |   |
|   |   |   |   |   |   |   |   |   |   |   |
|   |   |   |   |   |   |   |   |   |   |   |
| Hole | 10 | 11 | 12 | 13 | 14 | 15 | 16 | 17 | 18 | IN |
| Gold | 476 | 425 | 195 | 356 | 560 | 356 | 202 | 314 | 376 | 3,240 |
| Black | 460 | 415 | 170 | 330 | 547 | 312 | 179 | 305 | 349 | 3,070 |
| Blue | 449 | 386 | 160 | 292 | 424 | 285 | 158 | 287 | 318 | 2,759 |
| Green | 435 | 337 | 134 | 251 | 413 | 254 | 133 | 245 | 306 | 2,608 |
| Men's Hcp | 14 | 2 | 4 | 10 | 6 | 16 | 8 | 18 | 12 |   |
| +/- |   |   |   |   |   |   |   |   |   |   |
| Men's Par | 5 | 4 | 3 | 4 | 5 | 4 | 3 | 4 | 4 | 36 |
| +/- |   |   |   |   |   |   |   |   |   |   |
| Ladies' Hcp | 16 | 12 | 14 | 8 | 6 | 18 | 10 | 2 | 4 |   |
Know Before Booking:
Golf clubs are excluded in your package so call them beforehand to make arrangements.

Opens daily

Appropriate golf attire is required