Your Hawaiian holiday is not complete without watching an unforgettable show, featuring the past and present legends in music combined with authentic Hawaiian entertainment.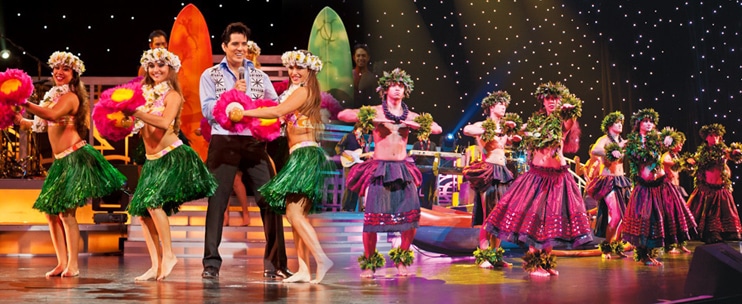 Reminisce the exceptional talent of Elvis Presley and Michael Jackson, or be reminded of Celine Dion's powerful voice in the person of Rock-A-Hula artists. The Rock-A-Hula concert is a two to three-hour show, which takes you to different eras of Hawaii from the 1970s to the present. Dancing and singing to the beat of powerful music, be amazed by the world-class performances of their multi-talented artists in their dazzling costumes.
Depending on your style and budget, there are four packages you can choose from. So, book your tickets now and come see the hottest show in Waikiki! 
What to Expect?
Upon booking, complete details are indicated in your confirmation email regarding your exact check-in time and location, depending on your package. You can try their best-seller Luau Hawaiian Night, with a huge discount for children. Another one is the VIP package with a 4-course deluxe dinner. But if you came here just for the show, you can opt for the standard package with free meet and greet with the cast. 
If you chose the green room package (which is the most expensive), everybody agrees that it is all worth it because you will be treated as a royal person. After being serenaded at the VIP entrance with a stunning hula performance, you will be escorted by the beautiful dancer into the green room. You will be surprised by its interior because it is a smaller version of the famous Elvis Presley's room. Then Michael Jackson (well, of course, an impersonator) greets you, and you can take pictures with him as an inclusion in your package. Then it's time for pupus (appetizers), which are prepared in an elegant manner like fresh fruits cut into the shape of a flower. Palatable indeed!
After feasting on those crunchy snacks, another friendly staff leads you to a backstage tour, wherein you could also capture or record several props. At the same time, he narrates informative stories with a little bit of history regarding the legends. You can also wear some of those props and take pictures. 
When it's time for dinner, you will be invited to the first-row table, fronting the middle of the stage. You can see an attractive display of flowers, along with mouthwatering seafood, steak, and a complimentary premium drink. We suggest you try the lava flow (you won't regret it). Feast on their prime rib, tilapia, gelato, and of course a half lobster.
It's showtime! Sit back, relax, and witness a 75-minute high-spirited show that you have never seen. Watch the captivating performances of Michael Jackson and Elvis Presley, accented with unique Hawaiian choreography. This show is usually a perfect way to end your wonderful vacation in Hawaii.
PACKAGES INCLUSION (Choose one of these packages):
Rockin' Show Package (Must-see Hawaiian Show)
Show duration: 7:30 pm – 9:15 pm

Meet and Greet with the cast 

General mezzanine seats
Premier Cocktail Package (Most popular Hawaiian Night):
Show duration: 6:30 – 9:15 pm

Luau buffet-style dinner (outdoor cabana)

Premier mezzanine seats 

Welcome Hula show

One complimentary Mai Tai

Meet and Greet with the cast
Stage side VIP Package (VIP Experience):
Show duration: 6:15 – 9:15 pm

Welcome Hula

VIP Welcome Reception

4-Course Deluxe Dinner on a Private Table (Stage side)

2 Super Premium Drinks

Stageside Seats (Rock-A-Hula Show)

Meet and Greet with the Cast
Green Room Package (Optimum Experience):
Show duration: 6:00 – 9:15 pm

Welcome Hula

Green Room Reception

Original Backstage Tour

4-Course Deluxe Dinner on the Best Private Table (Stage side)

2 Complimentary Super Premium Drinks

Souvenir Photo (Per 2)

Best Stage side Seats (Rock-A-Hula® Show)

Meet and Greet with the Cast
Know Before Booking:
Check-in for the following packages:
Rockin' Show/Premier Cocktail: Check in at 7:30pm

Stageside VIP: Check in at 6:15pm

Green Room: Check-in at 6:00 pm
Operates every day except Fridays.
Check-in at the Royal Hawaiian Shopping Center (Building B, 4th floor), located at 2201 Kalakaua Avenue, Honolulu.

Wheelchair Accessible only to Green Room and Stage-side VIP.

Parking area: Head to the Royal Hawaiian Center parking structure from Royal Hawaiian Avenue. 
*Parking fee is discounted if you have validation from Rock-A-Hula, while Royal Hawaiian Center with a parking validation program offers FREE parking for the first hour and $2 per each hour for the next two hours. Regular rates apply thereafter. Fees may change without prior notice.