Head to Kauai for a day of experiencing the Garden Isle through a guided tour of Kauai's famous movie locations.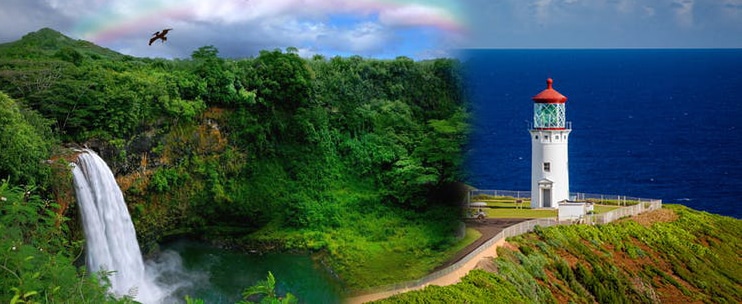 Tour Highlights
Fly from Oahu to Kauai for a day movie tour
See sights from several movies:

Wailua Falls – Fantasy Island Dragonfly, Castaway Cowboy, The Amazing Race, and Tropic Thunder
Hanama'ula Bay – Donovan's Reef, Pagan Love Song, Six Days Seven Nights, & Voodoo Island
Coco Palms – Elvis Presley's Blue Hawaii, Fantasy Island, & Pirates of the Caribbean
Opaeka'a Falls Lookout – Donovan's Reef, Lt. Robin Crusoe, USN, & Seven Women from Hell
Kapa'a Town – Jurassic Park
Special Instructions
Where and When:

Roundtrip transportation from your Waikiki hotel is optional for no additional charge.
This tour departs Waikiki at approximately 5:00 am and returns at approximately 6:00 pm.
Please refer to your confirmation email for final pick-up time and location. Flight schedules change frequently.
Restrictions:

Due to stringent airline requirements there is a NO CANCELLATION/NO REFUND policy for this tour. This includes name and date changes.
For all island flights or day trips, the NAME ON TICKET MUST APPEAR AS IT IS ON PICTURE ID (license or passport).
The airline will deny boarding if the passenger's legal name, as shown on their valid, government-issued ID, does NOT match the name on their E-Ticket.
IF A PASSENGER IS DENIED BOARDING, THERE WILL BE NO REFUNDS.
All passengers MUST present government issued photo ID for airline check-in.
International travelers must bring a valid passport for airport security check-in.
Children 2 years old are required to pay for the airfare and ride in the lap of an adult in the vehicle.
Children 1 and under still require birth date and full name.
Operation Days:

Sunday, Tuesday, Thursday, & Friday
Duration:

Approximately 10 hours
Equipment:

Hawaiian Airlines and a great air-conditioned tour bus