Experience 120 miles of Oahu's most scenic locations on this Oahu Grand Circle Island Tour!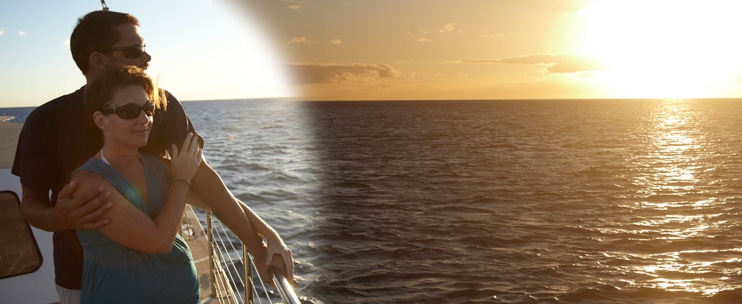 From Waikiki and Diamond Head along Oahu's southeast shore to the world-famous surfing beaches of the North Shore, you'll get to see an amazing variety of landscapes and all of the island's top attractions.
Your journey begins in Waikiki, then heads past Diamond Head and the lavish beachfront residences in Kahala. The tour continues east to Hanauma Bay, Oahu's best snorkel spot. You'll also stop at the Halona Blowhole, where a natural underwater volcanic lava tube shoots water up into the air.
A stop in the small town of Waimanalo will allow you to experience the small-town side of Oahu. Continuing on, you'll enjoy sweeping views from the Pali Lookout. Next is a stop at the Byodo-In Temple, where you'll see a replica of Japan's 450-year-old place of worship. Further north at Kualoa Ranch, enjoy a tram tour to the lush Kualoa Mountains, a place where numerous Hollywood blockbusters were filmed in the past.
As you reach Oahu's famed North Shore, you'll cruise by some of the best big wave surfing beaches in the world. The last stop of the day is at the Dole Plantation in Oahu's central plain, home to the famous Dole Whip ice cream and a great gift shop. All along the way you'll learn about the culture and history of Oahu from your professional tour guide. At the end of the day, you can really say that you have seen a good portion of the island and its most awe-inspiring landmarks.
Tour Highlights
Drive by Diamond Head and exclusive Kahala estates (Beverly Hills of Oahu)
Hanauma Bay Lookout* Closed
Christmas & New Year's Day
Halona Blowhole Lookout*
Drive by Sandy Beach and Makapu'u Beach
Waimanalo Town*
Nu'uanu Pali Lookout*
Byodo-In Temple* Closed Christmas & New Year's Day
Kualoa Ranch* Closed Christmas & New Year's Day – Lunch stop will be at Coral Kingdom instead
Chinaman's Hat Island
Laie Hawaii Mormon Temple*
North Shore Surfing Beaches
Dole Plantation* Closed Christmas & New Year's Day
*denotes stops made
Deluxe Tour Option
Includes a souvenir gift and a BBQ Buffet Lunch at Aunty Pat's Café at Kualoa Ranch
Kualoa Buffet Menu: Kualoa Field Green Salad, Fresh Pineapple Wedges, Kim Chee, BBQ Pork Ribs, Buttered Corn, Mango-Pineapple Teriyaki Chicken, Kualoa Chili, Steamed White Rice, Chef's Choice of Dessert
Vegetarian/Gluten Free Menu: Guests can choose one of the following & the vegetarian items from the buffet, which include: Kualoa Field Green Salad, Kim Chee and Fresh Sliced Pineapple
VEG – Stuffed Spinach Mushroom Roll Ups, Garden Burger, Veggie Wrap, or Veggie Sandwich
GF – Grilled Mahi Mahi (Island Fish)
***Exact menu offerings are subject to change without notice.
Special Instructions
Where and When: Pick-up starting around 7:15 am from select major hotels in Waikiki. The exact pick-up location and time will be emailed to you.
Tour returns to Waikiki at approximately 4:30 pm.
Requirements: Guests staying at a Kahala area hotel will either need to meet transportation in Waikiki or pay the additional charge for Kahala pick-up.
Restrictions: If a guest needs an ADA lift (for wheelchair) at least 48 to 72 hours notice is required. Please either call to notate in reservation or place a note next to guest name.
Special Notes: Lunch is only included in the Deluxe tour option. For guests choosing the Tour Only package, there will an option to purchase food at either Kualoa Ranch or the Dole Plantation.
The Legends and Legacy Tram at Kualoa Ranch is included in tour.
Dole Plantation's maze, train and garden tour are not included in the tour.
Hanauma Bay is closed on Tuesdays.
Dole Plantation is closed on Christmas Day.
Kualoa Ranch is closed on Christmas Day and New Year's Day.
Routes and time may be modified or restricted due to circumstances beyond of the control of Roberts Hawaii.
Operation Days: Daily
Duration: Approximately 9 hours
Equipment: Air-conditioned tour bus