It cannot be denied that Maui Island offers many scenic land and water views.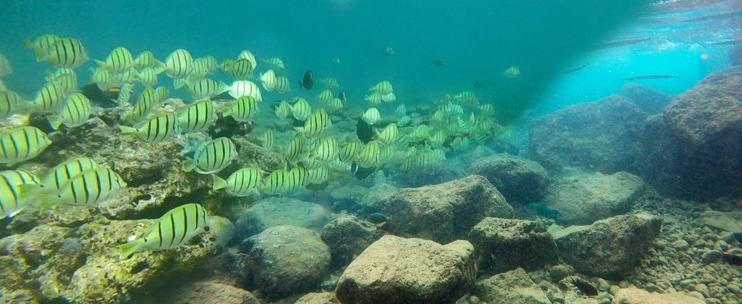 The Island of Maui has some of the most diverse scenery and attractions in all of Hawaii, and in the whole world even, as it is home to long stretches of beautiful beaches, picturesque valleys, mountains, and other land formations, and breathtaking bodies of crystal clear waters. These scenic spots are surely on the itinerary of any tourist vacationing in Maui, but only a few know that the island also prides itself in absolutely spectacular, completely out of this world, underwater views. Lucky for you, Maui's underwater world is accessible through the numerous tour operators offering a variety of package tours, and one of these tours, amazingly, lets you go on an underwater adventure without getting wet! If you are one of those who would rather discover the island's underwater charm and wonder without actually diving into the water, then Reef Dancer's Reef Viewing Adventure and Dive Show is the perfect for you!
Reef Dancer is your passport to Maui's stunning underwater world. Established over 30 years ago, Reef Dancer is famous for bringing to Maui its first semi-submersible. Semi-submersibles are great underwater vehicles, and are now more popular around the world because they offer a much better alternative to the glass-bottom boats, where guests just look down through the transparent flooring of the vessel to catch the views below the surface. In a semi-submersible, your ride actually plunges into the water, and its comfortable cabin and large viewing windows allow you to see the panoramic views of Maui's underwater world. When you book the Reef Viewing Adventure and Dive Show, you and your companions will ride such an amazing vehicle, which, by the way, is also called the Reefdancer!
Reef Dancer's Reef Viewing Adventure and Dive Show departs from Lahaina Harbor, and then brings its passengers to an underwater expedition in Maui's only barrier reef. Here, you will not only see the majestic coral reef formations, but you will also get an up-close look at the different kinds of brightly colored reed fish, such as Hawaii's state fish, the Humuhumunukunukuapua'a! The name's a real mouthful, we know, but you can always refer to it as the reef or rectangular triggerfish, its generic name. 
Reef Dancer's Reef Viewing Adventure and Dive Show is called as such because it is not only a viewing expedition, but also a chance for Reef Dancer's certified divers to treat you to a show featuring Maui's diverse marine life! Once the Reefdancer arrives at the best viewing site, the divers will jump into the water and search for exotic sea creatures that they will bring right to your viewing window! As this tour, again, is an underwater adventure without you needing to get wet, you will then be able to take lovely photos of these critters even without an underwater action camera. After taking those pictures, listen as Reef Dancer's experienced narrator will enlighten you about these beautiful animals and the entire marine life of Maui Island. Truly an exciting adventure and an educational experience at the same time!
After the excursion, guests may then ride up on the Reefdancer's top deck to enjoy above-the-surface views next! Here, get an amazingly breathtaking view of the West Maui mountains from the ocean, and as well as its turquoise-blue waters so relaxing and peaceful to gaze at. Get ready to take more photos again, as the sights are just as amazing above water as they are down below. 
Reef Dancer's Reef Viewing Adventure and Dive Show is a one-hour tour that features an air-conditioned underwater cabin, large viewing window seats for everyone, a dive show, and a free fish chart for your guide during the show. Families usually opt to book this adventure especially if they are in the company of kids who are yet too young to go snorkeling, or who are still too scared to swim in open water. Adults will also enjoy the Reef Dancer's Reef Viewing Adventure and Dive Show just the same because it is indeed a more comfortable and relaxing option to explore the fantastic world down below. 
Definitely, Reef Dancer's Reef Viewing Adventure and Dive Show is an adventure that caters to anyone and everyone, which is exactly why it has won many awards, such as "Best Underwater Viewing in Maui". Thus, this is certainly a tour you will regret passing up on. Go and experience the best underwater viewing in Maui by booking Reef Dancer's Reef Viewing Adventure and Dive Show now!