Recognized as one of the "100 Places You Can Play" by Golf Magazine, Ko'olau Golf Club is every golfer's dream, both professionals and beginners. Not to mention, it also ranked 7th on Golflink.com's "Top 100 United States Golf Courses."
This 7,310-yard, 18 holes golf course's beauty is beyond imagination. Designed in a lush rainforest, at the base of the 2,000-foot towering Ko'olau mountain range, you will be inspired by its spectacular views with every hit of your target. If you have heard of the historical Nu'uanu Pali Lookout, Ko'olau Golf Club looks majestic from there.
This is the perfect golf course if you are looking for a unique golf play in Oahu. Like what everybody is saying, the course is indeed tricky, which tests your skills and patience. In fact, it's one of the most challenging courses in the United States. With its unusual holes, tee boxes, and greens, expect to lose a few golf balls. But don't worry, you will find hundreds (they need a wash though) in the jungle, and everything will be rewarded with a fun and adventurous golf play! Plus, you get to enjoy delicious meals and snacks from the elegant and comfortable restaurant, and refreshing cocktails and beverages from the bar.
What to Expect?
When you reach Ko'olau Golf Club's stylish clubhouse manned by their very welcoming staff, you find their fully stocked pro-shop where you can rent and purchase golf apparel. Perhaps it's worth mentioning that they also have a practice facility. It features a driving range where you can practice your swing and an elevated chipping green with a bunker to sharpen your short game or their two-tiered 7000-square foot putting green. The best thing about it is they cater to all ages and skill levels.
We recommend bringing your golf GPS, which helps you understand the long carries. This also helps in understanding the layout and figuring out where you should land your shots to score well. Also, it's best to bring rain gears as it pours on some days so suddenly (and that's one of the unique things about it). It is the reason why the fairways get a little wet in some occasions that make your play tougher. Luckily, their crew are always helpful and do everything to make your game enjoyable. Maybe one of your game's highlights is that almost half of the holes need hitting across ravines, so you choose to either hit long or lay-up many shots.
Hole number 18 is the most challenging among all, and one of the most difficult in the country. Blame it to the two forced carries with deep bunkers around the green. The challenge comes in when you aim far right because your tee shot will make the hole shorter. However, it will also increase the yardage you must carry. On the other hand, hole number 6 is the hardest on the front nine. You should know that your proper distance and placement off the tee on the dogleg right are risky. To beat this, make a drive to the left side because the fairway drops off quickly to the right. And then on your second shot, hit an extra club to carry the ravine fronting the large two-tiered green.
After an exciting game, you can drop by the restaurant, the Honey's Restaurant, at the clubhouse. It sounds interesting, but accordingly, it was named after a kupuna (grandpa) from Kaneohe who is behind the mouthwatering cuisine that satisfied the residents and tourists' stomach for 39 long years. Up to these days, it is still serving delicious meals from a wide selection of Continental and Pacific-Asian cuisine. Apart from its stunning backdrop, which you can see from the big windows, it has a warm and authentic Hawaiian atmosphere, a famous Sunday brunch, and entertaining live music on Friday and Sunday nights. 
You might want to try their signature sandwich and bestseller special ramen noodles, and thank us later. You may also order island-style cocktails and other alcoholic and non-alcoholic beverages from the bar to complement your meal or refresh you on a hot day at the golf club.
KO'OLAU GOLF CLUB DETAILS:
Spike Policy: Soft Spike Only

GPS Tracking: No

Architect: Dick Nugent

   

Opening: 1992

Golf Professional: Available (Ken Terao)

Course Type: 18 holes, 72 par

Ratings: 75.7, 73.5, 71.7, 72.9

Greens: Paspalum

   

Fairways: Bermuda

Bunkers: Yes

   

Water Holes: Yes

Practice Green: Available

Driving Range: Available

Yardage: 7310, 6797, 6406 ,5102

   

Slope: 152, 145, 138, 129

Yardage Markers: Sprinkler Heads

Club Rental: Callaway (around$50)

   

Lessons: Available

Pull Carts: No

   

Golf Carts: Available

Caddies: No

   

Five-somes Policy: Allowed

Rider Fee: Around $25

   

Walking Allowed: Not allowed

Lockers: No

   

Showers: No

Club House: Available

   

Pro Shop: Available

Restaurant: Yes

Bar: Yes

Conference Facilities: Yes

   

Banquet Facilities: Yes

Lodging: No
Ko'olau SCORECARD: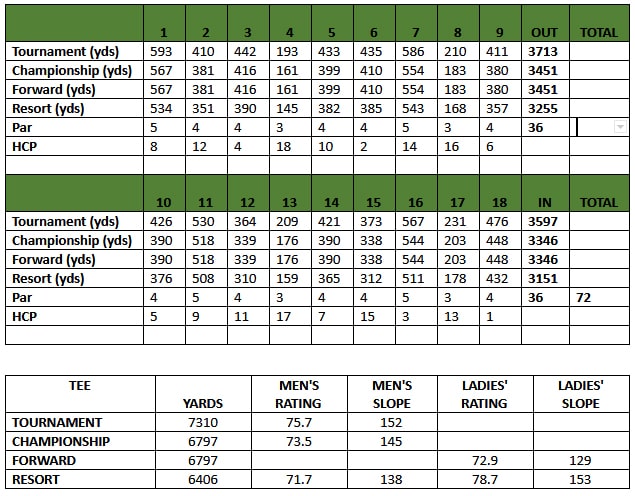 Know Before Booking:
Proper golf attire is required.

Golf club rentals are excluded from your package, so call them beforehand to make arrangements.

Opens daily from 6:30 AM – 7 PM.

It is located at 45-550 Kiona'ole Road, Kaneohe, HI 96744 (20-minute drive away from Waikiki).