Who would have thought that you could ride your very first wave after a few minutes of learning at the iconic Waikiki Beach, the once playground of Hawaiian Royalty?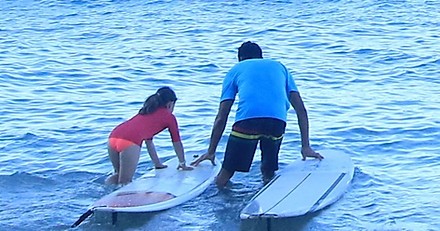 It's true that there are many surfing schools in Hawaii, but how do you choose the best one that's worth your money? Does it have to be a top-notch and famous institution that costs a lot of money?
Read on, because we are going to tell you why you should choose Manawale'a Surf School for your private surf lessons.
In 2019, a passionate surfer started his own surfing school and named it Manawale'a Surf School. Growing up on the island, he used to go to the beach to surf while the other kids headed to the park to play. In the '80s, he started travelling the world to compete with some of the world's greatest surfers. Throughout those long years of surfing, he has learned and developed unique and effective teaching methods that are focused on easy techniques, even for four years old. 
At Manawale'a, their goal is to share not only the knowledge, wisdom, and essential dynamics of surfing, but also the Aloha spirit. In addition, they ensure your safety and utmost enjoyment, while splurging in the magnificence of the Waikiki Beach.
What to Expect?
First of all, a private lesson is recommended for beginners, children, and those who are serious at advancing their skills. Learners have their distinct difficulties and weaknesses. But with a one-on-one tutorial with one of Manawale'a's master surfers, you both can work out your struggles. In short, your lesson is customized, based on your skill level, needs, and surfing goals. You also get to choose your availability, so you won't have to wait for other students or slots. See, this is all about you.
At this surfing school, the operation starts from 7:00 am to 5:00 pm, a wonderful time to watch the sunlight at the beach. Before your one-hour lesson, always remember to apply your sunscreen lotion or cream and every time you're out in the water. In Hawaii, the sun is brightest from 10:00 am to 4:00 pm so, during those times, the sun's ultraviolet rays (UVR) can damage your skin more than the rest of the day.
Before you get into that board, the knowledgeable instructor tells you briefly the safety measures and surf etiquette that guide you whenever you're surfing. He also explains the necessary equipment, right positions on the board, stretches and warm-ups, correct paddling, and how to stand on the board. Here's one tip from us: remember that leash is essential and its length should be equal with your board to avoid separating from the latter as well as injuries.
What makes this surf school stand up is it specializes in Surf and Stand Up paddleboarding. They do not just teach you how to surf, but there's more. The advantage of standing upright on board is that you can see waves that are coming. At the same time, your paddle helps you position yourself correctly just before you meet the waves. Of course, they will also teach you about prone surfing. 
Your instructor finds the right spot for your lesson, and you'll start in no time. Perhaps one to two-foot waves that break slowly out from the shore is ideal for you. It's also critical that the wind is blowing from the land to the water where you are practicing because this keeps the waves predictable and smooth. Firstly, the instructor lets you stay on the higher end of the surf SUP. Besides, Waikiki Beach is perfect for beginners because the waves are relatively calm, plus you can enjoy your lessons because the scenery is no doubt stunning. Furthermore, your instructor makes sure you're safe, so all you have to do is trust him and concentrate.
Practicing, Positioning, and Committing
After your instructor teaches you the first set of dynamics and shows you how to do it, he lets you do it yourself to find out if you can. There are three challenges that you might encounter: first is the launching and paddling past the waves, another is learning to catch the waves, and the last one is the surfing itself.
After teaching and demonstrating, he instructs you to start with the right position for catching the wave. Remember that when you're waiting for the waves, it's always safe to line up parallel to the incoming ones, standing with your toes facing towards the ocean, while your paddle is on the toe side of the board. In this way, you can quickly turn 90 degrees when you see the wave that you want. It would be best if you were perpendicular to the incoming wave, and when it gets close, take a solid forward stroke to catch up with speed. If you did it correctly, the waves should reach you and begin to pick up the tail of your board. Don't worry if you didn't because you can do it all over again. As they say, "practice makes perfect." 
When you've caught the wave, your instructor continues to tell you what to do next. At this time, strive to angle your board on the wave, so you stay in the right spot. This is actually the meeting area of the waves' breaking part and the open green face. It is the easiest way so you can face the waves with your toes and, at the same time, hold the paddle on the toe side of the board. Although this sounds easy, remember that this is the most challenging part of your lesson. Nevertheless, Manawale'a Surf School got your back.
WHAT TO BRING AND WEAR:
Surfing equipment 

Swimming suit

Sunscreen cream or lotions

Shorts and Tops for surfing

Changing clothes

Swimming goggles (especially for people wearing contact lenses for protection)

Spectacles straps

Flip Flops or sandals

Towels when you shower and basic toiletries
Rates
Person (Ages 4+): $110
Duration
One Hour
About
Ages 4 & up. Any skill level.
First wave or advancing your skills, maybe some guidance or insight. Personal 1 on 1, individualized lesson based on your needs, skill level or surfing goals. It's all about you! Catch your first wave in your first lesson, for sure!