Book an Exclusive Private Rafting Adventure with Captain Zodiac, the Pirates of the Pacific!
Duration
4-5 hours long
Flexible Departure Times – from 9:00am to 11:00am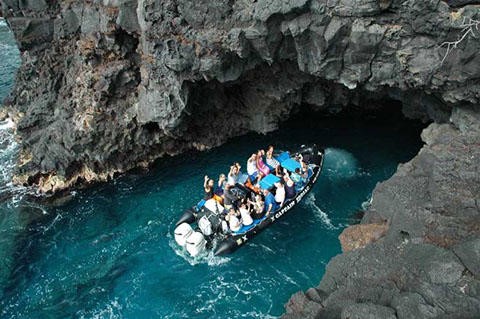 What's Included
Private charter to Kealakekua Bay Marine Preserve during non-peak times
Secluded and remote alternative snorkel spots
Encounter dolphins
Tropical fruit platter, gourmet wrap sandwich lunch, and soft drinks
Jr. Pirate awards for all the keiki (children)
All snorkel gear
High-quality silicone masks
Rx masks
Fins
Float boards or vests
The original, most experienced rafting company!
Do you want to avoid crowds? Do you want to experience Kealakekua Bay, the best place to snorkel on the Big Island, with no one around? Or try a totally new and secluded and remote snorkel area? Then come and join Captain Zodiac for an exclusive tour only offered to VIP guests.
Captain Zodiac has the newest fleet of sixteen (16) passenger Zodiac Hurricane 733's. They are fast, powerful, highly maneuverable, and very safe.
We start our adventure when you want with flexible departure times. We'll take our time to get to one of the chosen snorkel spots stopping along the way if we see any marine life. One of our snorkel destinations is Kealakekua Bay. It is a marine preserve and the best snorkel spot in the state of Hawaii. When you come around the point, the Captain Cook monument will come into view. Because the Big Island of Hawaii is so young geologically, there is no dirt, sand or run-off in the bay. Here you will spend as long as you want snorkeling and exploring the reef. Captain Zodiac provides all snorkel gear, including Rx masks and flotation devices. Since the raft is yours for 5 hours, choose if you'd like to go to a second chosen location or just meander in the bay.
After snorkeling, your captain has a gourmet lunch, tropical fruit platter and beverages for you. While enjoying your lunch, you hear all about the history of the bay, and the Captain Cook story. On the return trip, we hug the rugged coastline, and explore places only powerful Zodiacs can get into! We show you natural blowholes, exposed lava tubes, and sea caves!
Upon return, there will be Jr. Pirate Awards for the "keikis", or anyone who wished to receive recognition of completing the right of passage with Captain Zodiac!
Due to the bouncy nature of our ride, however, we do not allow any persons with back or neck problems or pregnant ladies.