When planning a trip to Hawaii, or just daydreaming about one, the vast ocean is most probably on the top of your list to explore and spend most of your vacation time in.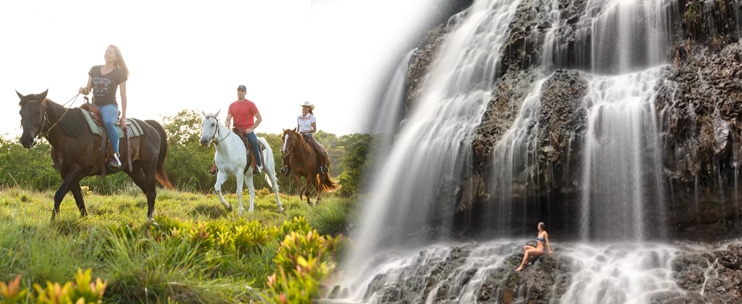 While it may be true that Hawaii has the most spectacular seas and ocean views, it is actually also home to other equally beautiful bodies of water, such as Kauai's 80-foot waterfall! After a thrilling horseback riding adventure, go and experience this private waterfall through Princeville Ranch's Waterfall Horseback Ride, the company's most popular horseback riding tour!
The tour operator, Princeville Ranch, is one of the longest-running cattle ranches in Hawaii, established many years ago during the reign of Kamehameha III. Hence, when you book any of its tours, you will get to experience Princeville Ranch's years of fascinating history and tales, and as well as its vast and well-maintained lands, just as the early paniolo, or Hawaiian cowboys, have done during the ranch's early years. Apart from the place, Princeville Ranch also currently maintains on its vast private lands some cattle that you may have the chance to catch sight of, and beautiful horses that you will get to ride on Princeville Ranch's Waterfall Horseback Ride! This tour is the most booked horseback riding activity of Princeville Ranch because guests are able to get a glimpse of the breathtaking views of the Makaleha Mountains, as featured in the classic Jurassic Park films, and be treated to many more gorgeous sights of the Hawaiian countryside, and then get to go on a refreshing swim in the ranch's 80-foot private waterfall! There really is no wonder why Princeville Ranch's Waterfall Horseback Ride is the most popular riding tour of the company, and perhaps the whole of Kauai!
On Princeville Ranch's Waterfall Horseback Ride, you will be led by one of its experienced guides, who will not only ensure your safety and enjoyment during the adventure, but will also share with you interesting bits of information about the ranch and as well as the tropical paradise that is the Hawaiian Islands. Your horse, which is also guaranteed to be safe to ride even for beginners, will take you to the verdant pastures of the ranch, and then to a lush rainforest which will then lead you to the 80-foot waterfall! Here, you will be given time for a refreshing swim and some exploration and relaxation, before you resume your ride.
While the highlight of Princeville Ranch's Waterfall Horseback Ride is indeed the waterfall experience, guests will also definitely enjoy being surrounded with Kauai's stunning coastline, mountains, and valleys, all of which you will get to view from a high lookout point during the ride! This identified spot on Princeville Ranch is where you and your companions will be able to see the panoramic views of Kauai's natural beauty, which you won't get to experience anywhere else! Prepare to gaze in awe at this marvelous works of nature, and, of course, to take lots of photos of them, too! 
Princeville Ranch's Waterfall Horseback Ride is not the most booked and most famous horseback riding tour of the company for nothing. Go and experience this yourself by booking your slots now!
Princeville Ranch's Waterfall Horseback Ride Tour Highlights:
Go on a guided walk-only horseback riding adventure on Kauai's north shore, perfect for beginners and young riders
Have a scenic ride across verdant pastures, with majestic Kauai mountains in the distance
Hike through lush forests on the way to the private 80-foot waterfall
Go for a refreshing swim, where you will be given time to cool down and relax
See panoramic views of the stunning ocean, coastline, and mountains of Kauai
Princeville Ranch's Waterfall Horseback Ride Maximum Height and Weight Restrictions:
5'0" and below: 150 lbs limit
5'1" to 5'2": 160 lbs limit
5'3" to 5'4": 170 lbs limit
5'5" to 5'6": 180 lbs limit
5'7": 190 lbs limit
5'8": 200 lbs limit
5'10": 220 lbs limit
5'11": 230 lbs limit
6'0" to 6'1": 240 lbs limit
6'2" to 6'5": 250 lbs limit
Princeville Ranch's Waterfall Horseback Ride Special Instructions:
Tour time is at 9:00 AM, 12:00 PM, or 1:00 PM. It runs everyday except Sunday and major holidays.
Make sure to check in at least 15 minutes before your scheduled ride.
The minimum number of guests for this tour is 4. The maximum is 7.
Apart from the height-weight restrictions, guests have to be at least 8 years old to join. Minors should be accompanied by an adult and must have a written consent from a parent, if no parent is riding with the minor.
Princeville Ranch reserves the right to refuse anyone whom it determines is not in good physical condition to ride.
Tour will push through rain or shine, except if it is severely unsafe for guests to continue with the tour.
Should you wish to cancel your booked tour, make the cancellation 72 hours before your scheduled ride.
This is a walk-only horseback riding activity. If you are an experienced rider who wishes to trot or canter, kindly book a private ride.
Note that this tour includes a hike that is rated moderate to difficult, and as well as a steep trail.
ALL FEES INCLUDED
Operates daily
If booking Friday night, please call for availability.
Reception Plans require 24 hours notice to book.
Please see our Holiday Cruises for Valentines, Easter, Father's Day, July 4th, & New Year's Eve.
Special Instruction
Where and When: Tour 1: Check in at 8:45 am. Tour Time 9:00 am to 12:30 pm
Tour 2: Check in at 11:45 am. Tour Time 12:00 pm to 3:30 pm
Tour 3: Check in at 12:45 pm. Tour Time 1:00 pm to 4:30 pm
Check-in office location is one mile past the Princeville Airport on the ocean side, at the intersection of Kuhio Highway (Highway 56) and Kapaka Road.
View Map
Directions:
From Princeville Resorts & North: Princeville Ranch is located on the left hand (ocean) side of Kuhio Highway (Rt. 56). If coming from the Princeville resorts, turn left onto Kuhio Highway, and the Office is the next left (Kapaka Rd.) off the highway. If you are coming from destinations north of Hanalei, follow the highway south into Princeville, and go a half mile past the Princeville Shopping Center. Turn left at Kapaka Road at the red and white flags.
From the South: Follow Rt. 56 (Kuhio Highway) north to Princeville. You will pass the towns of Kapaa, Anahola and Kilauea. Cross over the Kalihiwai Bridge and go past Princeville airport about two miles. The check-in office is just past mile marker 27, on the right hand (ocean) side of Kuhio Hwy., at the cross road of Kapaka Road. Turn right onto Kapaka Road at the red and white flags. Church of Pacific is also at this intersection. If you get to the Princeville Shopping Center, you've passed the office by a half mile.
Restrictions: Princeville Ranch welcomes riders ages 8 and above.
Weight and height restrictions apply. Maximum weight per rider is 250 pounds (113 kg). Maximum height of 6'5″ (195 cm).
Children under age 16 must be accompanied by an adult.
Children under 18 must have written consent from a parent.
Riding double on one horse is not allowed.
Riders must be in good physical condition and fit comfortably and securely in the saddle.
Princeville Ranch reserves the right to refuse anyone whom we determine is in poor physical condition or in any way impaired so that they are unable to safely complete a Ranch ride or related hike.
The hike is rated moderate-to-difficult and includes a steep trail, up and down (500-foot gain) rough hewn steps with rope handholds.
Special Notes: Riders must fit within the weight and height ratio on the yellow chart above.
Group horseback rides are walking only. Only on a private ride might guests trot or canter after evaluation by the guide.
Tours go out rain or shine.
Operation Days: Monday through Saturday
Duration: Total tour time is approx. 3.5 hours. Total time on horseback is one hour, round trip. The waterfall swim lasts 1 to 1.5 hours. Total hiking time is 30 minutes.
Vendor: Princeville Ranch
Island: Kauai
Capacity: 4 guests minimum, 7 guests maximum.
Equipment: All rides are led by professional guides. They are CPR and first aid certified. They all carry two-way radios and first aid kits. Western saddles only. Helmets are available upon requests and required for children 8-12.