Come and explore Kauai's lush mountains and majestic valleys with the stunning turquoise blue ocean in the distance through an exciting horseback riding adventure!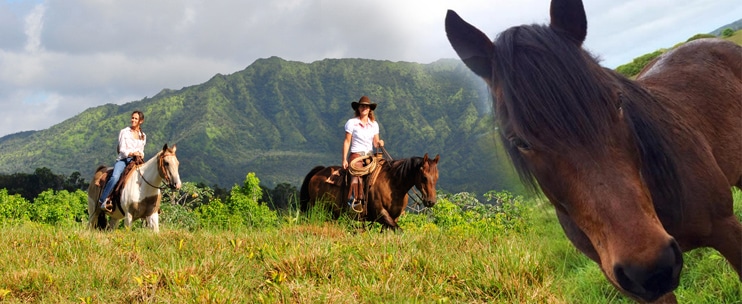 Inter-Island Sportfishing is one of the longest running fishing charter businesses in Oahu, and perhaps, the whole of Hawaii. Established in 1950 by an ocean-loving sibling duo, Inter-Island Sportfishing has since assured its guests a great time experiencing for themselves something that is central to the culture of the Hawaiians–deep sea fishing! The Maggie Joe package tour, in particular, is an exciting big game fishing session on board the Maggie Joe, a 53' Custom Sportfisher, which guarantees a smooth and stable ride in the waters of Oahu. Designed by the founders themselves, the Maggie Joe's best feature is the spacious fishing deck and the engine room. As they envisioned a fishing boat that has plenty of room on the back deck for guests on-board to fully enjoy the water activities, the Maggie Joe now in fact has one of the largest fly bridges of any sport fisher boats on Oahu Island! The engine room is similarly spacious, with captains able to walk around both engines with complete access to all equipment. The Maggie Joe is USCG-certified, and can take up to 15 passengers per fishing tour, despite its actual space and capacity. Better reserve early as these 15 slots get booked pretty quickly!
This may not be the typical Hawaiian adventure most tourists go on, but this surely deserves the same attention, as the Hawaiian countryside offers a peaceful and relaxing vibe, and be momentarily far from the crowds by the oceanside. On your Kauai getaway, book Princeville Ranch's Private Kauai Horseback Ride!
Princeville Ranch is one of the longest-running cattle ranches in Hawaii, established many years ago during the reign of Kamehameha III. Thus, when you book any of its tours, you will get to experience Princeville Ranch's fascinating history, and as well as its vast and well-maintained lands, just as the early paniolos, or Hawaiian cowboys, have done during the ranch's early years. For this tour in particular, Princeville Ranch's Private Kauai Horseback Ride is a fun horseback riding package tour that lets you go on a private horseback excursion in its breathtaking 2,500-acre ranch situated on Kauai's stunning north shore. WIth your horse, which you can be assured is gentle and well-behaved, you will meander through the verdant pastures in the ranch, where herds of cows and calves are grazing freely in the area. Princeville Ranch's Private Kauai Horseback Ride is definitely a great way to disconnect with the bustling urban life, connect with nature, and experience the Hawaiian countryside like no other.
Princeville Ranch's Private Kauai Horseback Ride is either a 2.5-hour or a 3.5-hour trip, both of which will take you through the vast pastures and to the top of Pu'u O' Henui. Once there, prepare to be amazed at the spectacular panoramic views of the Hanalei Mountains, the ocean, and the entire north shore! Kauai prides itself in these natural treasures, all of their beauty you can get to take in by booking this exciting horseback riding tour. When you book the 3.5-hour trip, you and your companion (or companions, if you're travelling with a group) will get to cap off your adventure with a refreshing swim in a 80-foot waterfall, the sight of which is another breathtaking moment–as if you haven't had enough from your ride! 
As this tour is a private horseback riding adventure, Princeville Ranch will be able to personalize your ride based on your riding level and desire. Thus, even if you have not had any experience in horseback riding, you are still as welcome to join Princeville Ranch's Private Kauai Horseback Ride! The guides are all well-experienced and adept in natural horsemanship skills, and will assist you in every step of the way, especially if you are a first-timer, or if you are in the company of young riders. They will also gladly share their knowledge on Hawaii's history, flora, fauna, and more, during the tour, so you will not only leave happy, but definitely more enlightened, too!
Not the usual tour in the tropical paradise that is Hawaii, but it is nonetheless just as enjoyable and unforgettable. Come and book Princeville Ranch's Private Kauai Horseback Ride now!
Princeville Ranch's Private Kauai Horseback Ride Tour Highlights:
Go on a personalized/customized horseback riding adventure based on riding level and desire
Ride through vast pastures while sightseeing on Kauai's scenic north shore
Have the best panoramic views of the coastline and mountains of Kauai on top of Pu'u O' Henui
Be in the company of well-trained and adept tour guides
Princeville Ranch's Private Kauai Horseback Ride Maximum Height and Weight Restrictions:
5'0" and below: 150 lbs limit
5'1" to 5'2": 160 lbs limit
5'3" to 5'4": 170 lbs limit
5'5" to 5'6": 180 lbs limit
5'7": 190 lbs limit
5'8": 200 lbs limit
5'10": 220 lbs limit
5'11": 230 lbs limit
6'0" to 6'1": 240 lbs limit
6'2" to 6'5": 250 lbs limit
Princeville Ranch's Private Kauai Horseback Ride Special Instructions:
For the 2.5-hour tour, check in at 9:15 AM. Tour time is 9:30 AM to 12:00 PM.
For the 3.5-hour tour, check in at 12:15 PM. Tour time is 12:30 PM to 4:00 PM.
Tour has a minimum requirement of two guests. If this requirement cannot be met, the guest will be notified and will be given the option to push through with the ride, subject to the condition that he will have to pay for a second person's tour fee.
Tour can only accommodate up to seven guests per ride.
Apart from the height-weight restrictions, guests have to be at least 8 years old to join. Minors should be accompanied by an adult and must have a written consent from a parent, if no parent is riding with the minor.
Princeville Ranch reserves the right to refuse anyone whom it determines is not in good physical condition to ride.
Tour will push through rain or shine, except if it is severely unsafe for guests to continue with the tour.
Tour operates every day, except Sunday and major holidays.
ALL FEES INCLUDED
Operates daily
If booking Friday night, please call for availability.
Reception Plans require 24 hours notice to book.
Please see our Holiday Cruises for Valentines, Easter, Father's Day, July 4th, & New Year's Eve.
Special Instruction
Where and When: 2.5 Hour Tour: Check in at 9:15 am. Tour Time 9:30 am to 12:00 pm
3.5 Hour Tour: Check in at 12:15 pm. Tour Time12:30 pm to 4:00 pm
Check in Office Location is one mile past the Princeville Airport on the ocean side of Kuhio Highway (Highway 56) in Princeville. Follow the "Princeville Ranch" sign. Located at mile marker 27. Please be aware GPS may take you to the wrong location.
View Map
Directions:
From Princeville Resorts & North: Princeville Ranch is located on the left hand (ocean) side of Kuhio Highway (Rt. 56). If coming from the Princeville resorts, turn left onto Kuhio Highway, and the Office is the next left (Kapaka Rd.) off the highway. If you are coming from destinations north of Hanalei, follow the highway south into Princeville, and go a half mile past the Princeville Shopping Center. Turn left at Kapaka Road at the red and white flags.
From the South: Follow Rt. 56 (Kuhio Highway) north to Princeville. You will pass the towns of Kapaa, Anahola and Kilauea. Cross over the Kalihiwai Bridge and go past Princeville airport about two miles. The check-in office is just past mile marker 27, on the right hand (ocean) side of Kuhio Hwy., at the cross road of Kapaka Road. Turn right on to Kapaka Road at the red and white flags. Church of Pacific is also at this intersection. If you get to the Princeville Shopping Center, you've passed the office by a half mile.
Restrictions: Princeville Ranch welcomes riders ages 8 and above.
Weight and height restrictions apply. Maximum weight per rider is 250 pounds (113 kg). Maximum height of 6'5″ (195 cm).
Children under age 16 must be accompanied by an adult.
Children under 18 must have written consent from a parent.
Riding double on one horse is not allowed. Riders must be in good physical condition and fit comfortably and securely in the saddle.
Princeville Ranch reserves the right to refuse anyone whom we determine is in poor physical condition or in any way impaired so that they are unable to safely complete a Ranch ride or related hike.
Special Notes: Tour has a minimum requirement of 2 guests to go out. If a single guest has booked a tour and no other guests have booked the tour for the same day, guest will be notified with the option to pay for a second person's rate in order to go by themselves.
Tours go out rain or shine.
Operation Days: Monday through Saturday
Duration: 2.5 or 3.5 hours
Vendor: Princeville Ranch
Island: Kauai
Capacity: 2 guests minimum, 7 guests maximum
Equipment: All rides are led by professional guides. They are CPR and first aid certified. They all carry two-way radios and first aid kits. Western saddles only. Helmets are available upon requests and required for children 8-12.