Paniolo is the local term for a Hawaiian cowboy, and this you will get to be when you join this tour offered by Princeville Ranch!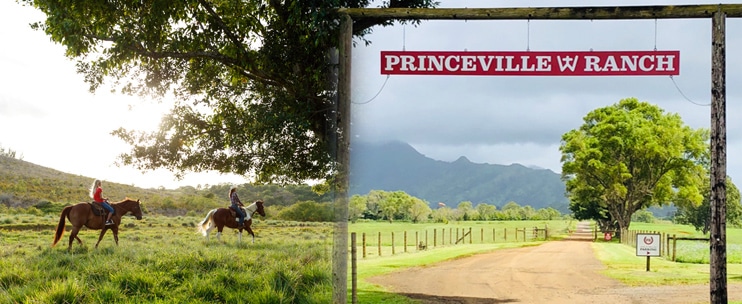 Admittedly, this may not be the typical Hawaiian adventure most tourists go on, but this surely deserves the same attention, as the Hawaiian countryside offers a peaceful and relaxing vibe, and be momentarily far from the crowds by the oceanside. For a fun and scenic horseback riding adventure, go and book Princeville Ranch's Paniolo Horseback Ride!
One of the longest-running cattle ranches in the entirety of the Hawaiian Island, Princeville Ranch was established several years ago during the reign of Kamehameha III. After its humble beginnings way back in 1831, Princeville Ranch strived to continuously improve the sacred land and take care of its growing cattle and horses, and, at the moment, has been providing horseback adventures for over 40 years. Thus, when you book any of Princeville Ranch's tours, you get to experience years of beautiful history and exceptional tried-and-tested services. For this tour in particular, Princeville Ranch's Paniolo Horseback Ride is a 2-hour ride that lets you take in the breathtaking beauty of the Hawaiian countryside. With your gentle and well-behaved horse, you will ride through the lush verdant pastures located in the ranch, with views of the spectacular Hanalei mountain in the distance. You may also catch sight of cattle grazing freely in the area! Surely, Princeville Ranch's Paniolo Horseback Ride is an experience that lets you get away from the bustling city life and be one with nature's beautiful greenery, while having a fun time feeling like a paniolo!
Apart from the verdant views, the best thing about going on Princeville Ranch's Paniolo Horseback Ride is you also get to appreciate the beautiful waters from afar. The tour will take you to a prime lookout point, where you get to see panoramic views of the stunning Kauai coastline and its entire north shore. With the views of the Kauai's most treasured lands, mountains, and the ocean surrounding you, you and your companions will certainly be left in awe! Make sure to bring your cameras with you, as you wouldn't want to leave the place without snapping photos of all the breathtaking sights. Don't be shy to ask your assigned tour guide to take your pictures with these natural artworks as your background! Princeville Ranch's Paniolo Horseback Ride prides itself, too, in its warm and friendly tour guides, who will make sure that you have an unforgettable horseback riding and sightseeing adventure during your trip to this part of Hawaii. Apart from their friendliness, these guides are guaranteed to be well-skilled and knowledgeable, too! They will not only ensure your safety throughout the duration of the ride, but will also share with you interesting bits of information about Hawaii, the ranch, and a whole lot more!
Come and be a paniolo for a day with Princeville Ranch's Paniolo Horseback Ride! You will not only have a fun time meandering through the ranch like a real cowboy, but you will also be surrounded with wonderful gifts of nature that Kauai is home to!
Princeville Ranch's Paniolo Horseback Ride Maximum Height and Weight Restrictions:
5'0" and below: 150 lbs limit
5'1" to 5'2": 160 lbs limit
5'3" to 5'4": 170 lbs limit
5'5" to 5'6": 180 lbs limit
5'7": 190 lbs limit
5'8": 200 lbs limit
5'10": 220 lbs limit
5'11": 230 lbs limit
6'0" to 6'1": 240 lbs limit
6'2" to 6'5": 250 lbs limit
Princeville Ranch's Paniolo Horseback Ride Special Instructions:
Check in at 9:45 AM. The tour will start at exactly 10:00 AM and will end at 12:00 PM.
This tour operates every Monday, Tuesday, Thursday, and Friday.
The minimum number of guests for this tour is 4. The maximum is 7.
Apart from the height-weight restrictions, guests have to be at least 8 years old to join. Minors should be accompanied by an adult and must have a written consent from a parent, if no parent is riding with the minor.
Princeville Ranch reserves the right to refuse anyone whom it determines is not in good physical condition to ride.
Tour will push through rain or shine, except if it is severely unsafe for guests to continue with the tour.
Should you wish to cancel your booked tour, make the cancellation 72 hours before your scheduled ride.
This is a walk-only horseback riding activity. If you are an experienced rider who wishes to trot or canter, kindly book a private ride.
ALL FEES INCLUDED
Operates daily
If booking Friday night, please call for availability.
Reception Plans require 24 hours notice to book.
Please see our Holiday Cruises for Valentines, Easter, Father's Day, July 4th, & New Year's Eve.
Special Instruction
Where and When: Check in at 9:45 am. Tour time: 10:00 am to 12:00 pm.
Check in Office Location is one mile past the Princeville Airport on the ocean side, at the intersection of Kuhio Highway (Highway 56) and Kapaka Road.
View Map
Directions:
From Princeville Resorts & North: Princeville Ranch is located on the left hand (ocean) side of Kuhio Highway (Rt. 56). If coming from the Princeville resorts, turn left onto Kuhio Highway, and the Office is the next left (Kapaka Rd.) off the highway. If you are coming from destinations north of Hanalei, follow the highway south into Princeville, and go a half mile past the Princeville Shopping Center. Turn left at Kapaka Road at the red and white flags.
From the South: Follow Rt. 56 (Kuhio Highway) north to Princeville. You will pass the towns of Kapaa, Anahola and Kilauea. Cross over the Kalihiwai Bridge and go past Princeville airport about two miles. The check-in office is just past mile marker 27, on the right hand (ocean) side of Kuhio Hwy., at the cross road of Kapaka Road. Turn right onto Kapaka Road at the red and white flags. Church of Pacific is also at this intersection. If you get to the Princeville Shopping Center, you've passed the office by a half mile.
Requirements: 72-hour notice of cancellation for groups of 6 or more.
Restrictions: Princeville Ranch welcomes riders ages 8 and above.
Weight and height restrictions apply. Maximum weight per rider is 250 pounds (113 kg). Maximum height of 6'5″ (195 cm).
Children under age 16 must be accompanied by an adult.
Children under 18 must have written consent from a parent.
Riding double on one horse is not allowed. Riders must be in good physical condition and fit comfortably and securely in the saddle.
Princeville Ranch reserves the right to refuse anyone whom we determine is in poor physical condition or in any way impaired so that they are unable to safely complete a Ranch ride or related hike.
Special Notes: Riders must fit within the weight and height ratio on the yellow chart above.
Group horseback rides are walking only. Only on a private ride might guests trot or canter after evaluation by the guide.
Tours go out rain or shine.
Operation Days: Monday, Tuesday, Thursday & Friday
Duration: 2 hours
Vendor: Princeville Ranch
Island: Kauai
Capacity: 4 guests minimum, 7 guests maximum
Equipment: All rides are led by professional guides. They are CPR and first aid certified. They all carry two-way radios and first aid kits. Western saddles only. Helmets are available upon requests and required for children 8-12.