Fly from Oahu to Kauai for a day and enjoy a land and air tour of the island's most beautiful attractions.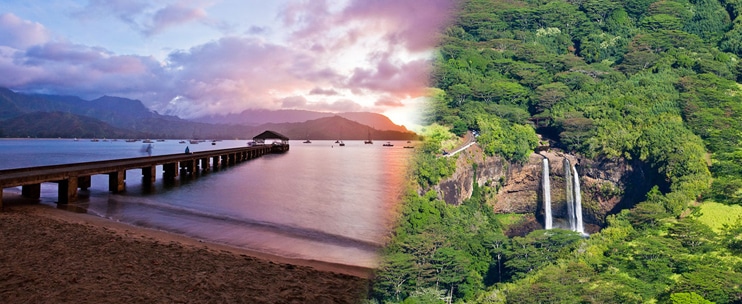 Your adventure starts with a guided land tour that takes you to Lydgate Beach, Ahukini Landing, Kilauea, Princeville, Kapa'a and many other scenic locations.
You'll be served a delicious lunch at Tahiti Nui Restaurant, featured in the Oscar-nominated film The Descendants with George Clooney. Then stop in Hanalei for a view of the famous Hanalei Pier, featured in Blue Hawaii.
The last part of your Kauai island exploration is aboard a Blue Hawaiian helicopter for a scenic 50-minute air tour. Enjoy fantastic aerial views of the Na Pali Coast, Waimea Canyon (the "Grand Canyon of the Pacific"), the hidden Kipu Kai Beach and Mt. Waialeale, Kauai's highest mountain peak.
Tour Highlights
Fly from Oahu to Lihue, Kauai
Opaeka'a Falls – grand waterfall cascades into a hidden pool
Ahukini Landing (Donovan's Reef)
Lydgate Beach (Blue Hawaii)
Kapa'a Town (Jurassic Park)
Kealia Overlook (King Kong)
Kalalea Mountain (Raiders of the Lost Ark)
Princeville (Lilo and Stitch)
Blue Hawaiian Helicopter tour with aerial views of Hanapepe Valley, Waimea Canyon, Hanalei Bay, Na Pali Coast, Mt. Waialeale and more
Tour Inclusions
Roundtrip flight from Oahu to Kauai with Hawaiian Airlines
Ground transportation on Kauai to all island attractions
Blue Hawaiian helicopter tour in Eco-Star helicopter, equipped with Bose aviation-grade noise-canceling headsets (3:30 pm departure)
Delicious lunch at Tahiti Nui Restaurant (featured in The Descendants)
Special Instructions
Where and When:

Pick-up is from major Waikiki hotels at approximately 5:00 am. The exact pick-up time and location will be specified on your voucher.
Tour returns at approximately 7:00 to 7:30 pm.
Restrictions:

General Inter-Island Tour Restrictions:
Due to stringent airline requirements there is a NO CANCELLATION/NO REFUND policy for this tour. This includes name and date changes.
For all island flights or day trips, the NAME ON TICKET MUST APPEAR AS IT IS ON PICTURE ID (license or passport). The airline will deny boarding if the passenger's legal name, as shown on their valid, government-issued ID, does NOT match the name on their E-Ticket. IF A PASSENGER IS DENIED BOARDING, THERE WILL BE NO REFUNDS. All passengers MUST present government issued photo ID for airline check-in. International travelers must bring a valid passport for airport security check-in.
Children 2 years old are required to pay for the airfare and ride in the lap of an adult in the vehicle. Children (0-23 months) still require birth date and full name.

Helicopter Flight Restrictions:
All passengers will be weighed during check-in at the heliport to ensure the accurate aircraft weight and balance.
Passengers over 250 pounds will be allotted 2 seats and will be responsible for the additional cost of 50% for a second seat. If not already paid at time of reservation, this fee will be collected at check-in.
No scuba diving 24 hours before or after going on this tour.
Mobile tablet devices are not allowed on board due to size. Go Pros are welcome as hand-held devices, but no attachments/accessories are allowed.

Occasionally, helicopter tours are unable to operate due to weather conditions. If advised of cancellation due to weather at least 90 minutes in advance of scheduled departure time, guests will enjoy a two-mile Wailua River Boat Ride and view of the famous Fern Grotto. If flight is cancelled within 60 minutes, guests will enjoy a visit to Kauai's popular Kukui Grove Shopping Center for a final shopping opportunity prior to their return flight to Honolulu. A refund of the helicopter portion, less boat ride admission cost, if applicable, will be provided.

In the event of cancellation of the helicopter portion of the tour for any reason, guests will be refunded for the helicopter portion and join an extended sightseeing land tour. If guest wish to return to Honolulu earlier than their scheduled flight; additional fees, expenses and airport to hotel transportation are the responsibility of the guest.
Special Notes:

The airlines are adding surcharges for some dates that are close to selling out. Please call us at 1-866-482-9775 if you would like to check if there is a surcharge for your travel date.
Operation Days:

Monday, Wednesday, Saturday
Duration:

Approx. 14-15 hours
Island:

Oahu
Equipment:

Hawaiian Airlines, Blue Hawaiian Helicopters and Polynesian Adventure Tour Bu