If you're travelling to any of the beautiful islands of Hawaii, might as well learn a Hawaiian word to kickstart your vacation!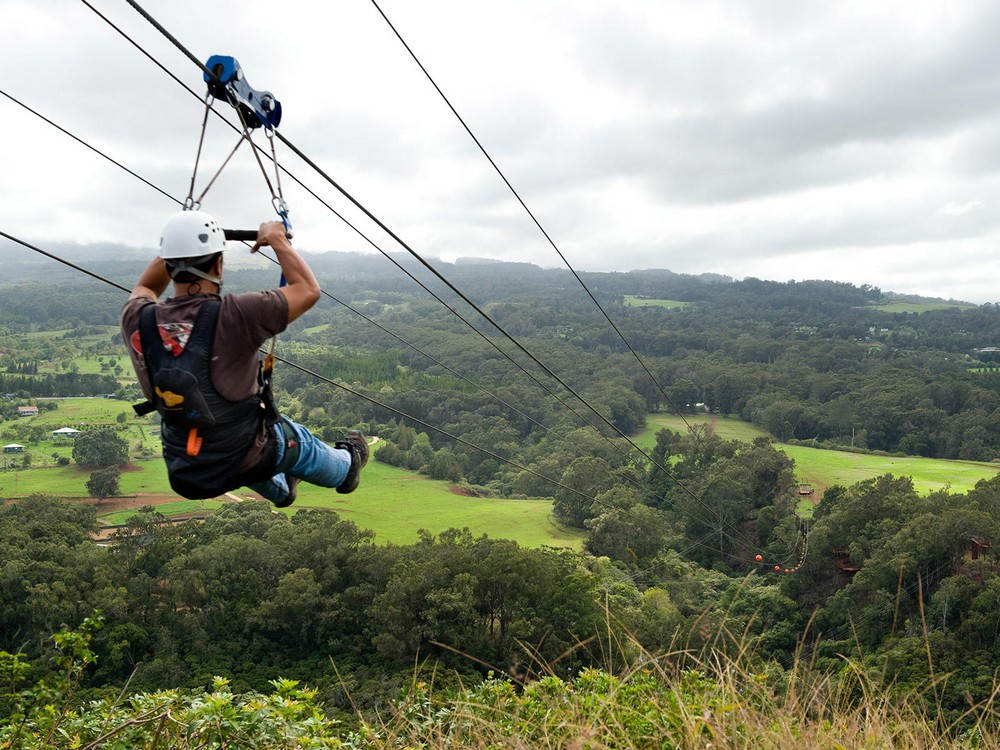 Then dare your spirit with Piiholo Ranch Zipline's 5-line premiere tour! Make sure to get through the grand finale zipline number 5, which is 2,800 feet long and 600 feet high.
Utilizing state of the art ziplines and harnesses, ride side by side with your family and friends over lush tropical valleys. Soar your worries away hundreds of feet above the valley floors and walk across a 317-foot suspension bridge towards a treehouse. Ultimately, relax with the breathtaking views of Maui from the mountains to the sea, while beautiful birds are flying and singing in the background. You can tag along with your children, too, as long as they are at least eight years old.
Book your tickets now and experience Hawaii's longest side by side zipline!
What to Expect?
Piiholo is a mountain summit in Maui with an elevation of 689 meters (2,260 feet). The soils here are mostly dark brown with a mix of red silty clays, which developed from volcanic ash. This is the reason why raising cattle and horses is perfect in this area, hence the Piiholo Ranch. These days, visitors and residents alike enjoy their zipline adventures that were voted as Maui's Best Zipline.
For this activity, head to Piiholo Ranch Zipline located at 799 Piiholo Road in Makawao to check-in.
After securing your harness, helmet, and trolley, you are now ready to ride your first zipline. We know it's normal to feel terrified in the beginning, but your friendly and attentive guides will help you all the way. Plus, they share a wealth of knowledge about the place. You are required to wear light, closed shoes for your comfort, safety, and protection. And don't forget your cameras and GoPros, too! If you are driving from the Kihei or Wailea area, allow 45 minutes to drive before arriving at the meeting area, and 1.5 hours if you are coming from Lahaina and Kaanapali. Make sure to check-in 45 minutes before your tour for the fitting of necessary equipment, as well as signing a waiver. 
Your adventure starts when you walk across a 317-foot suspension bridge towards The Treehouse for a safety briefing by your guides. If it is your first time to walk on a suspension bridge, don't worry if it sways side by side. These kinds of bridges are designed to be flexible, and it is normal to move to accommodate winds and weight, just like when you are walking through it. Besides, the management made sure that everything in the place is safe. 
Five-line Zipline Experience
Your first zipline is 480 feet from a free-standing tower to a grassy field below. Here, you can zipline with three of your family or friends because it allows four guests to ride side by side at the same time. Some visitors say they prefer it because they can film their partners while ziplining. Crossing over a fertile, tropical valley overlooking guava, kukui nut trees and a variety of ferns is zipline number two. It is 1,060 feet long and more challenging than the first since it is longer. And the scenery is incomparable. 
Leading you back to the treehouse area, zipline number three is 690 feet long and gives you a relaxing view of Maui's North Shore. Did you know that the North Shore of Maui is home to magnificent undeveloped beaches, world-class surf breaks, and dramatic shorelines? Visitors here say that you can feel the spirit of Aloha everywhere because residents are friendly and welcoming.
Zipline number four is more than double in length than number three at 1,400 feet, which leads you to the second landing of the Tango Tower walkway. From here, you will zipline down to the base of Piiholo Hill. When you arrive at the bottom, a modern ranch shuttle is waiting, which transports you to the top of the ranch to enjoy spectacular views of Maui. You can take pictures and videos here before taking the highlight of your zipline experience with the 2,800-foot zipline number five grand finale. It can go as fast as 50mph, which makes you feel and look like flying over one of the most beautiful places in the island.
KNOW BEFORE BOOKING:
Using necessary equipment, light snacks, and beverages (Hawaiian juice and water) will be provided during this trip.

The minimum age for this activity is eight years old, with a minimum weight of 75 lbs. and a maximum weight of 275 lbs.

This adventure lasts for three hours, offered at either 10:00 am, 11:00 am, 12:00 pm, and 1:00 pm.

Guests with fear of heights are discouraged from participating.

Pregnant women and guests with serious physical and medical conditions are not allowed to join.

You must be able to carry 10-12 lbs. trolley.

This activity operates rain or shine unless the weather is hazardous to the activity. 
*Always call when in doubt.