Nothing compares to a relaxing sunset sail along the picturesque west coast of Maui while enjoying tropical beverages and mouthwatering snacks.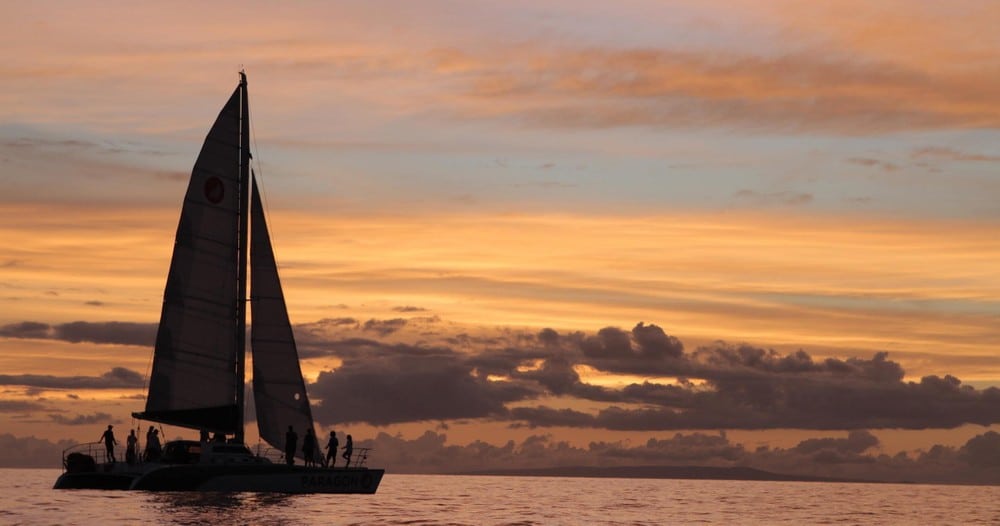 If you are in Maui, come aboard the 47-foot Paragon vessel by Sail Maui, and experience a smooth sailing and quiet cruise along the Hawaiian waters and watch the sun as it dips down into the horizon. This comfortable, stable boat has a spacious open cabin, open bar, and two private restrooms (his and her) to accommodate all passengers. Don't worry about your kids because they can join you, too! And if you happen to book from December to May, you'll get a bonus, which is an unforgettable whale-watching.
Reserve your tickets now, and discover a beautiful part of Maui that you will never forget!
What to Expect?
Bring a light jacket, along with your casual wear on this tour. It may get windy on the ocean, especially in the winter season, and you don't want to get cold on the sea. Head to the Lahaina Harbor public loading dock, in front of Pioneer Inn to check-in. As a general rule to any event, arriving early saves you from troubles. So, make sure to arrive 15 minutes before your scheduled tour. Due to seasonal sunset patterns, departure times are adjusted, and this will be indicated in your confirmation mail uponbooking.
As your boat leaves the harbor, don't forget to take pictures of the breathtaking scenery. Did you know that Lahaina Harbor is famous for its perfect waters to watch whales, snorkel, scuba dive, sail, submarine, sport fish, and parasail? Its view is equally stunning, like the sunset you're about to watch out there on the ocean.
When it comes to your boat, Sail Maui's vessels are specially designed for the Hawaiian waters, and you can't hear any annoying engine sounds. At times when the wind is up, this trip could be thrilling and exhilarating. But don't worry because your safety is their priority, apart from your enjoyment, that is why they made sure these catamarans are stable and safe. Besides, if the weather becomes hazardous to your tour, it will be cancelled, and you get a full refund or offered another date. 
Not to mention the attentive crew and the captain guarantee you get all you need. So relax and savor the moment. Onboard, they prepared a playlist to suit the mood perfectly, so you get to listen to these songs while your vessel is gliding along the Maui coast.
Sailing Towards the Maui Sunset
This trip is never complete without one of its highlights – the island-style beverages and hot and cold pupus (appetizers). Indulge in their local beers, mai tais, wines, and champagnes, paired with appetizers like grilled chicken strips and veggie platter with ranch dressing. We assure you that your glasses never go empty. A lot of guests compliment their generous servings of these tasty hors d'oeuvres and we couldn't agree more! 
If you get lucky and the weather cooperates, you could have a glimpse of the Mauna Kea, which is the tallest mountain in the world, located in Big Island. Some guests have already had the luck to be on the water on a clear, beautiful afternoon to view this 13, 803-foot dormant volcano. Of course, you are guaranteed to see the spectacular views of the West Maui mountains! So always ready your camera to capture postcard-like sceneries. 
During the whale season (December to May), you can have an opportunity to watch pods of whales, either the mother playing with her calf or males chasing females in a competition group. Your captain tries hard to find the perfect spot where they usually hang out. The crew also serves as your guides who are knowledgeable about these marine creatures, so they give you exciting, informative facts regarding these giant mammals, as well as the place.
When the sun starts to set, creating a hue of oranges and reds on the sky, your captain strategically positions the boat to give you 360-views of the sunset. You know it's sunset when the breeze of the wind starts to get colder, which prompts you to wear your jacket or sweater before you head back towards the harbor.
MENU AND BEVERAGES:
Hot & cold hors d'oeuvres (appetizers): 

Black pepper herbed chicken breast

Louisiana hotline sausage

Caprese skewers with pesto and cheese tortellini, mozzarella, sun-dried cherry tomatoes

Vegetable platter, topped with tuna aioli and ranch dressing

Hawaiian sweet rolls

Condiment platter including pickles, cheddar cheese, mayo & mustard

Beverages:

Aloha Juices

Sodas 

Locally brewed beer

Mai tai 

Wine

Champagne
KNOW BEFORE BOOKING:
This tour caters to all ages. It is limited to 28 passengers, even though its capacity is up to 49 passengers.

You must be over 21 years old to consume alcohol and need to present a valid national ID.

Departure point is at the Lahaina Harbor, located at 37 Canal St, Lahaina, HI 96761. Meet up is at the Main Loading Dock in front of the Pioneer Inn.

Operates daily with different departure times to accommodate the seasonal sunset patterns.
September 20 – March 20: 4:30 PM

March 20 – September 20: 5:00 PM