Kakaʻako is a modern commercial and retail district of Honolulu.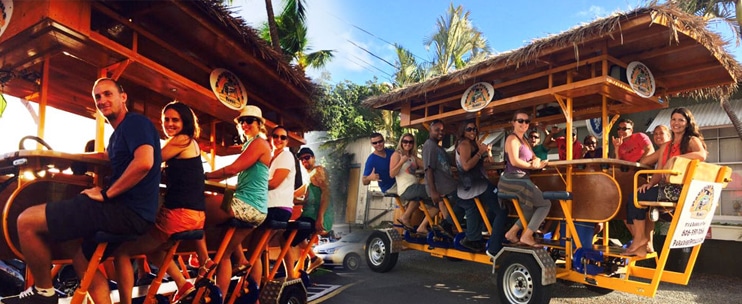 It bordered the large mall Ala Moana Center and Waikiki to the east and downtown Honolulu and Honolulu Harbor to the west. With a wide range of restaurants, boutiques, street art, and shops, it's not surprising that it has become the epicenter of activities. Residents could experience urban living, but at the same time, can opt for the simple way. Did you know that in Kakaako, it's optional to have a car? Because it's a walking-friendly neighborhood, with its establishments just minutes away from each other.
One of its attractions is the Paradise Pedals Hawaii's' Kakaako Bar Tour. You hop into a 15-passenger bike and pedal with other folks from around the world to different bars downtown. You can also book for a private party with your friends and paint the town red! Explore Hawaii's local taverns, so book your tickets now and hop in!
What to Expect?
On your 2.5-hour adventure, you can wear anything you want, as long you're comfortable pedaling with it. Well, it is electric, but still, your effort is needed. The bike has a capacity of 15 passengers. The best thing about it is it doesn't need to occupy all seats to traverse the Kakaako streets to find bars along the way. So even if you are a group of 5 or 7, you're good to go. And of course, bring cash to purchase your drinks.
When everybody's ready, the friendly driver and tour guide starts the engine to let everybody know it's time to pedal. You start pedaling with the group for 5 minutes or so and stop by your first brewery or bar, where you could order beer, cocktails, and appetizers. While waiting for your drinks, you can take selfies or have a chat with the person beside you. And when your orders are served, you can take 35-40 minutes to splurge with your pupus and beverages, and you're off to your next stop.
Here's a little Hawaiian trivia for you: Kakaako has grown popular not because of big waves or sun-kissed beaches, but for its blossoming urban art scenes. You can see gigantic colorful street murals – so big that they stretch across walls and sometimes the entire sides of buildings. It is said that in ancient times, Kakaako was a dwelling to a native Hawaiian fishing village. But in the 20th century, it was industrialized with auto repair shops, warehouses and car dealerships rapidly surfacing. These days, residents are moving and making it their home.
While pedaling along the way to your next bar stop, your tour guide becomes chatty and talks a little about the place, as well as to where the best beers and cocktails are. Every tavern is good, but there is always a winner. Perhaps you could try the Real Gastropub/Ben Tail brewery. They serve one of the best beers in town. Or maybe an early reservation for karaoke at Café Duck Butt if you're with your friends celebrating an occasion so you can get a private room. And we will regret it if we won't recommend the ahi dip at Waikiki Brewery.
The abundance of street arts accents your bar-hopping on a pedal bike because the speed of the bike is perfect for relaxed viewing.
TOUR HIGHLIGHTS:
2.5-hour bar-hopping through a fun pedal bike tour along the Kakaako neighborhood
Meet people from all over the globe while traversing the streets towards local bars and pubs
Indulge in island-style appetizers and beverages (not included in your tour price)
Visit the following taverns on a special bike tour: Bevy, Café Duck Butt, Honolulu Beer Works, Hush Bar, and Brewseum
BIKE INFORMATION:
No minimum number of guests required

15-passenger electric pedal bike

With 5 seats that don't require pedaling

With a maximum speed of approximately 5 miles per hour