Pedal with folks from around the world through Honolulu's trendy arts and warehouse district, stopping at beautiful wall murals and the Honolulu Beerworks local brewery for lunch and a pint of craft beer!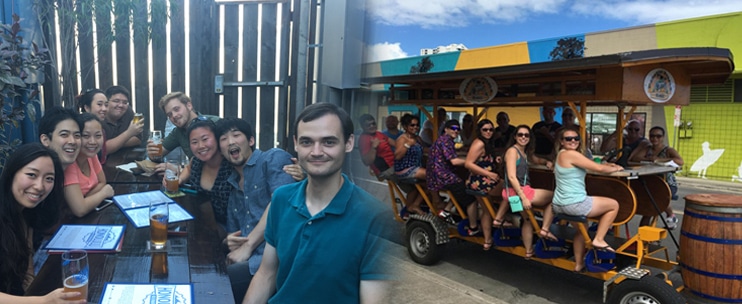 Gather and celebrate culture, music and art. This is a fun tour, great for photo ops, exercise and meeting new friends.
POW is the impact art has on a person, and WOW is the reaction that art has on a viewer. Together the words form POW WOW, a Native American term that describes a gathering celebrating culture, music and art.
Tour Highlights
Fun 15 passenger bike tour through Honolulu's trendy Kaka'ako neighborhood
Stop at murals and a local brewery
Enjoy lunch and a pint of craft beer (21+) or Root Beer at Honolulu Beerworks (included in tour price)
Tour Inclusions
Lunch
Pint of craft beer (for adults age 21+) or Root Beer (under age 21)
Bike Info
No minimum number of peddlers required
Fun safe bike, perfect for meeting new people and sightseeing
there are 5 seats that do not require pedaling
Bike with maximum speed of approximately 5 miles per hour
Special Instructions
Where and When
Tour time: 11:00 am to 1:00 pm
Check in 15 minutes prior to tour time at 311 Keawe Street, Honolulu, HI 96813
View Map
Roundtrip transportation from Waikiki is an optional add-on. If you selected this option, the exact Waikiki departure time and location will be emailed to you.
Restrictions
Age: Participants must be at least 12 years old.
Weight: 300 pound weight limit for each participant that is in a peddling seat.
Height: Participants must be 5 feet (152 cm) tall to pedal. However, there are also 5 non-pedaling seats. Tour requires there 6 guests to peddle.
Special Notes
Pedals offers tours rain or shine. If severe weather persists where it is unsafe to be on the road they will offer a reschedule or possible refunds.
The maximum speed the bike can go is approximately 5 miles per hour.
Operation Days
Daily
Closed on Fourth of July, Labor Day, Thanksgiving Day, Christmas Day and New Year's Day.
Duration
2 hours
Capacity
Minimum of 8 passengers, maximum of 15 passengers
Equipment
15 passenger bike