A Maui getaway is definitely not complete without a visit to the spectacular Honolua Bay! This gem found on the northwest shore of Maui is not just a great place to surf, but it also is home to a beautiful underwater world that you wouldn't want to miss.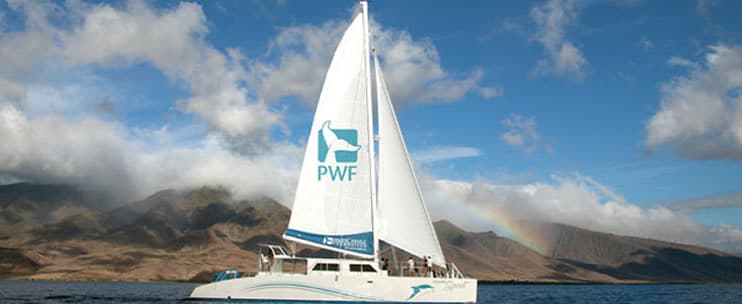 Come and join Pacific Whale Foundation's Ocean Spirit Snorkel Sail on Honolua Bay for a morning of fun under the sun… and the water!
Perfect for the early-risers, this tour departs early in the morning so that no precious time is wasted. To kickstart this trip is a relaxing cruise on the Ocean Spirit, Pacific Whale Foundation's top-of-the-line sailing catamaran. One of its newest sailing vessels, Pacific Whale Foundation's Ocean Spirit is custom-designed and equipped with spacious viewing decks, padded seats, air-conditioned bathrooms, and more, all for your utmost comfort and enjoyment. The Ocean Spirit can accommodate up to 90 passengers, but each tour is strictly limited and will not reach this maximum capacity so that everyone on-board will have an even more comfortable and relaxing time cruising and relishing the views of the beautiful Ka'anapali coastline. 
Upon your arrival at Honolua Bay, the real fun begins! Here, enjoy a leisurely snorkel and get up close with a variety of marine life, from tropical reef fish, green sea turtles, Hawaiian dolphins, and more. With waters so clear, you will also get to catch sight of vibrant coral reefs and majestic rock formations — truly a wonderful sight to behold!
After a fun time snorkeling at Honolua Bay, get to see more of Maui's underwater beauty through a guided reef tour! The Ocean Spirit will take you from Honolua Bay to another identified snorkeling location, where you will have a lovely time relishing more of what Maui's seas have to offer.
Here, you will be in the good hands of a certified marine naturalist, who will not only ensure your safety but will also make you experience Maui's ocean and marine life like no other.
There's not much to think about at this point — you just have to book Pacific Whale Foundation's Ocean Spirit Snorkel Sail on Honolua Bay to make your Maui trip even more memorable, enriching, and awe-inspiring!
Tour Highlights:
A relaxing sail to Honolua Bay, where you will enjoy the views of the scenic Ka'anapali coastline

A snorkeling adventure at Honolua Bay

A guided reef tour in one of Maui's top-rated reef locations
Tour Inclusions:
Pacific Whale Foundation's Ocean Spirit Snorkel Sail on Honolua Bay is inclusive of the following:
A delicious breakfast of Maui vegetable frittata (made of fresh farm eggs, potatoes, bell peppers, onions, mushrooms, spinach, and cheddar and parmesan cheeses), an assortment of freshly baked pastries, fresh fruits, and refreshments

A barbecue lunch of grilled chicken breasts, Kiawe smoked pork with guava-based barbecue sauce, freshly grilled hot dogs and garden burgers, sides, and refreshments

Unlimited non-alcoholic drinks (soda, fruit juice, filtered water)

High quality flotation devices and snorkeling equipment

Marine Life Picture Card
Special Instructions:
Check-in time is at 6:15 AM. Make sure to check in early as the tour will depart promptly at 7:00 AM.

Check in at Pacific Whale Foundation's Ocean Store, located at 192 Ma'alaea Rd., Wailuku. Look for the store at Ma'alaea Harbor Shops.

The use of full-face snorkel masks is strictly prohibited on any Pacific Whale Foundation tour packages due to health and safety concerns.

The use of reef-safe sunscreens is strictly required for this tour, in compliance with the island-wide ban on sun protection skin products that contain ingredients that are harmful to the ocean. The following sunscreen ingredients are considered as NOT reef-safe:

oxybenzone, octinoxate, avobenzone, avobenzine, homosalate, octisalate, octocrylene, and ethylhexyl methoxycinnamate.

Take note of the operation days of this tour:

Tour duration is approximately 5 hours. This tour will return at around 12:00 PM.