Book this fun snorkel cruise to complete your trip to Maui Islands! While it cannot be denied that Maui above water offers spectacular and awe-inspiring sights, the views down under are certainly on a whole new level that you just got to see if you are visiting this part of Hawaii.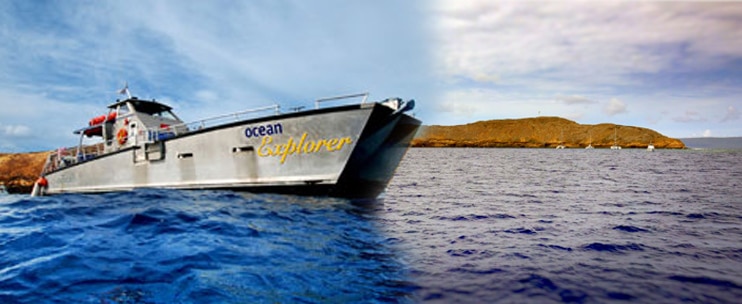 Molokini Wild Side Snorkel is one of Pacific Whale Foundation's tour packages that promises you and your companions lots of beautiful memories from this one-of-a-kind underwater adventure and exploration that will last you a lifetime!
For this tour, you and the rest of the group will ride comfortably the Ocean Explorer, a 54-foot modern eco-friendly catamaran that promises a smooth and safe ride along Maui's scenic south shore. This vessel is equipped with comfortable front stadium seats, a shaded galley and serving area, freshwater showers, and bathrooms, all to ensure your comfort and enjoyment en route to great snorkel sites on Maui! 
Pacific Whale Foundation's Molokini Wild Side Snorkel will bring you to two snorkel sites with absolutely breathtaking views. One of these snorkel locations is the Molokini Crater, a small island that is home to crystal clear waters, vibrant coral reefs, colorful reef fish, resting seabirds, and so much more. Being in this amazing ecosystem and experiencing all its magnificent beauty will delight you, that's for sure!
This snorkel cruise has a flexible itinerary, with the second snorkel location dependent on the water and weather conditions on the day of your tour. If the weather and the seas cooperate, you may have the opportunity to visit Turtle Arches, another top-rated destination on Maui's south shore! Wherever it is the Ocean Explorer brings you next, you and your companions will surely delight in the beautiful sights, weather, and culture that the island has to offer. 
Without a doubt, Pacific Whale Foundation's Molokini Wild Side Snorkel is a tour package you would not want to miss out on. It's only occasionally that you get to vacation in this part of the world, so you might as well make the most out of it by booking this lovely snorkel cruise!
Tour Inclusions:
Pacific Whale Foundation's Molokini Wild Side Snorkel is inclusive of the following:
A chance to snorkel at up to two top-rated snorkel sites on Maui's south shore

Premium flotation devices and snorkel gear including optical masks, if necessary

A pre-dive briefing on snorkeling and Maui marine life, facilitated by Pacific Whale Foundation's expert divers and marine naturalists

Fish ID and Junior Naturalists programmes

A marine life picture card
Breakfast Menu:
Maui vegetable frittata made of fresh farm eggs, potatoes, bell peppers, onions, mushrooms, spinach, and cheddar and parmesan cheeses

An assortment of freshly baked pastries

Fresh fruits

Coffee and fresh fruit juices
Lunch Menu:
Grilled chicken breasts

Kiawe smoked pork with guava-based barbecue sauce

Freshly grilled hot dogs and garden burgers

Sides of potato salad and Maui-style potato chips

Unlimited non-alcoholic refreshments of sodas, fruit juices, and filtered water

Dessert

Note: Breakfast and lunch menu options are subject to change without prior notice. Vegetarian and gluten-free lunch options are also available, but these have to be requested prior to the scheduled tour. Kindly indicate your preference for a vegetarian or gluten-free lunch when you make your reservation.
Special Instructions:
Check-in time is at 6:30 AM, to allot enough time for the inclusive continental breakfast on shore. Make sure to check in early especially if you wish to avail of the inclusive breakfast as the tour will depart promptly at 7:30 AM.

Check in at Pacific Whale Foundation's Ocean Store, located at 192 Ma'alaea Rd., Wailuku. Look for the store at Ma'alaea Harbor Shops.

The following are the requirements and restrictions to join this activity:

The use of reef-safe sunscreens is strictly required for this tour, in compliance with the island-wide ban on sun protection skin products that contain ingredients that are harmful to the ocean. The following sunscreen ingredients are considered as NOT reef-safe:

oxybenzone, octinoxate, avobenzone, avobenzine, homosalate, octisalate, octocrylene, and ethylhexyl methoxycinnamate.

Snorkeling destinations are subject to change, depending on the water and weather conditions on the date of your scheduled tour.

Take note of this tour's operation days: a.

January to April: Monday, Tuesday, and Saturday b.

May to December (Weeks 1 and 2): Daily except Thursdays c.

The rest of December: Sunday and Tuesday

Tour duration is approximately 6 hours. The tour is scheduled to return to shore at around 1:30 PM.