Two is better than one, they say.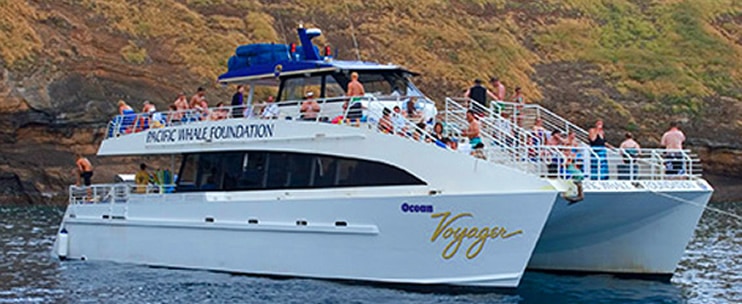 While this may not be true in all cases, this is most certainly correct when it comes to a Hawaiian snorkeling tour! Pacific Whale Foundation's Molokini & Turtle Arches Snorkel Cruise takes you not just to one but two top-rated snorkel sites on Maui, making it a tour package that gets you the most bang for your buck. Come and escalate your Maui getaway by booking this thrilling snorkel cruise–double the adventure, double the fun!
This tour departs from Ma'alaea Harbor, aboard a 65-foot double-deck power catamaran for that smooth ride and relaxing sightseeing cruise. With its viewing deck so wide and spacious, you will surely get to relish the sights, the sun, and the breeze as you await your exciting snorkeling adventure!
On top of this, you will be served a delicious continental breakfast with freshly brewed coffee and fresh fruit juices–a taste of the island life, indeed! On the first stop, you and your companions will get to delight in the charm and wonder of Molokini, a crescent-shaped volcanic islet that is known to be one of the best snorkel locations in Hawaii and the whole world. Here, prepare to see vibrant coral reefs, untainted rock formations, and diverse sea life, all of which you will get to easily and comfortably view because of Maui's pristine waters. In this first stop alone, you would have already seen sights incredibly fascinating and awe-inspiring!
Pacific Whale Foundation's Molokini & Turtle Arches Snorkel Cruise will then take you to Turtle Arches, which is yet another spectacular snorkel site that features equally spectacular underwater views. Here, prepare to see underwater lava arches, and a lot more of Maui's beautiful reefs and marine organisms. After enjoying and gazing at this spectacle, you will be treated to a scrumptious barbecue lunch–definitely the perfect way to conclude this jam-packed adventure day!
Without a doubt , Pacific Whale Foundation's Molokini & Turtle Arches Snorkel Cruise is a tour package that is worth your time and every penny spent. Go and book now before slots get full!
Tour Highlights:
Snorkel at two prime snorkel locations on Maui: Molokini and Turtle Arches

Go on a scenic cruise along Maui's south shore

Get an up-close encounter with a wide range of marine organisms, many of which are endemic to Hawaii

Ride a double-deck power catamaran that features a water slide, a shaded cabin, sunbathing areas, and other amenities
Tour Inclusions:
Pacific Whale Foundation's Molokini & Turtle Arches Snorkel Cruise is inclusive of the following:
A delicious continental breakfast 

A Hawaiian barbecue lunch

Refreshing beverages including fresh fruit juices, sodas, and filtered water

Complete snorkel gear; optical masks are also available, if necessary

Safety and flotation devices

A pre-dive briefing and guided reef tour, facilitated by on-board naturalists and experts
Special Instructions:
This tour departs at exactly 7:00 AM.

Check in at least 45 minutes prior to departure, or 6:15 AM. Be early as the tour will depart as scheduled.

Check-in is at Pacific Whale Foundation's Ocean Store at the Ma'alaea Harbor Shops, located at 192 Ma'alaea Road, Wailuku.

For those who wish to go snorkeling, participants are expected to know how to swim in open water.

As mentioned, snorkel gear will be provided, but guests are free to bring their own. If you will be bringing your own gear, note that the use of full-face snorkel masks are not allowed on any Pacific Whale Foundation activity for the safety of all guests.

Sunscreen that is NOT marked reef-safe is also not allowed on any Pacific Whale Foundation activity to ensure the protection of the coral reefs and marine organisms. The following ingredients are marked as harmful to the

ocean: oxybenzone, octinoxate, avobenzone, avobenzine, homosalate, octisalate, octocrylene, and ethylhexyl methoxycinnamate.

Take note of the operation days of this tour:

October: Mondays, Wednesdays, Fridays, and Saturdays

November: Tuesdays, Wednesdays, Fridays, Saturdays, and Sundays

December: To be discussed (depending on water and weather conditions)

Tour duration is approximately five hours. Tour will return at around 12:00 PM.