Here is a thrilling snorkeling cruise you wouldn't want to miss! Pacific Whale Foundation's Lanai Snorkel and Dolphin Watch is a morning tour that lets you explore and take pleasure in the spectacular beauty of the island of Lanai.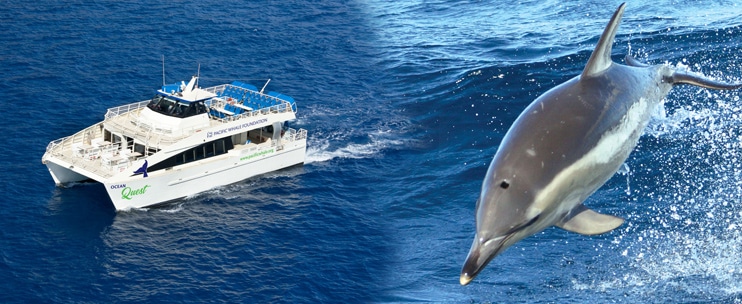 Lanai's south shore is a marine life conservation district that is home to crystal clear waters, untainted coral reefs, and vibrant tropical reef fish and many other marine organisms, and this is precisely why this should be part of your Maui itinerary. 
If you want a tour package that lets you truly experience nature like no other, this tour package, without a doubt, is what you and your travel buddies need! 
Pacific Whale Foundation's Lanai Snorkel and Dolphin Watch utilizes the Ocean Quest, a 65-foot double-deck power catamaran that promises a smooth ride and relaxing sightseeing cruise along the scenic south shore of Lanai Island. With its viewing deck so wide and spacious, the Ocean Quest will surely allow you to relish the sights, the sun, and the breeze as you await your exciting snorkeling and dolphin watching adventure!
After taking in all the beauty of Lanai's south shore coastline, it's time to take delight in the charm and wonder of Lanai down under! No need to worry about lack of snorkeling experience and skill, as Pacific Whale Foundation's expert divers and marine naturalists are with you to ensure your safety, preparedness, and enjoyment as you embark on your ocean adventure. First, they will provide you with high quality snorkeling equipment that is already inclusive of the tour price.
After familiarizing you with proper handling and usage of the gear, you will then be briefed about snorkeling how-to's and snorkeling safety tips, as well as the diverse marine life that you will get to meet down under. Prepare yourselves as you will most definitely meet a lot of these precious creatures, many of which are endemic to Hawaii! Get ready to meet Hawaiian dolphins, too, as they swim freely and jump happily in and out of the water. These are sights that are all so lovely and awe-inspiring, no doubt! 
Pacific Whale Foundation's Lanai Snorkel and Dolphin Watch is truly a tour package that you cannot pass up on when you book a trip to Maui Island. Make the most out of this Maui getaway by booking yourselves this awesome snorkeling and dolphin watching adventure!
Tour Inclusions:
Pacific Whale Foundation's Lanai Snorkel and Dolphin Watch is inclusive of the following:
High quality snorkeling gear, including optical masks if necessary

Flotation devices

Pre-dive briefing and Maui marine life narration facilitation by in-house expert divers and marine naturalists

A guided reef tour

Fish ID and Junior Naturalist programmes

Free marine life picture card
Breakfast Menu:
Freshly baked banana bread

An assortment of other baked pastries

Fresh fruits

Coffee and fruit juice
Lunch Menu:
Grilled chicken breasts

Hot dogs and garden burgers

Sides of potato salad, corn and bean salad, and chips

Non-alcoholic beverages (soda, fruit juices, and filtered water) *
* After snorkeling, a complimentary alcoholic beverage awaits guests aged 21 years old and above. Please prepare your valid picture ID as proof of identity and maturity to claim. Additional alcoholic drinks, including cocktails, are available for purchase on-board.
Note: Breakfast and lunch menus are subject to change without prior notice. This tour will try to accommodate special requests (ex: vegetarian or gluten-free options or allergen-free food). Kindly communicate any of these requests upon booking.
Special Instructions:
Check-in time is at 7:15 AM. Make sure to check in early as the tour will depart at exactly 8:00 AM.

Check in at Pacific Whale Foundation's Ocean Store, located at 612 Front Street, Lahaina, HI 96761.

For those who wish to go snorkeling, participants are expected to know how to swim in open water.

As mentioned, snorkel gear will be provided, but guests are free to bring their own. If you will be bringing your own gear, note that the use of full-face snorkel masks are not allowed on any Pacific Whale Foundation activity for the safety of all guests.

Sunscreen that is NOT marked reef-safe is also not allowed on any Pacific Whale Foundation activity to ensure the protection of the coral reefs and marine organisms. The following ingredients are marked as harmful to the

ocean: oxybenzone, octinoxate, avobenzone, avobenzine, homosalate, octisalate, octocrylene, and ethylhexyl methoxycinnamate.

Take note of the operation days of this tour:
October: Tuesdays and Saturdays

November: Tuesdays, Thursdays, and Saturdays

December: Operation depends on water and weather conditions, as well as tour demand
Tour duration is approximately five hours. Tour will return at around 1:00 PM.