This is a one-of-a-kind snorkeling experience you wouldn't want to miss! There is, undoubtedly, a great number of tour operators in Oahu, and in the whole of Hawaii for that matter, given its superbly preserved waters, coral reefs, rock formations, and marine life.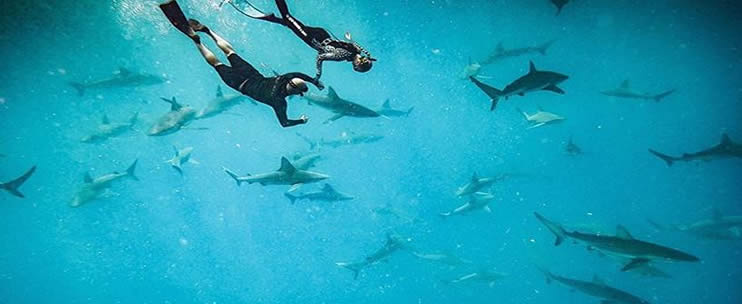 However, there are only a few operators that give its guests not only a thrilling underwater adventure, but also an exceptional and insightful backgrounder on the island's marine life, particularly focusing on Hawaii's sharks. This is precisely what One Ocean Diving is all about. Come and join One Ocean Diving for a 2-hour educational adventure—the Shark Research Snorkel tour package!
This exhilarating tour package is one of the most popular activities offered by One Ocean Diving. On the way to the dive site, this tour kicks off with an informational discussion on sharks, where you get to familiarize yourself about their physiology, behavior, and as well as common misconceptions about their species. An important part of this briefing is, of course, the part where you get to learn how to safely interact with these creatures when you dive into the water. This portion of the tour will be facilitated by One Ocean Diving's truly passionate and well versed marine biologists/shark specialists, so you are sure to gain factual and up-to-date information based on shark behavioral research and data collection. Without a doubt, this briefing will not only allow you to acquire a deeper understanding of these fascinating creatures, but it will also definitely excite you all the more about the encounter that's about to happen!
Upon your arrival at the dive site, prepare for the real adventure! You will get into the water accompanied by a safety diver to ensure your utmost comfort and safety throughout the duration of the dive. As you swim freely in the open water and get an up close encounter with Oahu's sharks and other equally amazing creatures, get ready to be awestruck and feel a different kind of high you won't get to experience anywhere else.
Educational and exciting at the same time, One Ocean Diving's Shark Research Snorkel is what you need to complete your Oahu getaway. Go and book a slot now!
Tour Highlights:
Get an up-close encounter with pelagic sharks on Oahu's north shore

Learn about sharks' biology, physiology, and behavior only from One Ocean Diving's marine biologists/shark specialists

Have a guaranteed safe snorkel dive, as you will have a pre-dive briefing and a safety diver with you all throughout the duration of the dive

Swim free in open water–no cages!

Be provided with top-of-the-line masks, snorkels, fins, and rash guards as inclusive in the tour price *
* You are welcome to bring your own gear. Kids must bring their own snug-fitting gear. Wetsuits will not be provided. Although wetsuits are not required, these may help in avoiding jellyfish stings.
Special Instructions:
Check in at least 10 minutes prior to your departure time. Tour will leave promptly as scheduled.

Check-in is at 66-105 Haleiwa Beach Road, Haleiwa, HI 96712. Look for the One Ocean Diving's blue kiosk.

The following are the requirements and restrictions to join this tour:

All participants must at least be 3 years old.

Participants aged 3 to 7 years old are required to bring their own snug-fitting life jacket and fins, should they be getting in the water.

Participants under 18 years old must be accompanied by a parent or legal guardian, or have a duly signed release of liability and assumption of risk waiver with them to present prior to departure.

The maximum weight of each participant is 250 lbs. If you are a little over 250 lbs., kindly call before booking as special arrangements need to be made to ensure your safety and enjoyment.

To snorkel, the minimum height is 4 ft.

Pregnant women are not allowed to join this tour.

All participants should be physically fit and be able to swim and snorkel with ease in open waters. 

If you are prone to seasickness or have allergies and other special medical conditions and medications, it is best to inform One Ocean Diving before departure. For those prone to seasickness, consult your doctor about the best motion medication, its dosage, and ingestion schedule given your tour time. 

This tour operates daily.

Tour duration is approximately two hours.