Old Lahaina Luau takes pride in its award-winning traditional entertainment, delicious cuisines, and beverages, complemented by a jaw-dropping setting that is second to none!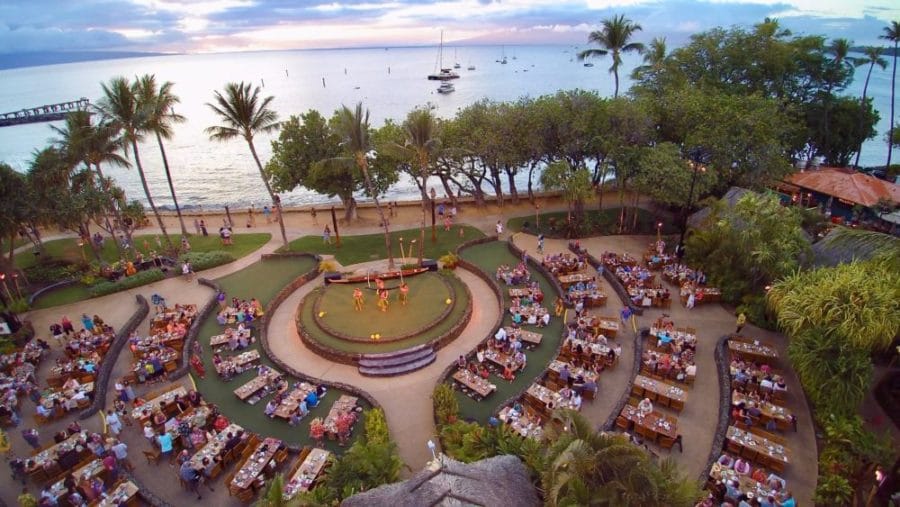 Guests have spoken! With its almost 100 percent capacity every day, Old Lahaina Luau is a must-try while in Maui!
Held in a rustic location, Old Lahaina Luau reminds you of an ancient Hawaiian fishing village while witnessing how the sun paints the skies with golden yellow. It offers mat seating on lush greenery, just like how the Ancient Hawaiians did during feasts and festivities. Upon arrival, you will be welcomed with a warm fresh flower lei greeting, tropical punch, and personalized souvenirs by their friendly staff in their authentic traditional Hawaiian outfit. Right there and then, you would feel the hospitality of the Hawaiians, just like how their ancestors taught to the younger generations. 
Traditional music fills the air to make the mood more Hawaiian and livelier. Walk around while sipping your cocktail and choose a fun activity you would like to try. Perhaps you could try wood carving and even buy some of their finished products as a souvenir.  Ancient Hawaiians were known for their expertise and skills in wood carving. Utilizing tropical hardwoods, including koa and milo, they would hand carve beautiful and lustrous bowls, as well as canoes. They would also make exquisite furniture, sculptures, and jewelry.
You could also learn how to make lei out of fresh flowers, leaves, berries, nuts, and shells, or maybe participate in Kapa-making. Kapa is a fabric made from certain shrubs and trees that was very useful to ancient Hawaiians. They would weave this into women's and men's clothes, baby blankets, carpets, and many more. If you prefer, you could simply sit back, relax and watch the beauty of the beach in front of you and feel the warmth of the tropical wind. Before dinner, you will witness a genuine imu ceremony or the uncovering of the kalua pig from the imu or underground oven. As you know, the kalua pig or roasted pork is an essential dish in all luaus. In the past, Polynesians steamed their foods through the imu. It is said that the men woke up early in the morning to dig a 2 to 4-foot pit, where they placed stones and heated them for 2 to 3 hours before cooking.
When it's time for eating, you can feast on the shredded pork and other traditional cuisines, including Maui style fish, grilled beef, stir-fried vegetables, island crab salad, desserts, and many others. When the sun disappears, with the stars and moon taking over, prepare yourself for world-class presentations from their multi-talented dancers. Be mesmerized with their Hawaiian dance performances, as well as dances from other Polynesian islands, accompanied with traditional music.
Old Lahaina Luau Highlights
One of the best luaus and recommended luaus in Hawaii, presenting a traditional Hawaiian cultural experience

Fresh flower lei greeting and cultural presentations

Delicious luau buffet dinner

Well-produced and choreographed entertainment

Includes a premium open bar (tropical & special cocktails, beer, wine, sodas, juices, ice tea, lemonade and more)
Old Lahaina Luau Menu (Subject to change without prior notice)
Pua'a Kalua – Pork roasted in the beachside imu, the Hawaiian underground oven

Laulau – Succulent bundles of pork wrapped in taro leaf and cooked until tender

I'a – Maui-style fish

Pipi Ko'ala – Grilled beef steak

Chicken Long Rice – Shredded chicken, Maui onions, ginger and rice bean noodles in broth

Moa – Island-style chicken marinated with guava sauce garnished with fresh pineapples and toasted sesame seeds

Stir Fry Vegetables – Zucchini, Maui onions, carrots, broccoli and sugar snap peas

Local-Style Fried Rice – Fried rice with green onions, peas and sesame oil

Uala – Sliced Big Island sweet potatoes

Island Crab Salad – Crab, shrimp and water chestnuts

Lu'au Kalo – Taro and lu'au leaf combined with creamy coconut milk

Pohole Salad – Fern shoots, Maui onions and tomatoes served in a vinaigrette sauce

Lomi Lomi Salmon – Local tomatoes, Maui onions and salted salmon

Poke Ahi – Fresh raw ahi (yellowfin tuna) with green onions and Maui onions

Poke He'e – Marinated cooked octopus/tako

Poi – Made from boiling and mashing the root of the taro plant

Fresh Island Fruit & Banana Bread

Fresh Seasonal Fruits

Assorted Island Desserts – Passion fruit cake, Upcountry lavender lemon shortbread cookies, Hawaiian chocolate chili pepper brownie and haupia (coconut pudding)
Special Instructions
Check-in Location and Time:

Oceanfront at 1251 Front Street, Lahaina, Maui. 
➤September & March to May: Check-in is at 5:45 pm. Luau grounds open for seating at 5:45 pm. Dinner starts at 6:30 pm. Entertainment is from 7:45 pm to 8:45 pm.
➤June to August: Check-in is at 6:15 pm. Luau grounds open for seating at 6:15 pm. Dinner starts at 7:00 pm. Entertainment is from 8:15 pm to 9:15 pm.
➤October to February: Check-in is at 5:15 pm. Luau grounds open for seating at 5:15 pm. Dinner starts at 6:00 pm. Entertainment is from 7:00 pm to 8:15 pm.
*Note: Entertainment/Dinner start times may be slightly earlier or later depending on how the schedule is going.
Restrictions:

There are no specific restrictions for this activity.
COVID MEASURES:
➤Due to COVID-19, certain inclusions, meal options and capacities may be changed to adhere to local mandates, safety & health guidelines.
➤Contact-less check in with your mobile device. The luau will text a QR Code the day of your luau required for check-in along with a link for the menu, bar, map & program. Physical programs and tickets will NOT be issued.
➤A brief health screening will be conducted at check-in.
➤Guests should maintain a 6ft social distance from other guests and luau staff.
➤Guests are required to wear face masks (no gators, bandanas or face shields) while anywhere on the property, except while sitting at their personal table.
➤Seating capacity & occupancy limits have been reduced to achieve social distancing.
➤Only families or parties traveling together will be allowed to share a table with a maximum of 8 guests per table.
➤Food will be served in multiple courses, plated, and delivered to each party's table.
➤Beverages will be ordered and served to the table, no walk-up bar service will be available.
Special Notes:

Premium open bar included throughout the evening!
Infant pricing (children 2 and under) are considered "lap children" and will not have their own seat or plate. They must sit in the lap of an adult.
Please call beforehand if anyone in your party has special needs such as a wheelchair, etc.
Operations:

Open daily

Duration:

3 hours
Capacity: Approximately 480 guests