Kohala, in Hawaiian, means "cherished land".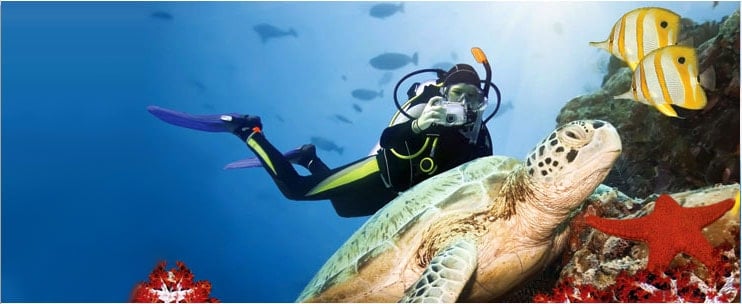 In fact, Kohala Coast used to be a playground for Hawaiian royalty, and this is perhaps why it has always been particularly treasured and esteemed ever since. At present, it is home to a great number of deluxe resorts, spas, restaurants, and great sightseeing spots, which, precisely, you will get to explore on this tour! Come and join Ocean Sports for a morning of underwater exploration in Hilo's cherished tropical paradise!
Ocean Sports' Scuba Diving is your ticket to the best dive spots on the Kohala Coast. As this part of Big Island is a stretch of clear blue waters, magnificent coral reefs and rock formations, and diverse marine life, this tour package is going to be a perfect diving experience and the highlight of your Hawaiian getaway.
:By booking Ocean Sports' Scuba Diving, whether as a snorkeler or certified diver, you will get to be one with nature, catch sight of the marvelous world of Hawaii undersea, and ultimately have a grand time relishing all the charm and wonder that Hilo, particularly Kohala Coast, has to offer. Lava tubes, colorful coral reef formations, tropical reef fish, sea turtles, and many other underwater attractions await!
As mentioned, both snorkelers and certified scuba divers are welcome to join Ocean Sports' Scuba Diving. If you are joining to scuba dive, make sure to present your certification card upon check-in for a hassle-free pre-dive procedure! Otherwise, you can always join and have fun undersea by choosing to join as a snorkeler. Either way, you will be assisted by Ocean Sports' well-experienced dive masters and crew, who will ensure your utmost safety, comfort, and enjoyment. With such great company and an equally great adventure and opportunity, you will get to see for yourself why the cherished Kohala Coast is so!
This is definitely not a tour activity you just pass up on. It's not everyday that you are in Hawaii, and in Hilo, Big Island at that, so better make the most out of your tropical getaway by booking Ocean Sports' Scuba Diving now! Hurry, as slots get full pretty quick!
Tour Inclusions:
Ocean Sports' Scuba Diving is inclusive of the following:
A ride in a high-powered Delta dive boat, complete with freshwater showers and a dive platform for a safe and easy water entry and exit

A dunk tank for all snorkeling and scuba diving gear

An opportunity to explore the best dive spots on the Kohala Coast

Fresh fruits, snacks, and other light refreshments on-board
Special Instructions:
Check-in time is at 7:00 AM. Tour will depart at exactly 7:30 AM and will return at around 12:00 NN.

Check in at Ocean Sports Beach Hut, located on Anaeho'omalu Bay right behind the Waikoloa Beach – Marriott.

The following are the requirements and restrictions for this tour:
For scuba divers, you are not allowed to have a flight at least 24 hours before or after your scheduled dive. This is to avoid altitude sickness and other related ailments.

Certified scuba divers must present their valid certification card upon check-in.

All participants must be in good physical health with no serious health concerns, specifically, breathing issues, blood circulation issues, and such other health problems that may affect your dive.
This tour operates daily.
Tour duration is approximately 4.5 hours. 
Feel free to visit our Big Island's tour and packages here: Big Island Tours | Cheap Hawaiian Activities