If you check out Big Island on the Internet, you'd definitely chance upon deep sea fishing as you scroll through those search results.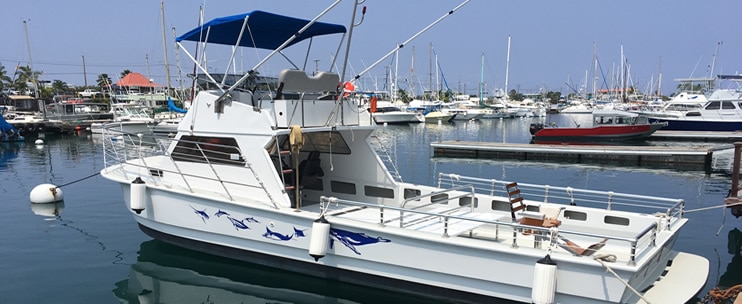 This should be no surprise as Big Island, particularly Kona Coast, is hailed as a mecca for fishing in Hawaii. Thus, if you're vacationing in this part of Hawaii, make sure to seize the opportunity and have a big game fishing adventure! There are many fishing tour operators in the area, but with Ocean Encounters' Deep Sea Fishing Charter, you are sure to get your money's worth for an unforgettable fishing escapade!
One of Ocean Encounters' fishing vessels is the Ocean Encounters 2. The Ocean Encounters 2 is a 33' Radon, which can accommodate up to 18 guests. If you are travelling with a large group, the Ocean Encounters 2 is perfect for you and your companions' great fishing adventure!
This fishing charter has a shaded area for those who opt to hide from the harsh sunlight, especially if you're touring at a time where the sun's at its peak, as well as a bow railing lined with comfortable seats and a clean restroom. While this tour boat can carry up to 18 guests, which is a little more than the other fishing charters in Kona, it has plenty of spacious areas aboard for everyone. The ride will surely be a comfortable and stable one on the Ocean Encounters 2!
In addition to these amenities, the Ocean Encounters 2 is also well-equipped with top-of-the line fishing gear for the guests' usage. On board are different kinds of rods and reels, some even custom-made, baits, assorted fishing tackle, and a full-size fighting chair. The captain and crew are well-trained to assist even those with no experience, so don't be intimidated by all these tools! You will be oriented about the different fishing instruments, as well as other important information about deep sea fishing. Once everyone's oriented and everything's set, it's finally time to catch some fish! With Kona waters' abundant and diverse marine life, you and your companions are sure to haul in different kinds of fish during the trip. Some of the common fish catches are the Pacific Blue Marlin, Striped Marlin, Yellowfin Tuna, and the Mahi Mahi. There will be other incidental catches, too, and once these are hooked and reeled in, the ice box on board the Ocean Encounters 2 is ready for their storage. Of course, if you caught a big trophy fish, don't forget to bring out your camera and take pictures with your catch! As they say, the thrill in fishing lies in the challenge, so after catching, make sure your camera is ready because this thrill is something you would want to have a photo remembrance of.
There is no better way to reward your hard work and effort in catching a fish than, of course, some fresh seafood to take home! At Ocean Encounters 2, all fish that are 50 pounds or less will be cut and apportioned among all the guests, so everyone will have something to bring with them from this fishing adventure. For sure, you'd be hungry by the end of the trip, and a scrumptious seafood meal would be the perfect way to end a fun-filled fishing day!
Ocean Encounters 2 can't wait to bring you and your group to a thrilling deep sea fishing adventure! Go and reserve your slots now!
Ocean Encounters 2 Tour Boat
The Ocean Encounters 2 is a 33' Radon that is equipped with:
Shaded area

Bow railing

Comfortable seats

Clean restroom

Shaded top deck
Ocean Encounters 2 Fishing Gear
Two-Speed Reels

Custom-built rods

Five–rods/reels 130s-80s

Bait rods

Assorted fishing tackle

A full-size fighting chair
Ocean Encounters 2 Special Instructions
The boat departs at the Honokohau Marina, located at 74-425 Kealakehe Parkway, Kailua-Kona, HI 96740.

Check-in is 30 minutes prior to departure time. Make sure to arrive at the check-in area by then.

Choose from the following tour durations:

Half-day charter (4 hours)

3/4-day charter (6 hours)

Full-day charter (8 hours)

A maximum of 18 guests may be accommodated per trip.