Fly away on an adventure of land and air to see Hawaii's Big Island Volcano sights on this one-day island hopping tour from Oahu.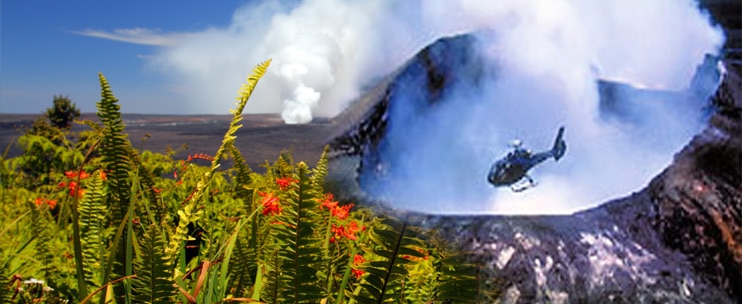 Start the day by being picked up from a Waikiki area hotel close to you and whisked away to Honolulu Airport to catch the flight to Hilo. Once you arrive in Hilo, you'll head off for the ground portion of the tour before coming back to Hilo and joining Blue Hawaiian Helicopters for a 2:00 pm or 2:30 pm Circle of Fire flight. This helicopter tour flies over the most recent volcanic activity and cascading waterfalls. Please note that there have been remarkable transformations of Kilauea after the June 2018 eruption.
Tour Highlights
Visit Hawaii Volcanoes National Park

Volcano House for breakfast buffet (breakfast not included in tour price)
Halema'uma'u Crater – viewed from Volcano House
Kilauea Visitors Center – educational exhibits and park information
Steam vents – where ground water seeps into volcanic rock
Kilauea Iki Overlook – the smaller pit crater next to main Kilauea caldera
Chain of Craters Road – enjoy the scenic drive and keep a look out for the sections that were covered by lava during the 2018 Kilauea eruption
Devastation Trail – stroll down a paved path to see evidence of the 1959 Kilauea eruption
Kealakomo Overlook – view lava fields that covered this ancient village

Mauna Loa Macadamia Visitor Center
Helicopter Tour – usually Blue Hawaiian

45-minute tour with aerial views of the recent transformation of Kilauea, cascading waterfalls and the largest rainforest in the United States

Rainbow Falls, an 80-foot cascade
Drive through Hilo town
Drive by King Kamehameha Statue and Shinmachi Tsunami Museum
Banyan Drive – scenic road with views of lush vegetation, known as the "Hilo Walk of Fame"
 Queen Liliuokalani Gardens
Richardson's Black Sand Beach
Please note:
Volcanic activity changes hourly and the viewing of lava is not guaranteed due to external factors outside our control. Tour stops and sights are subject to change due to weather and eruption conditions at the time of your visit. As the park reopens more areas after the 2018 eruption, some places may be substituted for more stops in the park.
Special Instructions
Where and When:

Roundtrip transportation from your Waikiki hotel is included. This tour departs Waikiki at approximately 5:00 am. Return to your hotel at approximately 9:00 pm.
Please refer to your confirmation email for final pick-up time and location. Flight schedules change frequently.
If checking in at the airport please meet the Polynesian Adventure Representative upstairs at the Hawaiian Airlines departure Lobby 3 no later than 5:30 am.
Restrictions:

General Inter-Island Tour Restrictions
Due to stringent airline requirements there is a NO CANCELLATION/NO REFUND policy for this tour. This includes name and date changes.
For all island flights or day trips, the NAME ON TICKET MUST APPEAR AS IT IS ON PICTURE ID (license or passport). The airline will deny boarding if the passenger's legal name, as shown on their valid, government-issued ID, does NOT match the name on their E-Ticket. IF A PASSENGER IS DENIED BOARDING, THERE WILL BE NO REFUNDS. All passengers MUST present government issued photo ID for airline check-in. International travelers must bring a valid passport for airport security check-in.
Children 2 years old are required to pay for the airfare and ride in the lap of an adult in the vehicle. Children 1 and under still require birth date and full name.

Helicopter Flight Restrictions
All passengers will be weighed during check-in at the heliport to ensure the accurate aircraft weight and balance.
Passengers over 250 pounds will be allotted 2 seats and will be responsible for the additional cost of 50% for a second seat. If this fee was not collected at the time of the reservation, it will be collected at check-in.
No scuba diving 24 hours before or after going on this tour.
Mobile tablet devices are not allowed on board due to size. Go Pros are welcome as hand-held devices, but no attachments/accessories are allowed.

In the event Blue Hawaiian must cancel the helicopter tour for any reason, guests will be refunded for the helicopter tour portion of their tour price and will be welcomed on an extended sightseeing land tour which includes a drive through Hilo town and a stop at Rainbow Falls.
If guests prefer to discontinue participation in their land tour and remain at the Blue Hawaiian base to stand by for a possible helicopter tour departure later in the day, they will forego their sightseeing land tour and no refund will be available for that portion of tour. If guests wish to return to Honolulu earlier than their scheduled flight, a refund of helicopter portion (only) will be provided, and additional taxi, airline change fees, or other expenses will be the responsibility of the guest.

In the event of cancellation of the helicopter portion of the tour for any reason, guests will be refunded for the helicopter portion and join an extended sightseeing land tour. If guest wish to return to Honolulu earlier than their scheduled flight; additional fees, expenses and airport to hotel transportation are the responsibility of the guest.
Special Notes:

Occasionally certain sections of Hawaii Volcanoes National Park will be closed to visitors when Kilauea volcano is emitting high levels of dangerous gas. Volcanic fumes are hazardous. Also, for people with respiratory or heart problems, pregnant women, infants and young children, a visit to the park is not recommended. The route may be modified due to National Park advisories. No guaranteed sighting of active lava flows.

The airlines are adding surcharges for some dates that are close to selling out. Please call us at 1-866-482-9775 if you would like to check if there is a surcharge for your travel date.
Operation Days:

Monday, Wednesday & Friday
Duration:

Approx. 16 hours
Equipment:

Hawaiian Airlines, Blue Hawaiian Helicopters and Polynesian Adventure Tour Bus