Pre-arrange your Waikiki and Pier shuttle transportation!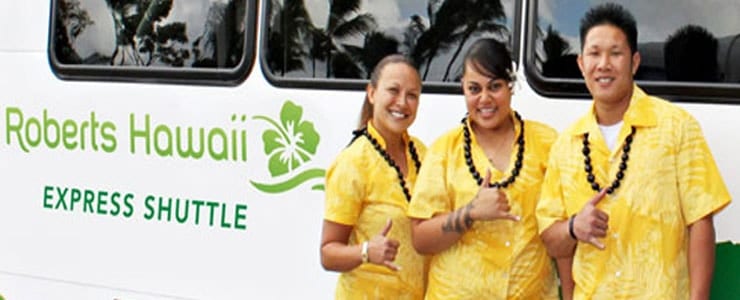 Don't overpay for a taxi ride or wait in lines to book your transportation, book it today online!
This shuttle service is for shuttle transportation from Waikiki area hotels to the Pier for your cruise departure.
Get shuttle transfers via air-conditioned equipment between the pier and Waikiki hotels.
Pier to Waikiki: For a Pier to Waikiki shuttle after your cruise please go to our Pier to Waikiki page.
Waikiki to Pier
Waikiki hotel pick-ups are on a set schedule depending on your hotel location in Waikiki. If the requested time is not available, you will be booked for the next available time. If the requested time is not available and there is not a later pick up you will be booked on the closest earlier pick up time to the requested time.
Each guest is allowed 2 suitcases and 1 hand carry. Additional baggage is extra and paid directly when you arrive at your shuttle, as noted below.
$6.05 for up to 3 additional bags (per bag)
$6.25 for Golf Clubs
$14.50 for Heavy Boxes over 50lbs or Musical Instruments
$23.00 for Surfboard (6′ or less)
$50.00 for Windsurfing Boards
$36.00 Bicycle (Must be dismantled)
$24.00 for Trunks (12 cubic feet or more)
Car seats or strollers are no charge.
*International guests will be greeted outside of customs.
Special Instructions
Restrictions
There are no specific restrictions for this activity.
Please contact us if anyone in your party has special needs. If you require an ADA lift bus, we do require at least 48 hours a notice to secure availability.
Operation Days
Operates daily